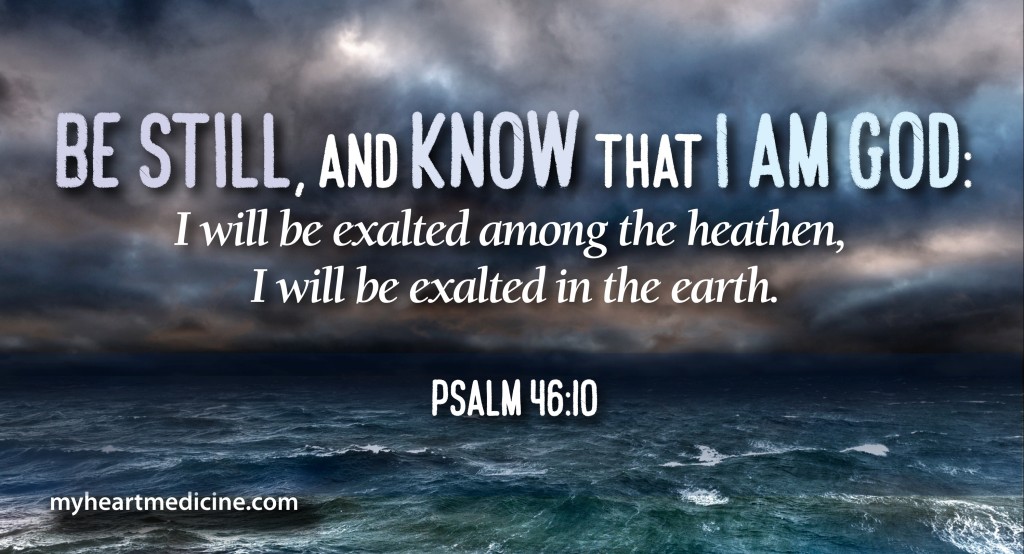 "And he [Jonah] said unto them, I am an Hebrew; and I fear the Lord, the God of heaven, which hath made the sea and the dry land. Then were the men exceedingly afraid, and said unto him. Why hast thou done this? For the men knew that he fled from the presence of the Lord, because he had told them." – Jonah 1:9-10
"For the earth shall be filled with the knowledge of the glory of the Lord, as the waters cover the sea." – Habakkuk 2:14
"Ye are the light of the world. A city that is set on an hill cannot be hid. Neither do men light a candle, and put it under a bushel, but on a candlestick; and it giveth light unto all that are in the house. Let your light so shine before men, that they may see your good works, and glorify your Father which is in heaven." – Matthew 5:14-16
---
I often miss the mission field around me. I have a friend who reminds me of this on a regular basis. Actually, she reminds me of my dad. My dad rarely missed a chance to give the gospel. I remember him sitting at the kitchen table, paying bills, and putting a gospel tract in the envelope with each check he wrote. My friend is equally mindful, pulling a tract out of her purse every time we get the check at a restaurant or buy a cup of coffee.
It's easy to plow through life completely self-absorbed, head-down, with little regard for the world around you. But as Christians, we're kidding ourselves if we think that the world isn't watching, and whether we notice the world or not, they are constantly taking note of us.
In Jonah 1, the prophet is self-absorbed and he is most definitely kidding himself. You know the story backwards and forwards. God tells Jonah to go to Ninevah. Jonah refuses and defiantly runs from God, booking passage on a ship to Tarshish, the furthest point he can reach in the opposite direction of his God-ordained destination (Verses 1-3).
Jonah then goes below deck and falls asleep. Jonah thinks he has left the mission field. He thinks he has abandoned his calling, and now that he's mad at God, he's just going to keep his head down, take care of himself, and ignore the world around him. He falls asleep in the middle of his mission field, until God begins to rock the boat.
The storm that ensues is one of biblical proportions (pun intended). It drives the sailors to toss cargo overboard, and more importantly, it drives them to their knees. These sailors don't know the One True God, but they're frantically praying to every god they can think of. They wake Jonah up and tell him to pray. And sensing that the storm has to be about more than the weather, they cast lots to divine the source of the trouble (Verses 4-7).
And here's the part that really gets me – the trouble is the prophet of God, the guy who was sleeping, the guy who still hasn't said any prayers. Now exposed, Jonah is finally forced to acknowledge his association with God (Verse 9), "I am an Hebrew; and I fear the Lord, the God of heaven, which hath made the sea and the dry land."
But he offers no prayers. It's heartbreaking. These sailors are having their first encounter with the Living God, and God's prophet is in the middle of a selfish phase. There's no doubt they are struck by the power and might of God, but they are equally struck by the willful rebellion of God's man (Verses 10-11).
And Jonah doesn't soften. He still doesn't pray. He doesn't beg God for forgiveness or beg Him to spare the sailors. Instead, it's the sailors who are trying to save Jonah, as they row desperately to avoid throwing him overboard. They beg God for mercy. And after the storm stops (and Jonah literally becomes fish food), they cement their relationships with the One True God (Verses 13-16, Romans 1:16, 10:13, Revelation 1:7).
But it's no thanks to Jonah (Isaiah 55:11, Ezekiel 33:6, Matthew 18:6). And it makes me wonder – how many times have I been so wrapped up in me that I missed the chance to be part of God's work? How many times have I been in a selfish phase? How many times have I fallen asleep in the middle of my mission field?
When I was a kid, we used to say, "You make a better door than a window." We used that line anytime someone stood in our way and blocked our view. God forgive us when we are closed doors that block someone else's view of God. God forgive us when we are self-absorbed distractions from His glory (Isaiah 43:10, Matthew 5:16, Philippians 2:15, II Timothy 2:1-4, I Peter 3:15, Jude 1:23).
May we be ever mindful of our mission fields. May we all be better windows for His light to shine through.
---
YOUR PRESCRIPTION
Have you fallen asleep on your mission field? Are you going through life head-down? Ask God to wake you up to His work, and ask Him to make you a better window that He can shine through.