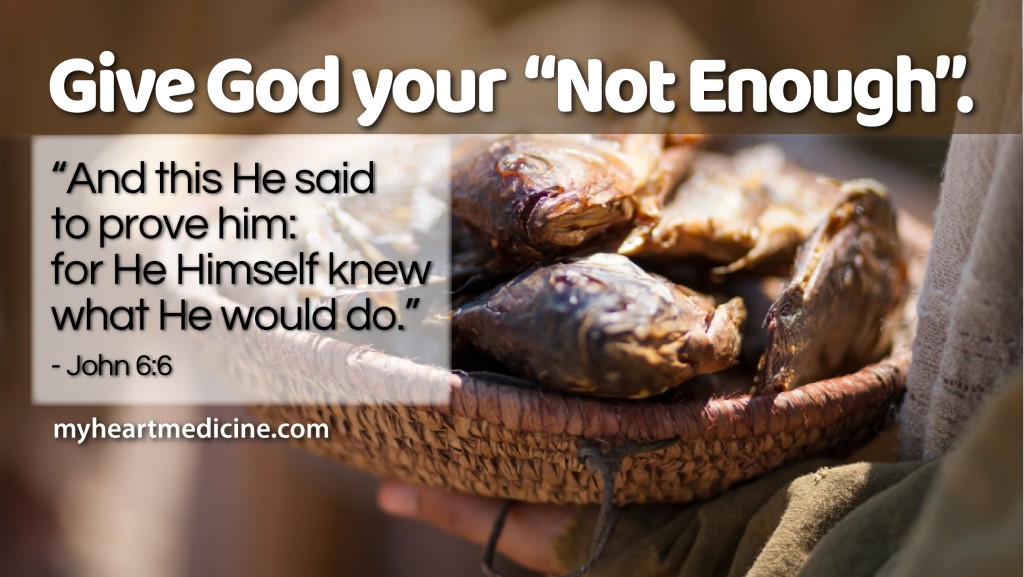 "He saith unto them, How many loaves have ye? go and see. And when they knew, they say, Five, and two fishes." – Mark 6:38
"Jesus said unto him, If thou canst believe, all things are possible to him that believeth." – Mark 9:23
"One of his disciples, Andrew, Simon Peter's brother, saith unto him, There is a lad here, which hath five barley loaves, and two small fishes: but what are they among so many?" – John 6:8-9
Scripture Reading: John 6:1-13
---
Joey has exactly sixteen dollars in a top-stitched leather wallet on his dresser. It's his life savings – a combination of leftover Christmas money, the profits of lost teeth, and payments received for his own special brand of "help" on household projects.
Always thinking big, he recently decided that our backyard wasn't big enough for his 6-year old dreams of bike stunts, forts, and Nerf-gun battlefields, and he recommended that we find a new house. When I sensibly explained that we were perfectly happy with our current house, and besides, we couldn't afford a new one, he immediately responded, "But Mommy, I'll give you my sixteen dollars…"
In Joey's mind, his little wallet has unlimited possibilities.
That reminds me of another little boy whose little lunch actually did have unlimited possibilities. In John 6, Jesus has drawn a crowd. Awed by His healing power, they follow Him relentlessly, crossing the Sea of Galilee and trekking up a mountainside in anticipation of what miracle He might do next (Matthew 14:14, Luke 9:11, John 6:1-3).
As evening comes, Jesus is touched by their need (Matthew 14:15, Mark 6:34-35, Luke 9:12). Having spent the day with Him, these people have no provision for dinner, and they're far from home.
In Mark's account of the feeding of the 5,000, Jesus tells the disciples to "go and see" how much food they have, and they return with the report of five loaves and two fish (Mark 6:38). Although Peter's brother, Andrew, brings the little boy forward (John 6:8-9), Andrew also provides the sensible, grown-up assessment of their resources, "…but what are they among so many?" Clearly, there isn't enough to work with here.
So practical. And practically faithless.
To be honest, I've always had a hard time believing that the little boy in question was the only one in the crowd with any vittles to offer. Not another soul had a morsel or two to share? I could survive for a week on the contents of my car – emergency kid snacks, stray packs of gum and mints, and (reserved for the last few days of survival) drive-thru scraps that have found their way under the seats. No one had the New Testament equivalent of any of those things?
I submit to you that when the disciples followed Jesus' instructions and scanned the crowd for food, there were others who could have contributed. Some may have been selfish, or simply holding out for free food from the Miracle Worker. But I don't think it's a stretch to say that some were probably too practical to believe that their single-serving lunch could be stretched to feed the crowd around them.
How many of us are hiding in the crowd, silently and sensibly refusing to be a part of God's work, because we think we don't have enough to offer God? How many of us actually believe that our own inadequacy limits what God can do? How many miracles have we missed by being realists?
The truth is that God's reality is limitless (Job 5:8-9, Isaiah 55:9, 64:4, Jeremiah 33:3, I Corinthians 1:25-28, 12:9-10). He delights in using the inadequate to accomplish the impossible. His constant invitation to us is to step out of the boat, step into the lion's den, lock and load your slingshot, and see what He can do (Exodus 14:13, II Chronicles 16:9a, 20:17, Mark 9:23, 10:15-16, Luke 1:37, II Corinthians 5:7, Hebrews 11:1, 6). And too often, we look in our lunch bag and say, "It'll never work."
Today, I invite you to take your "not enough", your little lunch, your sixteen dollars, and put it in the hands of Jehovah-Jireh, the God Who Provides. Have the childlike audacity to believe that God can use you – not because of what you have, but in spite of all you lack.
It's not about being adequate. It's about being obedient. He wants to use you – right now, just as you are (Jeremiah 29:1, John 6:5-6, Ephesians 2:10). And He can do big things with a little lunch and a little faith.
---
YOUR PRESCRIPTION
Has God been calling you to do something? Have you hesitated because you feel inadequate? Offer God what you have, knowing that what you have doesn't matter. He will honor the offering, and He will use you because HE is able.