"Then I went down to the potter's house, and, behold, he wrought a work on the wheels. And the vessel that he made of clay was marred in the hand of the potter: so he made it again another vessel, as seemed good to the potter to make it." – Jeremiah 18:3-4
"My son, despise not the chastening of the Lord; neither be weary of his correction: For whom the Lord loveth he correcteth; even as a father the son in whom he delighteth." – Proverbs 3:11-12
"A new heart also will I give you, and a new spirit will I put within you: and I will take away the stony heart out of your flesh, and I will give you an heart of flesh." – Ezekiel 36:26
---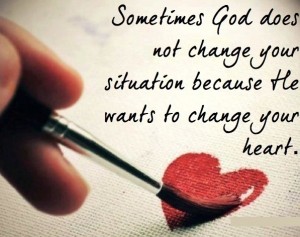 I thought I was getting somewhere. I am forever trying to get my house and my life in order, and I peaked somewhere around mid-May. The house was cleaner than it had been in years. It could even be referred to as "company-ready" (a term I never would have dared to use earlier).
Then came summer – where the house is like a constantly revolving door, and toys, tools, and swimwear somehow transition seamlessly from the backyard to the kitchen table. And the little bit of control I thought I had has proven once again to be non-existent. For a brief time, I thought I had mastered the mess, but this season has taken me down a peg or two.
In Daniel 4, the mighty Nebuchadnezzar was definitely taken down a few pegs. As King of Babylon, Nebuchadnezzar was lord of all that he surveyed. He was a brutal warrior, who had subdued many nations, and he thought of himself as a self-made man, and a god in his own right. But the One True God would shatter that illusion, and would miraculously give this tyrant a testimony (I Timothy 1:15, II Peter 3:9).
Daniel 4 is actually narrated by Nebuchadnezzar himself. He proceeds to tell us that he had a dream. Only Daniel knows the meaning, because Daniel serves God, and the dream is from God. And the meaning is this: Nebuchadnezzar's success is not man-made; it is God-given. If Nebuchadnezzar can't get a hold of that truth, then God will get a hold of Nebuchadnezzar. He will be stripped of his power and dignity and will live in the wild like an animal. He will even take on the appearance of an animal, until he learns his lesson and glorifies God (I Chronicles 29:14, Psalm 24:1-2, 90:2, 97:9, Proverbs 21:1, Colossians 1:17).
While this may sound like a once-upon-a-time fairytale, history records that there was a period of seven years of unexplained inactivity in the reign of Nebuchadnezzar. Seven years of no conquests, no royal decrees, no major projects. I submit to you that God was working in those seven years, conquering Nebuchadnezzar's pride, decreeing his Sovereignty over the affairs of this kingdom and all others, and doing a major work in Nebuchadnezzar's heart (Daniel 5:18-21).
I also submit to you that God repeats this process over and over in each of our hearts – to win us, to keep us, and to grow us. In Jeremiah 18, the prophet is sent by God to go on a field trip to the local potter's house. His only purpose there is to watch and learn. He observes the absolute  power that the potter has over the clay, to mold it, to break it, to use fire and water to refine and restore it. The irony: in this scenario (about 40 years before Nebuchadnezzar's dream in Daniel 4), the kingdom of Judah was the clay, and God was about to use Nebuchadnezzar to chasten His rebellious, but beloved people.
Many Christians bristle at the mention of "chastening". The very word conjures up images of an angry God doling out punishments like a judge in traffic court. But hidden within that scary word is a word that conjures up something else. That word is "chasing". In Daniel 4, God will break Nebuchadnezzar down, but He will also restore. In Jeremiah 18, the potter will break down the clay, but He will remold it into something better. God may be chastening you now – you may feel broken down, and all too aware of your own helplessness. But in the chastening, He is really chasing your heart – revealing His love, His power, and His plan in a million little ways, and molding you to be more like Him (Hebrews 12:5-6, I Peter 1:7). The end result will be something far better. (Psalm 94:12, Isaiah 26:15-16, Ezekiel 36:26, Romans 5:3-5, 8:17-18, II Corinthians 4:17).
Don't be afraid to let God take you down a peg or two. Let the storms come, let the problems pile up, and let the God Who is chasing you get a hold of your heart and make it more like His.
---
YOUR PRESCRIPTION
Is God chasing your heart today? Stop running and start looking for the lesson He has for you. Whatever trial you're facing, God is in control of it, and He wants to do a work in your heart for His glory.