"And these words, which I command thee this day, shall be in thine heart: And thou shalt teach them diligently unto thy children, and shalt talk of them when thou sittest in thine house, and when thou walkest by the way, and when thou liest down, and when thou risest up. And thou shalt bind them for a sign upon thine hand, and they shall be as frontlets between thine eyes. And thou shalt write them upon the posts of thy house, and on thy gates." – Deuteronomy 6:6-9
"This book of the law shall not depart out of thy mouth; but thou shalt meditate therein day and night, that thou mayest observe to do according to all that is written therein: for then thou shalt make thy way prosperous, and then thou shalt have good success." – Joshua 1:8
"Heaven and earth shall pass away, but my words shall not pass away." – Matthew 24:35
Scripture Reading: Deuteronomy 6
---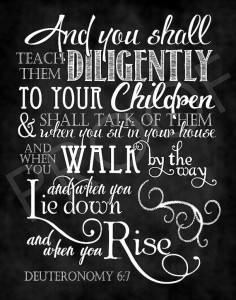 I think I recently received one of the best compliments ever. A dear friend wrote to tell me how she is reading the Heart Medicine book with her 9-year old son each night before bed. But as cool as that is, that's not the compliment. The line that practically made my heart burst was, "He loves looking up the scriptures."
Now there's a momma that gets the point. Heart Medicine is never about reading what I have to say. Trust me, about ninety-five percent of what I say is not even worth repeating, and the other five percent has mild entertainment value at best. The hope of Heart Medicine is to get you to open the Bible for yourself – to move from Sunday spoonfuls to daily platefuls of scripture (Psalm 119:18, 130, 165, 130:5, Matthew 4:4, 7:24, John 8:31-32, 15:7).
In Deuteronomy 6, Moses prescribed daily servings of the law for the Children of Israel. The commandments were not just for the Sabbath, the tabernacle, and the priests, they were for every family, in every home, every day. And it wasn't just for the sake of tradition. Moses explained that the only way they could possess the Promised Land and prosper was to live by the Word of God (Verse 3). And once they got there, and started living a super-blessed life that required no physical investment on their part (cities they didn't build, houses they didn't fill, vineyards they didn't plant, wells they didn't dig – Verses 10-11), the Word of God would remind them to be thankful. When future generations of spoiled and entitled children were born within the blessed borders of the "land flowing with milk and honey", it was the scriptures that would spur conversations about Pharaoh and Egypt, the plagues and the Red Sea, and God's mighty hand of deliverance (Verses 20-23).
I can't resist telling you that our children in America today could use a few of those same kind of reminders (Psalm 119:9, II Timothy 3:16-17, Hebrews 4:12). We live in a society of spoiled and entitled complainers – myself included (I Timothy 1:15, Philippians 2:13-15). And in the constant whining about what we don't have, we often lose sight of what we do have. And today, I am so thankful that we have the Word of God. I'm so thankful that it is a firm foundation for our faith, our families, and our future. Over the years, I have put my faith in a lot of things that didn't pan out – people, institutions, opportunities, and so on. But the Bible has never let me down. It's the only truth I can count on, and it's the one thing I can teach my sons that they can count on ( Psalm 119:89, 114, Isaiah 40:8, 55:11, I Peter 1:24-25).
This Thanksgiving, when you contemplate all that you're thankful for, be sure that the Word of God is somewhere near the top of that list. Better yet, be sure that you open the Bible for yourself and spend a little time reminding yourself of what a blessing it truly is. It is a great gift that many in this world long to have and that many have died for, and still more are dying for the lack of it. And besides all that, it is the Bible that reminds us to give thanks for all of the other blessings in our lives. It is the wisdom that sees us through each day, the only rock in the shifting sands of this world, and the precious letter from our Father that points our hearts to heaven.
Teach it to your children, share it with your friends, hang it on the walls of your house, and hide it in your heart. Talk about it, sing about it, never leave home without it, and let it be the glue that holds your life together. Because no matter what else may fall apart, we can always be thankful that the Bible stands.  
---
YOUR PRESCRIPTION
Look up the scriptures. Like any devotional, Heart Medicine is a well-meaning but imperfect reflection of the the Real Deal – the Word of God. Thank God for the Bible by opening the Bible for yourself. It's a formula for success that will always pan out.