"I will both lay me down in peace, and sleep: for thou, Lord, only makest me dwell in safety." – Psalm 4:8
"Thou wilt shew me the path of life: in thy presence is fulness of joy; at thy right hand there are pleasures for evermore." – Psalm 16:1
"And I will bring the blind by a way that they knew not; I will lead them in paths that they have not known: I will make darkness light before them, and crooked things straight. These things will I do unto them, and not forsake them." – Isaiah 42:16
Scripture Reading: Matthew 8:19-32
---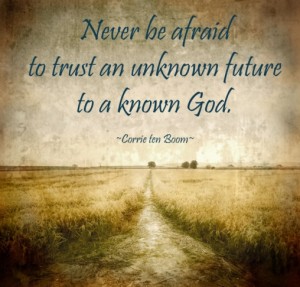 When it comes to road trips, I think I'm a pretty good passenger. For all of the other control issues in my life, I actually manage to avoid being a backseat driver most of the time, mainly because I just enjoy being chauffeured around.
I wish I could say I avoid backseat driving in my spiritual life. I wish I could say that I just lean  back and let God lead. But in my flesh, I want the wheel, and I want to know where we're going. I want to know when we're going to get there, and I want the power to "recalculate" when the road gets rough. I don't want any detours, delays, or unplanned stops. I want to map out the itinerary from beginning to end, cause I'm just crazy enough to think that I can.
In Matthew 8, Jesus has already had an extremely full day, to say the least. After preaching the Sermon on the Mount, He has been followed back down the mount by the multitudes. As He makes His way to the Sea of Galilee, he heals a leper, the centurion's servant, and then stops at Peter's house to heal Peter's mother-in-law, and those in need just keep coming. It's now dark, and Jesus is still healing. The crowd follows Him right to the water (some will even get in boats to continue following). These people have no problem letting Jesus lead. They have seen His wisdom, His compassion, and His power on display all day long, and starting in Verse 19, Jesus reveals some truths about Himself that should put backseat drivers like myself to shame:
The Cost of Discipleship

(Matthew 4:3-4, 6:25-34, Philippians 4:19) – In Verse 19, Jesus tells a would-be follower that the Son of Man has no place to lay His head. Although Jesus possessed untold riches in heaven, He walked this earth with virtually nothing to His name, and relied on His Father for each day's provision. Backseat drivers don't like surprises, and if you're like me, you want to know where everything is coming from – your next meal, your next paycheck, your next answer to prayer. But Jesus confirmed that the cost of discipleship is dependency, because dependency is the fertile ground that grows our faith.
The Calm in the Storm

(Psalm 113:4-6, 135:6-7, Isaiah 26:3) – In Verses 23-27, Jesus is sleeping, while the disciples are panicking. A terrible storm has come up – so terrible, that Matthew tells us the ship was covered with the waves. The storm doesn't wake Jesus; the disciples do. With one command, He stops the storm, and disciples are stunned. He told them

they

had little faith, but more than 2000 years later, how much more reason do you and I have to stop questioning the power and sovereignty of God?
The Conquering of Evil

(Luke 10:18, Romans 8:36-39, James 2:19, Revelation 20:1-10) – On the other side of the sea, Jesus is confronted by two demon-possessed men. After acknowledging Jesus as the Son of God (a truth even the disciples were just starting to wrap their heads around), the demons make another telling reference, "…art thou come hither to torment us before the time?" They're referring to the prophecy and the promise of Revelation 20, where death and hell are finally cast into the Lake of Fire. They knew that their time was short and God was sovereign. They knew Christ would conquer them one day, and we should know that we are "more than conquerors" in Him.
Today, I'm stretched out in the backseat of life. I'm wearing a t-shirt that says "Blessed", and I'm feeling it. In this very moment, the view is incredible, and I refuse to worry about the road ahead because I know the Driver has everything under control (Psalm 16:1, 32:8, Joshua 1:9, Isaiah 30:21, 42:16, Jeremiah 29:11). And though I'm not sure where we're headed next, I know that the final destination will make every last mile worthwhile.
---
YOUR PRESCRIPTION
Let God be God. Let your worries and fears take a backseat to His sovereignty. Ask Him to help you to trust Him and let Him determine the course of your life – moment by moment, day by day, and so on. Remember Who He is. Remember how far He has brought you, and remember to enjoy the ride.