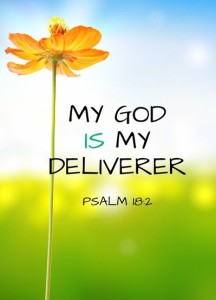 "And the Lord said, I have surely seen the affliction of my people which are in Egypt, and have heard their cry by reason of their taskmasters; for I know their sorrows; And I am come down to deliver them out of the hand of the Egyptians, and to bring them up out of that land unto a good land and a large…" – Exodus 3:7-8a
"Wherefore say unto the children of Israel, I am the Lord, and I will bring you out from under the burdens of the Egyptians, and I will rid you out of their bondage, and I will redeem you with a stretched out arm, and with great judgments: And I will take you to me for a people, and I will be to you a God: and ye shall know that I am the Lord your God, which bringeth you out from under the burdens of the Egyptians." – Exodus 6:6-7
"The Lord is my rock, and my fortress, and my deliverer; my God, my strength, in whom I will trust; my buckler, and the horn of my salvation, and my high tower." – Psalm 18:2
"Make us glad according to the days wherein thou hast afflicted us, and the years wherein we have seen evil. Let thy work appear unto thy servants, and thy glory unto their children." – Psalm 90:15-16 (a Psalm of Moses)
Scripture Reading: Exodus 3:1-12; 4:27-31; 5:15-23
---
I wish I could fix it all. And in my flesh, when someone comes to me desperate and broken, the wheels in my head immediately start turning. What can I say? What can I do? How can I make this better?
And all too often, the truth is – I can't. But I'm learning that deliverance is a journey and a God-ordained process. More than that, deliverance is an ever-growing relationship with God (Psalm 124, Jeremiah 29:13). Because to move beyond the bad – the bondage, the bitterness, the oppression – you have to move towards God. You have to commit to a journey without entirely knowing the destination.
In Exodus 3, God starts a process of deliverance for the Children of Israel. But although God God has "come down to deliver them" (Verses 7-8), that deliverance will not come with a simple wave of His sovereign hand.
When God speaks to Moses through the burning bush (Exodus 3:4), He talks of bringing His chosen people to a good land. But it soon becomes clear that deliverance will not be immediate. Pharaoh's first reaction to Moses', "Let my people go," is to increase the workload of the Israelite slaves (Exodus 5:1, 6-15). Instead of having materials brought to them to make bricks, they will have to gather their own materials, and their quotas will stay the same. In addition, the "officers" (Hebrew supervisors of the workforce) are beaten and blamed for inciting rebellion among the ranks. God's "deliverance" seems devastating.
And even once the plagues begin, they impact the Children of Israel along with the Egyptians. Some Bible scholars believe that the Israelites were not immune to the first three plagues – the Nile turning to blood, the frogs, and the lice. It's not until the fourth plague (flies) that God mentions that the land of Goshen (home to the Israelite slaves) will not be touched (Exodus 7:14-8:23).
The question is: Why? Why the continued suffering? Why the long, dramatic road out of Egypt? Let's be real. Pharaoh was no match for God. In His all-powerful, all-knowing sovereignty, God could have wiped Egypt off the map and placed His people in the Promised Land with one word. Pharaoh's cooperation was never a requirement. But therein lies the proof that God's priority is relationship. God didn't have to prove Himself to Pharaoh, to Moses, or to His people. He chose to do so. He chose to show His power, to grow the dependency of His people on Him, and to rekindle His relationship with them in the fire of adversity (Exodus 3:12, Deuteronomy 29:2-4, 29, Romans 5:3-5, 8:17-18, Philippians 3:10, James 1:2-4).
We want quick fixes and immediate answers. And when the pain is intense and life is especially cruel, the desire for fast deliverance is more than understandable. But God wants more for us. He desires the slow, methodical, hand-in-hand process and the day-by-day journey that teaches patience, reveals the truth to us about our own hearts, and finally, replaces our selfish desires with His purpose-filled plans.
It pains me to tell you this, but sometimes, things have to get worse before they can get better. We pray for deliverance, and we expect God to make all the evil go away, and we can't understand why things seem to continue on their downward spiral, in spite of our prayers. Don't despair. Don't think God hasn't heard. Don't think He hasn't come down to deliver you.
God will show Himself. And rather than simply fixing what is broken on the surface, He will reveal the deep-down brokenness that He wants to heal. He will rebuild the relationships and restore the desolation, and He will redeem it all for His glory (Job 19:25-27, Psalm 90, 106:8, Isaiah 61:3, Zephaniah 3:17, Luke 21:25-29, I Peter 1:7).
By God's grace, you can move beyond the bad, but you have to join Him on a journey. Don't worry that you don't know the way, because God does. And use whatever time it takes to take advantage of His presence. He will sustain you. He will show Himself faithful. And one day, He will deliver you to a place beyond the bad.
---
YOUR PRESCRIPTION
Have you committed to the journey? Pray for deliverance, but while you're waiting on God, get to know God. Prepare to move when He tells you to move, and know that everything – good and bad – can be used by Him to move you beyond the bad.