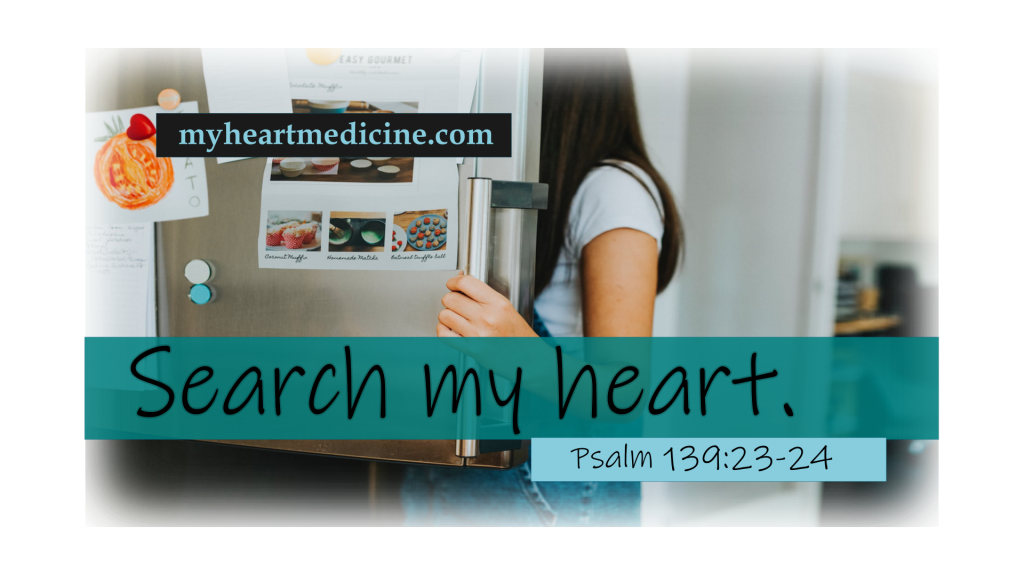 "Search me, O God, and know my heart: try me, and know my thoughts: And see if there be any wicked way in me, and lead me in the way everlasting." – Psalm 139:23-24
"Teach me to do thy will; for thou art my God: thy spirit is good; lead me into the land of uprightness." – Psalm 143:10
"Wherefore gird up the loins of your mind, be sober, and hope to the end for the grace that is to be brought unto you at the revelation of Jesus Christ; As obedient children, not fashioning yourselves according to the former lusts in your ignorance: But as he which hath called you is holy, so be ye holy in all manner of conversation; Because it is written, Be ye holy; for I am holy." – I Peter 1:13-16
It can't be fixed in one day. My refrigerator is a monument to my procrastination that I'm chipping away at, one forgotten container at a time. And the deeper I go, the worse it gets. It's not like I haven't cleaned anything out of it in the last ten months. It's just that, given the documented excuse of too much busyness, I typically only address the visible front-facing layer of items, while living in blissful ignorance of the sixth-grade science experiments lurking beyond this week's leftovers. As long as I can squeeze the latest batch of fresh groceries into the front of each shelf, we're still OK, right?
I thought so – until I opened one mystery dish and heard Joey exclaim, "Ewww! That's disgusting!" And this is a kid who begs to make homemade slime, eats ketchup packets, and would wear the same socks for a week if I let him. Out of the mouths of babes. Clearly, I have a problem.
In Psalm 143, David has a problem. Scripture doesn't indicate when this Psalm was written. What is clear is that David is in trouble. But as he cries out to God for help, he also acknowledges an ever-growing awareness of his own unworthiness. David is overwhelmed at the sight of his enemy (most likely, either King Saul or his own son, Absalom), but he is just as overwhelmed by what he sees in himself.
In Verse 2, he begs God not to judge him, rightly stating that "no man" (including himself) can be justified. In Verse 7, he confesses his own failing spirit. And in Verses 8 and 10, He begs God to speak to Him kindly, and to teach Him to do right. Yes, in the depths of persecution, David asks for deliverance, but he also prays for personal revival.
David pleads with God to clean up the mess around him, but he readily admits that he is a mess inside as well. And throughout his psalms, David prayed for deliverance from the enemies without, while always addressing the enemy within.
I find that the deeper I go with God, the more I realize just how much of the fault actually lies within me – my pride, my self-seeking, my sense of entitlement, and the list goes on. The truth is that behind each problem I face is a mountain of decisions I've made, leftover thoughts and attitudes and actions that have brought me to where I am. And while it's easy to pin my problems on people and situations around me, most of the time, no one has had more impact on MY circumstances than ME (I Samuel 15:23, Psalm 51, Matthew 7:3, I Timothy 1:15).
The more time I spend in prayer, the more I find rotting leftovers in my heart – leftover bitterness, leftover hurt and insult – unpleasant remains of situations that I put a brave face on, but never truly confessed and confronted before God's throne of grace.
We all say that we want to be closer to God, but we don't much like the fact that the closer we get to a holy and perfect and righteous God, the uglier we get (Isaiah 6:5, Mark 1:6-7, Romans 3:10, 23, 5:8, Philippians 2:12-13). And the closer you get to the Light, the more imperfections you'll have to face in yourself (II Samuel 22:29, Daniel 2:22, Micah 7:8, John 3:19-20, I John 1:6-8).
But here's the good news. To God, you are never more beautiful, then when you confront your own inner ugliness. God is not impressed with our brave faces, our Sunday-morning serenity, and our cleanest church clothes. His heart is won by repentance, by the humble obedience of broken and contrite spirits (Psalm 34:18, 51:17, 139:23-24).
There is life beyond the leftovers. In the back of the fridge, I found a glistening white wall. I suspect it's always been there, just waiting to be seen. And on the other side of soul-searching prayer, a Holy God waits to make Himself real to a heart that is willing to actually be real.
YOUR PRESCRIPTION
Have you ever really been real with God? Have you asked Him to show you your part in a situation that you've been praying about? One of the best prayers you can pray is "Lord, search my heart, and show me what you find."