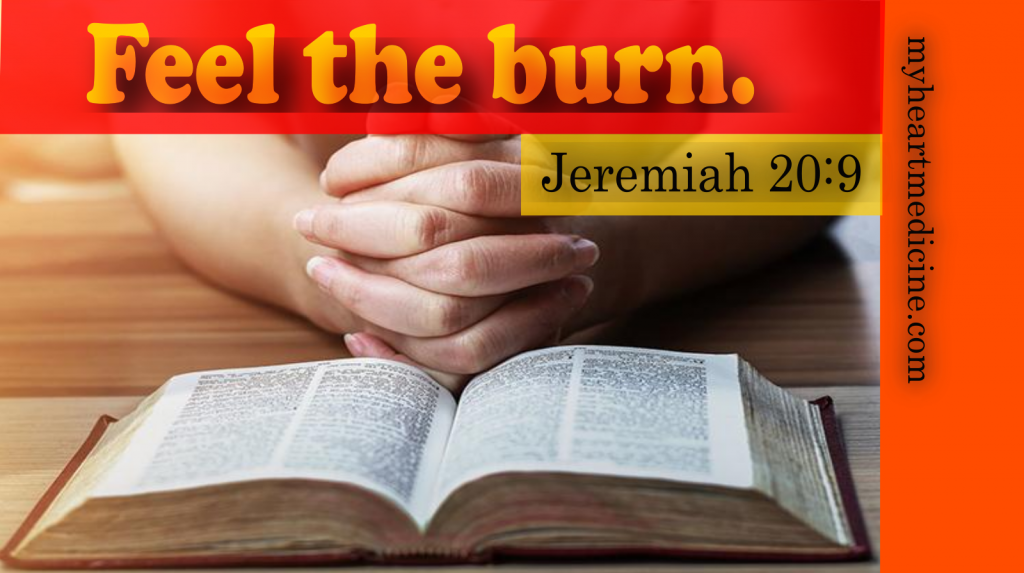 "Then I said, I will not make mention of him, nor speak any more in his name. But his word was in mine heart as a burning fire shut up in my bones, and I was weary with forbearing, and I could not stay." – Jeremiah 20:9
"The grass withereth, the flower fadeth: but the word of our God shall stand for ever." – Jeremiah 40:8
"Wherefore lay apart all filthiness and superfluity of naughtiness, and receive with meekness the engrafted word, which is able to save your souls. But be ye doers of the word, and not hearers only, deceiving your own selves." – James 1:21-22
Scripture Reading: Jeremiah 36
I am grateful to God for this simple but useful truth – my Joey is a terrible liar. Of course, the poor quality of his lying skills doesn't stop him from trying them out. But when confronted about possible wrong-doing, Joey makes this ridiculous befuddled expression that immediately lets me know he's lying through his poorly-brushed teeth. And lately, that expression appears in response to questions about homework. You see, every now and then, Joey "forgets" to do a page or a section in one of his workbooks. And he secretly hopes that everyone else will just forget about it, too. But Joey is slowly figuring out that every page will be completed, and every lesson (plus a few extra) will be learned.
In Jeremiah 36, pages of God's Word aren't just being forgotten – they're literally being cut up and burned in the palace fireplace. The host of this book burning is Judah's King Jehoiakim, and the irony is that Jehoiakim's father, Josiah, led one of the greatest revivals in Judah's history, after finding the lost Book of the Law in the neglected temple in Jerusalem (II Kings 22:11-20). But this rotten apple has fallen about as far from the tree as you can get, and Jehoiakim is about to seal the fate of Judah with the ultimate blasphemy.
When Jehoiakim commits this heinous act, (Jeremiah 36:1, Daniel 1:1-3) Babylon has already taken its first bite out of Judah. Jerusalem has already been besieged, Daniel, Shadrach, Meshach, and Abednego have already been carried away to Babylon with the first wave of exiles, and Jehoiakim is a powerless puppet-king under Babylon's Nebuchadnezzar. 
But there is a window. There is a window of about 20 years before the next deportation of Jewish captives, and our ever-merciful God is pleading with Judah to repent (Verses 2-3). God tells Jeremiah to write down every prophecy that God has given him up to this point. Jeremiah calls on his trusted scribe, Baruch, and starts dictating (Verse 4). Together, they compile the list of prophecies – some of which had already tragically come to pass.
Jeremiah then sends Baruch to the temple with scroll in hand, and Baruch reads it aloud to the people (Verses 5-6). The public reaction is so strong that the people proclaim a fast, and Baruch is on a roll, reading the scroll to the people a second time (Verses 9-10). A young man named Michaiah goes to the princes of Judah, and soon, Baruch is summoned to read the scroll for them as well (Verses 11-13).
But although the princes are convicted by the Word of God, they know that Jehoiakim won't like it. They send Baruch and Jeremiah into hiding, and they hide the scroll, before approaching the king (Verses 16-20). And as expected, Jehoiakim short-circuits the revival, but in an appalling and unexpected way. He demands that the scroll be brought to him, and after the reading of each page, he casually cuts it away and tosses it into the fire (Verses 21-25). And in so doing, he ensures that every last judgment against Judah will come to pass (Verses 29-31).
We gasp at the audacity of Jehoiakim, and we may not be tossing pages of God's Word into a literal fire, but are there pages that we'd just as soon forget? Pages that use uncomfortable words like "wicked" and "lust" and "submit"? Pages that tell us that God's best blessings are carried on the back of our obedience? Verses that confirm that God is not your fairy godmother, but the Sovereign Lord of the universe?
The kings of Judah wanted to hear what God had to say – until they didn't. They wanted reports of rescue without repentance. They wanted words that fed their egos without exposing their hearts. And sometimes, we want to hear God's voice – until we don't (Psalm 119, Matthew 5:18, John 3:20, Hebrews 4:12, II Timothy 3:16-17). Until it whispers about some idol in our lives, some unresolved sin, some bitterness that we've justified in our minds.
There's only one way to burn this Book, and that's by letting it burn inside of you (Psalm 119:11, Job 23:12, Isaiah 55:11, Matthew 4:4, 24:35, Luke 11:28, John 1:1, 8:31-32, II Corinthians 7:1). Our God is a consuming fire, and His Word is meant to shed light on our sin, to purify our hearts, and frankly, to burn a little bit. But oh, the blessing that waits on the other side of that Son burn – oh the mercy and the grace and the unfailing love (Deuteronomy 30:9-10, Joshua 1:8, Psalm 1, Matthew 7:24). Learn to love this Book – in all of its searing truth – and learn to love your lessons.
YOUR PRESCRIPTION
Ask God to show you if you have been disregarding His Word in any way. Spend time in it every day, and don't be afraid to apply it to your life. It will change you in unexpected ways.