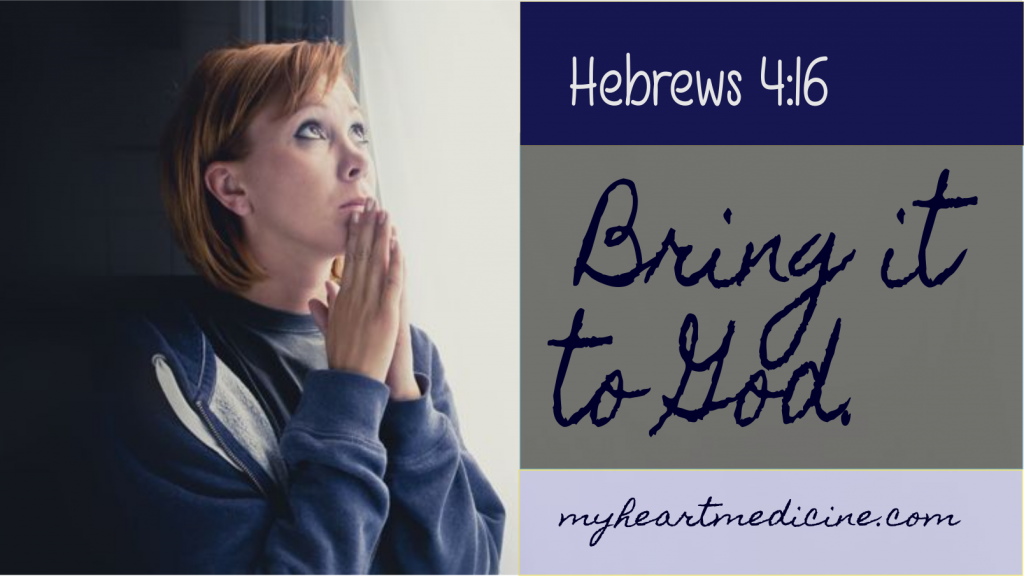 "Then came the disciples to Jesus apart, and said, Why could not we cast him out? And Jesus said unto them, Because of your unbelief: for verily I say unto you, If ye have faith as a grain of mustard seed, ye shall say unto this mountain, Remove hence to yonder place; and it shall remove; and nothing shall be impossible unto you. Howbeit this kind goeth not out but by prayer and fasting." – Matthew 17:19-21
"I am the vine, ye are the branches: He that abideth in me, and I in him, the same bringeth forth much fruit: for without me ye can do nothing." – John 15:5
"But we have this treasure in earthen vessels, that the excellency of the power may be of God, and not of us." – II Corinthians 4:7
Scripture Reading: Matthew 17:14-21
This helicopter mom is coming in for a landing. In case you didn't know, I tend to be a bit of a coddler – it's the warm, snugly, nurturing side of my control freak nature. But the Lord is ever working on me – a Sunday evening sermon here, a devotional there – and it's become clear that what I thought was Joey's problem is actually my problem. Who knew?
After some prayer, I think I maybe have a teeny bit of a hero complex (or maybe not so teeny). And my desire to be Joey's hero often short-circuits his consequences, thus short-circuiting the learning and growth and independence that he needs to develop. Psycho-babble aside, my job is to raise a man and not a mama's boy, and I need to expect a little more from my fearfully and wonderfully-made boy. 
In Matthew 17, the disciples seem to be suffering from a bit of a hero complex, and these heroes of the faith are falling flat. They expect more of their newly-acquired powers, but the situation requires more Jesus and less of themselves. 
When Jesus assembled His twelve disciples, He gave them access to some of His power (Matthew 10:1-8, 17-21), and they wielded it to the best of their limited understanding. But they would soon learn that their powers were proportionate to the position of their hearts.
As Jesus returns from His transfiguration on the mountain with Peter, James, and John, he is approached by a desperate father. The father explains that his son is tortured by demon possession, frequently falling into fire and water, and nearly dying on more than one occasion. Worse still, Jesus' disciples had already tried to heal the boy unsuccessfully, and so this father is taking his complaint further up the chain (Mark 6:7, 12-13, 9:17-29, Luke 9:37-42). 
Jesus' response begins with a lesson in faith and ends with a simple command that applies to all of us (Matthew 17:17), "Bring him to me." And the account of this story in the Book of Mark records an impassioned plea from the boy's father (Mark 9:23-24) that should be the constant cry of our hearts, "Lord, I believe, help thou mine unbelief."
Of course, Jesus immediately pulls rank on the torturous demon, and the boy is healed. When the disciples later question Jesus about their own inability to command this evil spirit, Jesus notes that only prayer and fasting could give them sufficient power to face down such evil.
More than once, I have caught myself wanting to be the solution to someone's problem. Rather than bringing them straight to God, and letting Him move, I want to be the one who fixes things for them – sometimes it's love, sometimes it's pride, sometimes it's my crazy controlling ways. But whatever the motive, if I don't deny my own plans and my own importance (fasting) and defer to God's plans and His importance (prayer), I've broken more than I've fixed.
Sometimes, we need to remove ourselves from an equation. Sometimes we are called to intercede – not to interfere (Exodus 14:13-14, II Chronicles 20:17, Psalm 46:10, Proverbs 3:5-6, I Timothy 2:1). And trust me, any action done in my own power will have a band-aid effect at best. I may have patched the hole in the moment, but a greater tear is bound to develop, because I have made myself the solution, instead of God. Let's be real. Even my best intentions have an inevitable breaking point. Only God can be the Hero Who never fails, never forsakes, and never disappoints.
Stop playing the hero, and bring that brokenness to the throne (Luke 18:1, Philippians 4:6-7, I Thessalonians 5:17, Hebrews 4:16, James 5:13-16). Your job is not to be the solution. Your job is to bring that problem to the only One Who can really solve it. You are more than a conqueror, but only through Jesus – only through prayer and fasting, only through less of YOU and more of HIM (Luke 9:23, John 3:30, Galatians 2:20, I Corinthians 2:2).
This helicopter mom is bringing it in for a landing and bringing it all before the throne. And that's my advice to you. Whatever it is, stop trying to fix it, and just do one thing: bring it.
YOUR PRESCRIPTION
Bring it. Whatever burden you have, carry it to the cross and leave it there. Tell God that you're ready to stop playing the hero, so that His will can be done and He can get the glory.