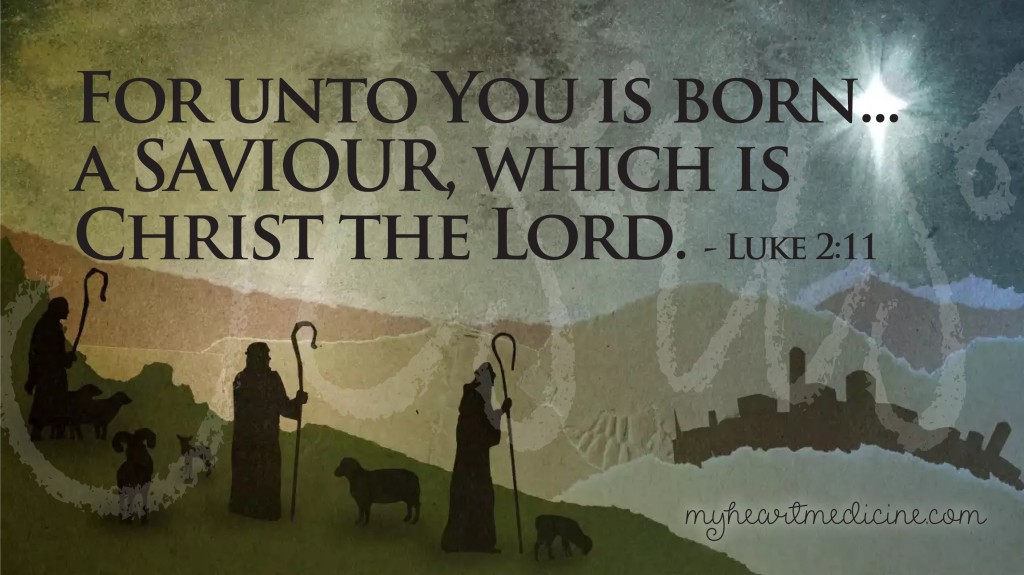 "For he shall grow up before him as a tender plant, and as a root out of a dry ground: he hath no form nor comeliness; and when we shall see him, there is no beauty that we should desire him." – Isaiah 53:2
"And it came to pass, as the angels were gone away from them into heaven, the shepherds said one to another, Let us now go even unto Bethlehem, and see this thing which is come to pass, which the Lord hath made known unto us." – Luke 2:15
"Who, being in the form of God, thought it not robbery to be equal with God: But made himself of no reputation, and took upon him the form of a servant, and was made in the likeness of men: And being found in fashion as a man, he humbled himself, and became obedient unto death, even the death of the cross." – Philippians 2:6-8
Scripture Reading: Luke 2:1-20
---
It seems awkward has become a way of life for me. When I was younger, I was so much better at putting on a show. I had the ability to pretend that I had it all together and the energy to keep up the facade on a day-to-day basis. But time has helped me to get over myself, and time in God's Word has reassured me that His grace covers my mess far more sufficiently than my own veneer of striving ever could.
And so, I awkwardly embrace my own imperfections. I'm reminded of Paul's words, "Most gladly therefore will I rather glory in my infirmities, that the power of Christ may rest upon me." If awkwardness and imperfection are infirmities, then I am most certainly infirmed (II Corinthians 12:9).
In Luke 2, the setting and circumstances of Christ's birth appear awkward, but the deliberate humility of God's plan reveals His heart for imperfect and infirmed people like you and me. You know the story, Joseph arrives in the overcrowded and unsuspecting town of Bethlehem with a very pregnant wife and no place to stay. A stable doubles as a delivery room, a manger serves as a makeshift bassinet, and the Savior of the world is born in utter obscurity (Luke 2:4-7).
Next comes the birth announcement. And while the appearance of angels in the night sky is beyond description, the audience chosen is beyond comprehension. The angels don't appear to priests or at the temple in Jerusalem. They don't find the religious elite – the Pharisees or Scribes – who seem to be so close to God (Matthew 23:27-28). Instead, they find a bunch of nameless shepherds in a field and direct them to the manger (Luke 2:8-15).
And this is where the concept of Emmanuel, God With Us, becomes so perfectly real (Isaiah 7:14, Matthew 1:23). Those shepherds were just ordinary, working-class guys. They didn't know it at the time, but their profession represented the very relationship that Christ came to have with us (John 10:11-18). He came to be our Savior and Shepherd – the One Who would give His life for His sheep.
And they probably didn't realize it, but the manger was God's way of coming down to their level. You see, to the temple, to the religious elite of Jewish society, shepherds were moral failures. The round-the-clock needs of their flocks kept them from being able to properly keep the Sabbath. The messy, hands-on care that they provided their sheep made them ceremonially unclean. They smelled like their sheep. They were filthy like their sheep, and their sheep demanded their constant attention.
But praise God, He sent Jesus to save and shepherd moral failures, and so Jesus Himself entered the world in filthy, smelly fashion (II Corinthians 5:21, Galatians 3:13). The stable wasn't a last resort; it was a carefully and divinely chosen location. The stable became a house of worship that even a shepherd fresh from the field could enter without reserve, without shame, without feeling unaccepted or out of place. It was God stepping down from His throne to dwell at their level – the epitome of Emmanuel.
This Christmas, you can come to Emmanuel. The amazing truth is that our very imperfections invite His presence, because He didn't come for the righteous – He came for moral failures like you and me (Mark 2:17, I Timothy 1:15). The world has a checklist of traditions and trappings that your Christmas requires. The world pressures you to work and strive and knock yourself out to achieve an unachievable standard of perfection. But Emmanuel waits for you in the manger – in the smelly mess of our everyday lives and our sin-sick existence – and you don't have to work your way to perfection, because He finished the work on the cross (Matthew 11:28-29, John 19:30, Romans 5:6-8, Ephesians 2:8-9, Hebrews 12:2).
Step back from the Christmas rush and step into the humble warmth of the stable. Embrace your awkwardness, your imperfections, and your infirmities, knowing that Jesus Christ, Emmanuel, came to embrace you – where you are, just as you are. He came down to your level, so that you could stop trying to work your way to Him.
Hallelujah, what a Savior.
---
YOUR PRESCRIPTION
Have you truly embraced Emmanuel? Have you accepted Christ as your Savior? No amount of human striving can outweigh your sin and save your soul, but Christ came to earth to die for you. If you've not accepted the gift of salvation, talk to God today.