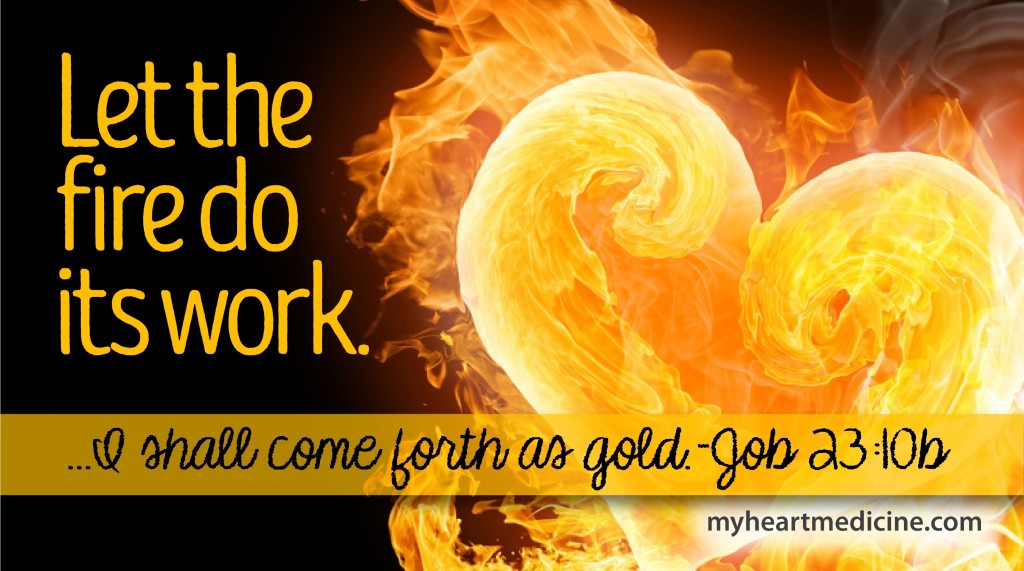 "If it be so, our God whom we serve is able to deliver us from the burning fiery furnace, and he will deliver us out of thine hand, O king. But if not, be it known unto thee, O king, that we will not serve thy gods, nor worship the golden image which thou hast set up." – Daniel 3:17-18
"For which cause we faint not; but though our outward man perish, yet the inward man is renewed day by day. For our light affliction, which is but for a moment, worketh for us a far more exceeding and eternal weight of glory; While we look not at the things which are seen, but at the things which are not seen: for the things which are seen are temporal; but the things which are not seen are eternal." – II Corinthians 4:16-18
"Above all, taking the shield of faith, wherewith ye shall be able to quench all the fiery darts of the wicked." – Ephesians 6:16
---
It started with a giant Nerf gun. I was minding my own business, putting on the last of my makeup so that we could embark on a busy day that included a trip to church and lunch with a friend, when Joey said, "Mommy, look!"
What followed was an oversized foam dart that torpedoed without warning – and with great impact, I might add – into the tear duct of my right eye.
It was not one of my finer moments. My son immediately blurted out a torrent of desperate apologies and insisted that he "didn't know it was loaded" (a debatable statement at best). Meanwhile, I experienced blinding pain mingled with vain thoughts about the very real possibility of going to church with a black eye, along with the inescapable idea that I just might be the biggest parenting failure in the world, topped off with a certain amount of less-than-righteous anger at my beloved boy.
I must tell you, that fiery dart lit a fire under me, as God used it to teach me a few things about myself. It was up to me to gain from it by seeing God at work in that chaotic little moment.
In Daniel 3, it started with a giant ego and a giant statue. Nebuchadnezzar, king of Babylon, had decided that being king wasn't quite enough – he wanted to be a god. So he made a 90-foot likeness of himself in solid gold, with the expectation that all of his subjects would bow down to it (Verses 1-2). An elaborate dedication ceremony was held, with the royal orchestra on standby to cue everyone to worship Nebuchadnezzar's statue (Verses 3-6). But three young and upright men stayed upright when the band began to play. You know their names – Shadrach, Meshach, and Abednego (Verse 12).
Knowing that the fiery furnace was the sure fate of any dissenters, their bravery was impressive. But looking at their face-to-face confrontation with the furious king, their faith is even more impressive.
I love the response that these boys give. It is without a doubt their finest moment. When Nebuchadnezzar offers one last chance to honor him, they boldly tell the king that God is running the show – not Nebuchadnezzar (Verses 16-18). And therefore, they will stay true to God – whether He chooses to save them from the furnace (because God most certainly could save them), or whether it is His will to let them die.
And God most certainly shows up for these faith-filled, on-fire boys in that fiery furnace. As a result, Nebuchadnezzar gets a glimpse of God, and the three young men come out without any sign that they just walked through the biggest barbecue in Babylon (Verses 23-27).
Make no mistake, God's eternal intention is to use every evil – every fiery dart – for good. And He has the sovereign, all-powerful ability to do just that (Genesis 50:20, Psalm 103:19, 115:3, Romans 8:28, Ephesians 6:16, Philippians 2:13). But the wild card is our response to the evils that befall us. He has given us the free will to respond as we choose. And if we choose to let the shots that comes at us produce more evil in us, then we can deprive ourselves of the good that God was prepared to reveal (Proverbs 15:1, Isaiah 43:19, Romans 12:21, I Peter 4:12-13).
And remember this – like Shadrach, Meshach, and Abednego, regardless of what God does or does not do, you cannot lose, because you cannot lose Him. He is the Constant. He is the Good that outlasts every evil. And He is the only real Gain that gives meaning to every loss in this life (Philippians 3:7-8, Hebrews 13:5-6, 8).
The next time a fiery dart comes your way, snuff it out with faith. Whether it's the everyday annoyances or the real fiery furnaces of life, don't let one form of evil produce something regrettable in you (Job 23:10, Psalm 17:3, James 1:19-20). Instead, trust that God is sovereign, God is good, and let Him bring what He wills out of it.
Unlike little boys with Nerf guns and overly-sensitive mothers, He makes no mistakes.
---
YOUR PRESCRIPTION
Are you under fire right now? Know that God reigns over it all. Let Him use that fire for His purposes and trust that He is working it all for your good.