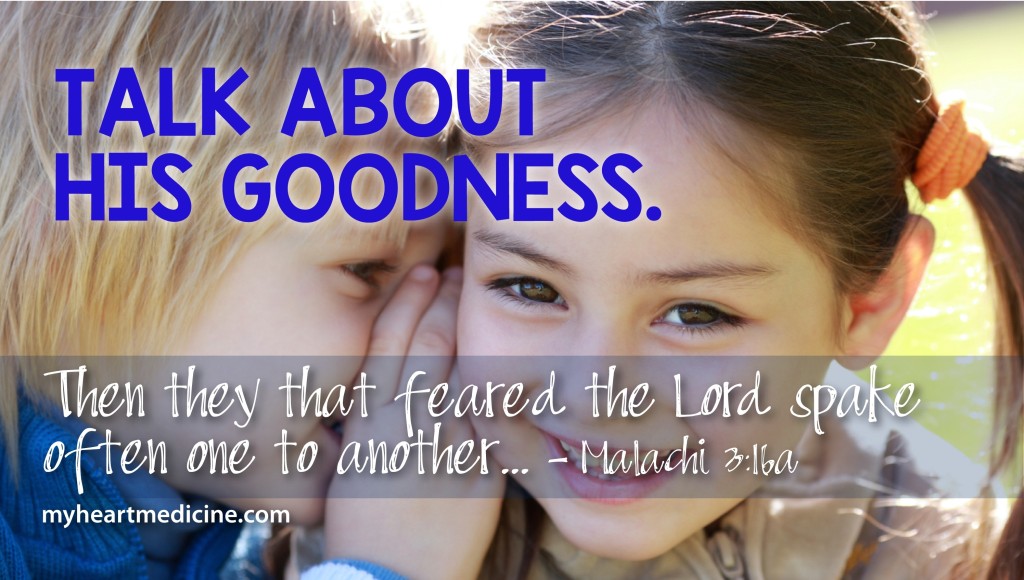 "Ye have wearied the Lord with your words. Yet ye say, Wherein have we wearied him? When ye say, Every one that doeth evil is good in the sight of the Lord, and he delighteth in them; or, Where is the God of judgment?" – Malachi 2:17
"Then they that feared the Lord spake often one to another: and the Lord hearkened, and heard it, and a book of remembrance was written before him for them that feared the Lord, and that thought upon his name." – Malachi 3:16
"Do all things without murmurings and disputings: That ye may be blameless and harmless, the sons of God, without rebuke, in the midst of a crooked and perverse nation, among whom ye shine as lights in the world." – Philippians 2:14-15
Scripture Reading: Malachi 3:13-18
---
Like most of my generation, my siblings and I grew up on tap water. As a kid, there were only a few fancy people in my life who had the million-dollar refrigerator with the built-in water and ice dispenser – and we were in awe of them. While we argued over who should have filled the plastic ice cube trays, they sipped cool, filtered water over their choice of cubed or crushed ice.
But when my husband and I bought our house, it came with the appliances, including a fancy fridge. I thought I had arrived. I thought I would never drink unfiltered tap water again. Then my mechanically-brilliant and selectively-frugal husband admitted that, instead of regularly changing the filter on the water dispenser, he had merely figured out how to disable the little red "change filter" light.
Needless to say, that filter needs changing, and I'm finding that other filters in my life need attention, too.
In Malachi 3, the prophet is pleading with God's people to change their filter. We don't know much about the prophet himself, but what a message God gave him. In fact, it would be the last message that Jews would receive from God for 400 years – the last Old Testament prophecy before the fullness of time (the New Testament), when the Messiah, Jesus Christ, Emmanuel, the Word, became flesh and dwelt among us.
So it stands to reason that this message was pretty important – for the people of Malachi's day and for us. As for the people of Malachi's day, they were the Jews who had returned from the 70-year captivity in Babylon. They were still under Persian rule, but they had been back in their homeland for about 100 years, and they had rebuilt the temple in Jerusalem. But the temple and the people were in serious need of a filter change. Their priests were corrupt (Malachi 2:7-8), the abuse of women through unlawful divorce was rampant (Malachi 2:13-16), and they failed to honor the Lord with the tithes and offerings He deserved (Malachi 3:8).
Malachi 3 begins with the prophetic promises of the Messiah and His forerunner (John the Baptist), but it also calls for some pretty heavy-duty repentance. And in Malachi 3:13, God echoes a specific rebuke from the previous chapter (Malachi 2:17). In short, He is sick of their complaining. He is weary of being blamed for everything they don't like about their lives, when they choose to live their lives without Him. He is tired of them demanding that He judge others, when they refuse to be judged themselves.
However, in Verse 16, a group of people catches God's attention. They are the ones who have changed their filter. Instead of running their circumstances through a filter of complaining and blaming God, these people have a filter of fear – the fear of the Lord, that is. They begin to see things from the holy, sovereign perspective of God, and God honors them for it. They change the way they look at things, and just as importantly, they change the way that they talk about those things to each other (Psalm 73:28, Colossians 3:16, I Thessalonians 5:11, Hebrews 10:23-25). They reinforce each others faith "often" – often enough for God to note it in a book in heaven.
Here's a sobering thought: If we truly believe in the sovereignty of God, then every complaint we have is ultimately a complaint against God. If we believe that He works ALL things together for good, then we have no reason to doubt Him – even when things are bad (Romans 8:28). If anything, we are reminded to guard our filter, the heart (Psalm 51:16-17, 66:16-20, Proverbs 4:23), knowing that while our filter may need changing, God never changes (Malachi 3:6, Lamentations 3:22-23, Hebrews 13:8).
Today, I'm changing at least one filter. I can't speak for the quality of the water in my house, but I'm determined to improve the quality of my words. I want to reinforce faith, see sovereignty in action, and catch the attention of God by giving Him the attention – and the praise – that He deserves.
---
YOUR PRESCRIPTION
How would you describe your circumstances? Do you talk about your life in a way that glorifies God as Lord of all? If not, change your filter, and speak in the context of God's sovereignty and His goodness.