"And she shall bring forth a son, and thou shalt call his name Jesus: for he shall save his people from their sins. Now all this was done, that it might be fulfilled which was spoken of the Lord by the prophet, saying, Behold, a virgin shall be with child, and shall bring forth a son, and they shall call his name Emmanuel, which being interpreted is, God with us." – Matthew 1:21-23
"And suddenly there was with the angel a multitude of the heavenly host praising God, and saying, Glory to God in the highest, and on earth peace, good will toward men." – Luke 2:13-14
"Behold, I stand at the door, and knock: if any man hear my voice, and open the door, I will come in to him, and will sup with him, and he with me." – Revelations 3:20
---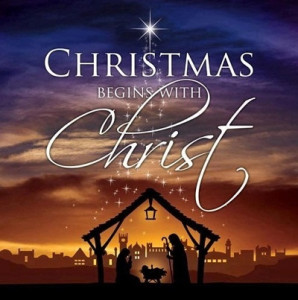 I'm a little overwhelmed this Christmas – in a good way. While I tend to be overwhelmed with shopping, events, wrapping, and a million overblown expectations, this year is somehow different. This year, more than any other, I'm overwhelmed by the promises and the possibilities of Christmas, and I want the same for you.
Picture a goodbye.  Picture the ranks of heaven watching in amazement as the Father sends His Son on a long-awaited mission.  The way has been prepared, predicted in hundreds of different ways by the prophets, and now "the fullness of time has come" (Galatians 4:4-5, Hebrews 1:1-3).
I imagine that the angels were overwhelmed at the sight.  After all, as God's messengers and ministers, they had watched the human race commit sin upon sin in a fallen world, with God continuing to provide, protect, work, and bless in countless ways that were beyond human understanding (Deuteronomy 2:7, Psalm 23, Isaiah 55, Matthew 5:45, Ephesians 3:17-19). Even the Father's chosen people had rejected Him repeatedly (Micah 3:8), trading His promised blessings for the foolishness of the vile and godless cultures around them. And yet, He was about to send His only Son, His perfect and holy son, to die for these people.
Even more amazingly, the Son would voluntarily take on the form of a human.  While still God, He would limit Himself to the frailty and fragility of a human body (John 1:14, Philippians 2:5-8).  Born of a virgin (Isaiah 7:14), He would live their life and overcome their temptations to remain the perfect sacrificial Lamb – the Lamb of God Who would take away the sins of the world (John 1:29, 3:16-17, Hebrews 2:14, 4:15).
There are those who believe that Christ was not born in a random stable in Bethlehem, but in a very specific stable, the "Tower of the Flock" or Migdal Eder (Micah 4:8).  In this particular stable, priestly shepherds were actually commissioned to oversee the birth of sacrificial lambs, which were wrapped in swaddling clothes to keep them ceremonially clean for sacrifice at the temple in Jerusalem.  This tower (also known as the place where Jacob buried Rachel) is actually on the road to Jerusalem, the same road that Jesus would walk 33 years after His birth, in order to die on the cross (Luke 9:51) .  I don't pretend to be enough of a Bible scholar to either confirm or deny the exact birthplace of Christ. But I can tell you what this picture says to my heart.
Our God went to incredible lengths to save us.  And there was nothing random about it.  Just as the hairs on your head are numbered, every detail of the birth of Christ was ordained by the Father, with your salvation in mind. And He didn't stop there. From Bethlehem, to Jerusalem, to Calvary, to the empty tomb, to the Father's right hand  – every stop was made with the specific purpose of securing our redemption.  And yet, in spite of the amazing love, power, and preparation that was poured into it, like any Christmas gift, it is not yours until you accept it (John 1:12, Romans 10:13).
I would fail you if I did not invite you to open the most important gift of all.  There is no doubt that Emmanuel came to be with us on Christmas, and He is ever-accessible to you (Job 19:25-27, Jeremiah 29:13, I Timothy 1:1-15, I John 3:1, 4:14-15).  But the real gift of Christmas is that He came to ensure that we could be with Him forever, beyond this life and into eternity (John 14:1-3).
This Christmas, take the time to unwrap the gift, the promise, and the possibilities of Emmanuel – God with us, God in you, and God with you – in a manger, in this moment, and forever.  Merry Christmas.
---
YOUR PRESCRIPTION
Celebrate the gift of Emmanuel, God with us, and make sure that you have accepted the gift that will allow you to be with God – forever.