"But he that doeth truth cometh to the light, that his deeds may be made manifest, that they are wrought in God." – John 3:21
"Draw nigh to God, and he will draw nigh to you. Cleanse your hands, ye sinners; and purify your hearts, ye double minded." – James 4:8
"But if we walk in the light, as he is in the light, we have fellowship one with another, and the blood of Jesus Christ his Son cleanseth us from all sin." – I John 1:7
---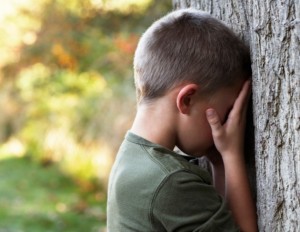 We have a five-year old son, Joey, and one of his favorite games is Hide & Seek. And even though we've pretty much exhausted all of the decent hiding places in our house, he still begs us to play with him over and over. He'll hide in the same, obvious places each time. And in his five-year old mind, as long as you can't see his face, you can't see him (even though his little feet or his little rear end might be sticking out in plain sight).
I get the impression that Nicodemus played spiritual Hide & Seek. In John 3, Nicodemus comes to Jesus under cover of darkness to ask some of the most critical questions in all of scripture. But although Jesus met Nicodemus where he was, He didn't sugarcoat any of His answers. By day, Nicodemus was a faithful Pharisee and a "ruler of the Jews" (Verse 1), but in the dark, Nicodemus knew that there was a darkness hiding in him.
Actually, I can relate to Nicodemus. There was a time in my life when I didn't want to admit on Sunday who I really was during the rest of the week. I have lived under the illusion that, as long as I could hide the truth, it didn't really matter. But anything that distances you from God absolutely matters. From a heart that has known hurt, but has also known healing, let me give you a few hard truths to pull you out of your hiding place and into the Light:
Get Real. No matter who you think you're fooling, you aren't fooling God. When some sin condition – whether of your choosing or someone else's – hinders you from being honest before God, call it what it is. Exercise your free will to free yourself from anything that keeps you from God and His will for your life. (Psalm 51, 66:7-19, 103:1-6, 139:23, Hebrews 4:13
Get Right. God forgives. God redeems. God restores. But on the premise of free will, none of these things happen without our repentance. Turn away from your sin, and run from anything and anyone that seeks to drag you back into it. (Joel 2:25, Isaiah 43:1, Romans 2:4, I John 1:9)
Get Into the Light. In spiritual terms, nothing good grows in darkness, and Satan uses isolation as a breeding ground for a multitude of sins. Ask God to search your heart and shed His light on all of your hiding places. Some may even be news to you. But anything you lay out before Him can be changed and even used for His purposes. (John 1:9, 8:12, 11:10, I John 1:7)
Get Into the Word. All of the wisdom of this world still can't stack up against the truth of God's Word. You can never spend too much time in it, and the more time you do spend, the more God will reveal Himself to you. Most importantly, it will keep your heart and mind away from darkness and filled with the light of His truth. (Psalm 1:1-2, 119:9, 102-104, Jeremiah 33:3, Philippians 4:8, James 1:21)
Nicodemus is mentioned two more times in scripture, and both instances show the impact of his covert conversation with Jesus (John 7:44-52, 19:38-40). In John 7, he would defend Jesus to the agitated Pharisees, diffusing their plans to arrest Him ahead of God's prophetic timetable. And in John 19, he would defy the Jewish leaders by assisting Joseph of Arimathea in the burial of Jesus (another prophecy fulfilled – Deuteronomy 21:23, Isaiah 53:9). It didn't happen overnight, but somewhere along the way, Nicodemus stopped hiding and stepped into the Light.
What about you, my friend? Are their areas of your life that need "His marvelous light" (I Peter 2:9)? No matter what has happened, no matter where you've been or what you've done, even the darkest recesses of your mind, your heart, and your past can be transformed (Romans 12:2) once you get real, get right, and get into the light.
---
YOUR PRESCRIPTION
What do you have to hide? Be honest with yourself and with God about anything that has come between you, and ask Him to show you anything else that needs to be made right with Him.