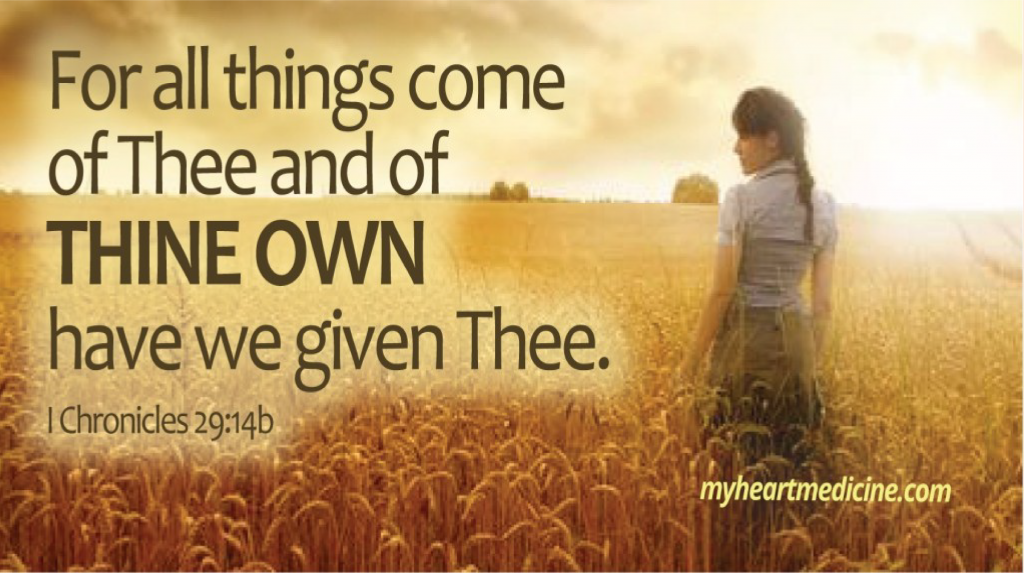 "Give, and it shall be given unto you; good measure, pressed down, and shaken together, and running over, shall men give into your bosom. For with the same measure that ye mete withal it shall be measured to you again." – Luke 6:38
Ye have not chosen me, but I have chosen you, and ordained you, that ye should go and bring forth fruit, and that your fruit should remain: that whatsoever ye shall ask of the Father in my name, he may give it you. – John 15:16
"And God is able to make all grace abound toward you; that ye, always having all sufficiency in all things, may abound to every good work." – II Corinthians 9:8
Scripture Reading: Acts 16:9-40
Gift-giving is one of my favorite things, and I take it pretty seriously. Don't give me too much credit though, because like everything else, my pride poisons it. I want to give the most thoughtful, most creative, most perfect gift imaginable – every time. That sounds noble, until you dig down to the obsessively-competitive, my-gift-is-better-than-yours layer underneath. 
One of my gift-giving triumphs was when I bought my husband a chainsaw for his birthday some years ago. It was one of the few times I picked the right tool off the Home Depot website, and my husband's eyes lit up to a level that rivaled our wedding day. But just a few weeks ago, God taught me a lesson about the gift that HE gave, as my husband used his beloved chainsaw for a service project at our church. I gave it for my own satisfaction, but ultimately, GOD gave it to Pauly for HIS service.
In Acts 16, Lydia has a life loaded with gifts that keep on giving – for God's purposes. It all starts with a dramatic dream (Verses 9-10) that redirects the Apostle Paul from his intended destination in Asia (modern-day Turkey) to Macedonia (modern-day Greece). Arriving in the Macedonian city of Phillipi, Paul and Silas seek out the Jews first, in order to observe the Sabbath with them. There's only one problem – Philippi has no synagogue. This is probably an indication that there were not enough men in the Jewish community to establish one (a minimum of 10 men was required by Jewish law). And so, they find a group of women celebrating the Sabbath down by the river (Verse 13).
The first to respond to the gospel in this makeshift synagogue is Lydia (Verse 14). Described as a "seller of purple", Lydia is a go-getter, and with the fabric-dyeing skills for which her hometown of Thyatira was famous, she had built her own thriving business in Philippi. From all indications, Lydia had a good life full of good things, but God had something greater in store for her. She would be the first soul saved in Philippi, and possibly, in all of Europe. 
And here's where Lydia moves from go-getter to giver. She immediately offers her home to Paul and Silas, providing the headquarters for their ministry in Philippi (Verse 15). The house that Lydia had built became the church that God was building – and build it He would. Within a matter of days, Paul would heal a demon-possessed girl (Verses 16-18), which would lead to Paul and Silas being thrown in jail (Verses 19-24), which would lead to a midnight miracle and the conversion of the Philippian jailer and his household (Verses 25-34). Following all that, Paul and Silas would return to Lydia's house before leaving Philippi…and a new church was born (Verse 40).
Lydia's story is limited to a total of four verses (Acts 16:13-15, 40), but her legacy is woven all through Paul's epistles (Romans 15:26, II Corinthians 8-9, Philippians 4:3, 10-19), as he repeatedly commends the Philippian church for their faithful and faith-filled generosity.
God gave Lydia drive, skills, a thriving business, a versatile home, and a following in her community. But why did He give her those things? Was it simply so that Lydia could live large? God is good, but a good life is just a byproduct of life lived for HIS purpose (Deuteronomy 8:18, Psalm 37:3, I Chronicles 29:14, Romans 12:1, Colossians 3:24, I Timothy 6:17-18). In God's perfectly-sovereign, way-ahead-of-you-and-me wisdom, God loaded up Lydia's life with provision and potential, so that He could use her when Paul and Silas came to town. And in the end, Lydia stepped up and God showed up, resulting in a return of eternal proportions.
However much, however little, in whatever form you have it, use all that God has given you FOR God. Be a go-getter, but make sure you give as good as you get, and give it all back to Him.
YOUR PRESCRIPTION
Ask God to show you how He wants to use the things He's given you. It's all HIS, and He has greater plans for it than you could ever imagine.