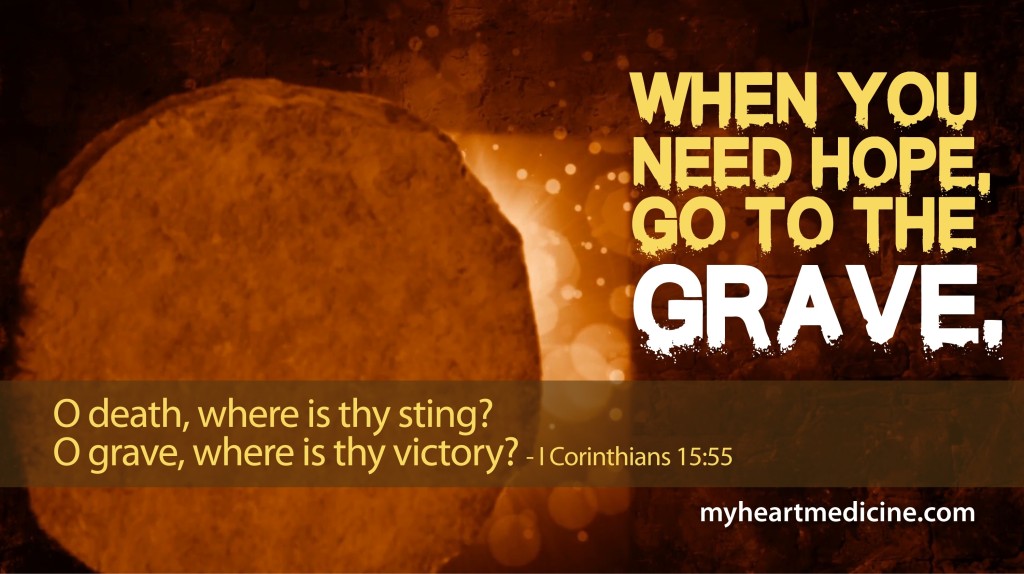 "And very early in the morning the first day of the week, they came unto the sepulchre at the rising of the sun. And they said among themselves, Who shall roll us away the stone from the door of the sepulchre?" – Mark 16:2-3
"Death is swallowed up in victory. O death, where is thy sting? O grave, where is thy victory? The sting of death is sin; and the strength of sin is the law. But thanks be to God, which giveth us the victory through our Lord Jesus Christ." – I Corinthians 15:54b-57
"Blessed be the God and Father of our Lord Jesus Christ, which according to his abundant mercy hath begotten us again unto a lively hope by the resurrection of Jesus Christ from the dead." – I Peter 1:3
Scripture Reading: Mark 16:1-10, John 20:1-18
---
A few months ago, we broke down and got Joey a dog. My husband found us a cute, little beagle, aptly named "Sunday", who has become Joey's loyal sidekick. Sunday is a sweetie, but she's no guard dog. To date, her list of phobias includes stink bugs, balloons, remote-control cars, high winds, and her own shadow.
When Joey recently got a bunch of foil balloons for his birthday, Sunday was paralyzed with fear. If someone simply touches the balloons, so that they shift around and gently bump into each other, Sunday scampers away. She won't even walk past the balloons, unless one of us stands squarely between her and the sinister bouquet of floating foil heads and verbally reassures her. It's pathetic, but somehow, she feels absolutely powerless in their presence.
In Mark 16, three women knew what it meant to feel powerless as they made their way to the tomb – Mary Magdalene, Mary the mother of James (the disciple known as "James, the son of Alphaeus"), and Salome (wife of Zebedee and mother to the disciples James and John).
I picture them arm-in-arm, moving slowly, weeping softly, drawn by duty, and tortured by the pointlessness of it all. They had endured the agony of front-row seats for the crucifixion, displaying a steadfast loyalty and grit that even many of the disciples couldn't muster (Matthew 26:31, 27:54-61). After that, they had wept their way through the burial, joining Joseph of Arimathea and Nicodemus in trying to compensate for a gruesome and undignified death with a solemn and sacred laying to rest (John 19:38-42).
Now, after a long and lonely sabbath, these faithful women came with spices in hand to resume the ritual of caring for Jesus' body (Mark 16:1-2). They were again drawn by duty, but honestly, they had no idea how they were going to manage (Matthew 27:65-66, Mark 16:3).
But while they wondered what to do about the stone, God was already moving in ways beyond their imagination
By the time they reach the tomb, that stone is already history. The grave stands open, and looking inside, they find Jesus gone and an angel waiting for them with those blessed words, "He is risen. He is not here."
Before they even reached the problem, it was solved. Their weakness was answered with a power from on high and a plan to do far more than simply allow them to carry out their pointless rituals. As a matter of fact, those rituals were no longer needed, because death had been driven from that grave.
What stone stands in your way today? What problem seems so massive that it's beyond moving? I'm here to tell you that it is not beyond the moving of God.
And as for your eternity, it was sealed when the seal on that grave was broken (I Corinthians 15:12-19, 54-57). You do not have a powerless Savior, forever languishing on a cross. You have a risen Savior, a Savior who has already left His own grave to move on and move other stones, a Savior Who is seated beside His Father in the heaven, pleading your case, with the power to put every stone under His feet (Psalm 8:6, Romans 8:34, Hebrews 1:2-4, 7:25, 8:6, 10:12-13).
All of the proof, all of the promise, all of the power you require is waiting for you at that empty grave – for eternity and for every day. However big the stone, however impossible the problem, Jesus is way ahead of you. The stone is rolled away, the work is finished, and the open tomb is an open invitation to believe that all things are possible.
So when you need hope, go to the grave. When you need courage, go to the grave. When you need strength, and answers, and a reason to go on – they are all there, where the stone used to be.
If death can be conquered, then any stone can be moved by His mighty hand. And hope is alive, because HE IS RISEN.
---
YOUR PRESCRIPTION
Do you believe that God still rolls stones away? Take all of your cares and concerns to your living, risen Savior, knowing that He has conquered death and He is mighty to save.