"Take heed to yourselves, that your heart be not deceived, and ye turn aside, and serve other gods, and worship them." – Deuteronomy 11:16
"Only be thou strong and very courageous, that thou mayest observe to do according to all the law, which Moses my servant commanded thee: turn not from it to the right hand or to the left, that thou mayest prosper withersoever thou goest." – Joshua 1:7
"A prudent man foreseeth the evil, and hideth himself: but the simple pass on, and are punished." – Proverbs 22:3
---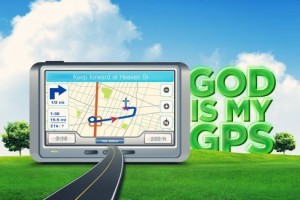 I have a terrible sense of direction – really terrible. I can't tell you how many times I've gone 20 or more miles out of my way, in a botched attempt to reach my destination.
But all of that changed with the glorious introduction of GPS (Global Positioning System). Of course, it's man-made and not entirely perfect, but 9 times out of 10, if I listen to the voice, follow its directions, and stay on the path highlighted on the screen, I get to my destination on time and with no trouble.
It's simple, right? Knowing that my instincts are flawed and my senses are weak, I rely on the most perfect guide I can find, and I follow it to the letter. But why is it so hard in our spiritual lives? We know God's Word is perfect, we know His ways are perfect, and yet, instead of staying right on the path, we find a million different detours, unplanned stops, and the occasional illegal u-turn, forever "recalculating" God's plan for us.
In Judges 2, we see an illegal u-turn in the direction of the Children of Israel. It is a time of victory, prosperity, and eventually, ingratitude. Joshua and his leadership team are dying off, and Israel's resolve to obey the Lord is dying along with them. As each tribe moves to claim its inheritance in the Promised Land, compromises abound. Although the Lord had clearly instructed them not to make alliances or to share their world with the Canaanites, they did just that.
In Judges 1 (starting in Verse 25), they allow the Jebusites to stay in the land with the tribe of Benjamin, and one group after another is given an alternative to leaving. The foreign gods never go. The ungodly customs and cultures never go. They all just mix in with the Israelites, constantly watering down their devotion to God, and eventually drowning it out altogether (Judges 2:12-13).
By the second chapter of Judges, God is fed up with their unfaithfulness, and so a sad cycle begins (Judges 2:14). The Children of Israel are oppressed by the Canaanites living among them, and the Promised Land becomes a new "land of affliction" (Verses 15-20). They cry to God for mercy, and because of His covenant with them, He shows mercy, providing a judge to save them (Psalm 124). But even after deliverance, they still refuse to give up the things that violate God's commands, and so they end up right back where they started – having their own stubborn way and living in oppression (Deuteronomy 30:8-9, 19-20, Romans 6:17-18).
Are we so different? We question why life is so hard, why God seems so distant, and we wonder why He hasn't done more for us, rarely questioning our own hearts, our actions, and the things in this world that we choose to cling to (Joshua 1:7, Romans 8:6).
I'm here to tell you the hard truth – in love. If you really want to know God and His perfect plan for your life, if you want to have peace, when things go your way and even when they don't, some things have to go – some things that seem harmless, that seem under your control, and that may have played a comfortable part in your life for a long time. I don't need to tell you what they are, because I would guess that the Holy Spirit has already started to tell you. I'm just here to confirm it.
Check your GPS – that is, the Godly Positioning System that consists of His Word and the Holy Spirit. Listen to His Voice, follow His directions, avoid u-turns, and don't be afraid to leave a few things behind (Psalm 16:11, 119:105, Proverbs 4:18, John 16:13). The final destination will be worth it – He promised.
---
YOUR PRESCRIPTION
Check your direction and check your baggage. Ask God to show you the road that He has for you, and to show you the things that you should leave behind. Travel light, and travel in the light of His Word.