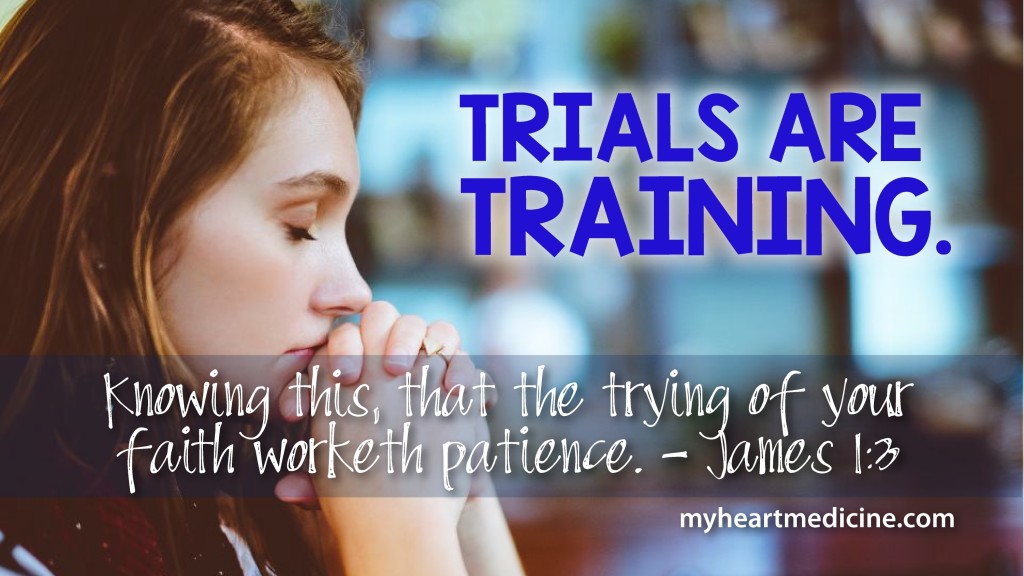 "It is good for me that I have been afflicted; that I might learn thy statutes." – Psalm 119:71
"That Christ may dwell in your hearts by faith; that ye, being rooted and grounded in love, May be able to comprehend with all saints what is the breadth, and length, and depth, and height; And to know the love of Christ, which passeth knowledge, that ye might be filled with all the fulness of God." – Ephesians 3:17-19
"My brethren, count it all joy when ye fall into divers temptations; Knowing this, that the trying of your faith worketh patience." – James 1:2-3
Scripture Reading: James 1:1-14
---
I was recently torturing my 6-year old with a flurry of tickles and unsolicited smooches, when he responded breathlessly, "You're right, Mommy. It's not easy being loved."
"It's not easy being loved." It's a line that I use on my guys all the time, because I believe it points to the ever-growing pile of overlooked blessings in each of our lives. It's a paradox that pits human nature against the unrivaled goodness of God. We bemoan the constant demands and interruptions posed by the people in our lives, while missing the truth that it is a blessing that God has filled our lives to overflowing with people to love and be loved by. So many of the things that annoy us in this life are really evidences of the love of God (and even of the flawed human love of the people God has placed in our lives), but Satan loves to paint our blessings as burdens. And too often, we are overwhelmed by those blessings in a bad way – viewing God's opportunities as inconveniences.
I'll be honest. We've had some hard things going on in our home in recent months. I don't want to overdramatize. Everyone is well, and by God's grace, Paul and I are stronger than ever, but we've been tested in unexpected ways on many different fronts, and our little family has been aching with growing pains.
In James 1, the author talks about the gift of growing pains and the easily-overlooked evidences of God's love in our lives.
This book was written by James, the half-brother of Jesus. Though he likely did not become a believer until after the resurrection of Christ, he became a pivotal leader in the early church at Jerusalem (Acts 1:14, I Corinthians 15:4-7, Galatians 1:18-19).
And there was nothing easy about being a part of the early church. It's believed that the Book of James was actually the first New Testament book that was written, and it was penned in the aftermath of the stoning of Stephen (Acts 7). The church was still in its infancy, and particularly in Jerusalem, Christians (though that term had not been coined yet) were being hunted. Enemies such as Saul (who had not taken his life-changing trip to Damascus yet) had forced the church to scatter (Acts 8:1-3, 9:1-2, James 1:1), but James charges them to find the blessing in their burdens.
He tells them to "count it all joy", and to embrace the constant exercising of their faith muscles, knowing that the stress and strain of their trials will only serve to strengthen their faith (James 1:2-4). He tells them that wisdom is available for the asking, and their steady storm of trials is God's way of prompting them to ask, to lean in, and lean on Him (Verses 5-7).
They are going through endurance training (Verse 12). And after coming from a religion that was driven by rules, law, and mere repetitive motion, they are learning to live a life of active response – listening for the voice of God and looking for opportunities to live out their faith through obedience to God's Word and right responses to the assignments that He gives them on a moment-to-moment basis (Verses 18-27, James 2:14-20, Ephesians 2:10, 5:2, Titus 3:8).
And so it is with you and me. Growing pains are a gift. Trials are training. And the things that you and I haven't planned for are often the most pivotal pieces of His plan for us (John 16:33, Romans 5:3-5, 8:28, 12:12, I Peter 4:12-19, 5:10, Hebrews 9:14, 12:5-6).
It's not easy being loved. It's not easy having a God Who invests in you by uprooting you, Who is forever pulling your comfort zone out from under you and challenging you to test His promises by being tested. But make no mistake, it is love. It is the love that left a throne and surrendered to a cross, so that we could be spared a cross and offered a crown (Romans 8:35-39, Philippians 2:7-8, James 1:12). It is the deep and wide love that little kids sing about in Sunday School. And it is the love that will guide you through every growing pain.
---
YOUR PRESCRIPTION
What growing pains are you experiencing right now? Make sure you are using them to grow. Ask for wisdom, lean into the God Who loves you, and praise Him for the training in your trials.