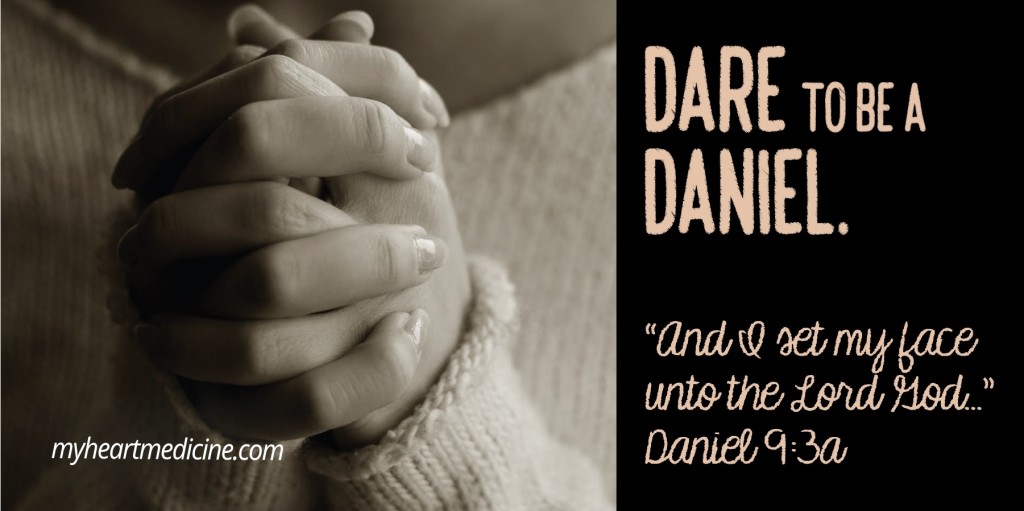 "As for me, I will call upon God; and the Lord shall save me. Evening, and morning, and at noon, will I pray, and cry aloud: and he shall hear my voice." – Psalm 55:16-17
"And I set my face unto the Lord God, to seek by prayer and supplications, with fasting, and sackcloth, and ashes…O Lord, hear; O Lord, forgive; O Lord, hearken and do; defer not, for thine own sake, O my God: for thy city and thy people are called by thy name." – Daniel 9:3, 19
"Confess your faults one to another, and pray one for another, that ye may be healed. The effectual fervent prayer of a righteous man availeth much." – James 5:16
Scripture Reading: Daniel 9:1-23
---
Today, I'm fighting the urge to fidget. There's so much I want to fix – even though my "fixing" would probably only make things worse. My mind goes back to my beloved kindergarten teacher, Mrs. Baun, who would patiently tell her small class of wiggly worms to sit at their desks with hands folded. It was a time-tested way to bring a room full of fidgeting five-year olds back into line.
As I'm itching to wrap my feeble hands around a few situations in my little corner of the world, I'm reminding myself to sit today with my hands folded once again – this time, in prayer.
In Daniel 9, Daniel himself fights the urge to fidget by folding his hands in prayer. A changing of the guard has taken place in Babylon, and Daniel knows that a critical juncture is approaching.  The Babylonian Empire has given way to the Persian Empire, and there's a new sheriff in town. Verse 1 tells us that it is the first year of Darius the Mede, and Daniel continues to hold his coveted, God-given position as deputy.
At this point, the Jews have been captives for more than 65 years, and Daniel knows two things. First of all, God has promised to end their captivity after 70 years (Jeremiah 25:11-13, 29:10). Secondly, God has promised (more than 150 years earlier, in Isaiah 44:28-45:1) to use King Cyrus of Persia to release the Jews from their captivity. Cyrus is now in place, and he has appointed Darius to rule over the province of Babylon.
Frankly, I don't know how Daniel contained himself. Prophecies are colliding with the present (Daniel 9:2). Hope is on the horizon, and as he has been for years, Daniel is well-positioned to influence events around him. And yet, Daniel never makes a power play. He never gets ahead of God. Instead, he gets out his sackcloth, skips breakfast, and prays harder than he ever has before (Verses 3-4).
Somehow, Daniel always chose intercession over interference. By God's grace, he spent his entire adult life in the presence of kings. And while kings came and went, Daniel was consistently ranked as one of the three most powerful people in Babylon (Daniel 2:48, 5:28, 6:1-2), and yet, everything Daniel did was accomplished solely through prayer.
Honestly, I wish I had that kind of restraint (Psalm 5:3, 37:7, Isaiah 30:8, Hosea 12:6, Micah 7:7, Philippians 4:6-7, I Peter 5:6-7). So often, I want to take whatever opportunities or influence God has given me and just run with it. And I'm just prideful enough –  and at the same time, dumb enough – to think that my forced outcomes would be best.
And that brings me to an important aspect of Daniel's prayer. It is filled with humble references to "we", "us", and "confusion" (Verses 2-11, 15). Daniel doesn't presume that he can't possibly be part of the problem. Daniel prays as if God's plan hinges on the condition of his heart – rather than the conniving of his hands – and he seeks a clean conscience before God and a clean slate for his people (Verses 11-13, Deuteronomy 28, Jeremiah 18:6-10, James 4:7-8).
Here's what Daniel didn't know. Although the story of his famous night in the lion's den is told a few chapters earlier in Daniel 6, in actuality, the lion's den was yet to come (remember, it was King Darius that would be tricked into sending Daniel there). And while God had a comprehensive plan to restore His own people in time, He would use Daniel in the meantime to prove His power to the Persians (Daniel 6:25-28).
If you're at a critical juncture today, let me dare you to be a Daniel. Determine to have a faith-filled refusal to force the outcomes on your own, a humble heart willing to be corrected, and most importantly, a head bowed in prayer – hands folded.
---
YOUR PRESCRIPTION
Take it to the Lord in prayer. Don't fix it – even if a solution seems within reach. Lay your request before God, ask Him to show you the true intents of your heart, and let Him take the lead in your time of need.