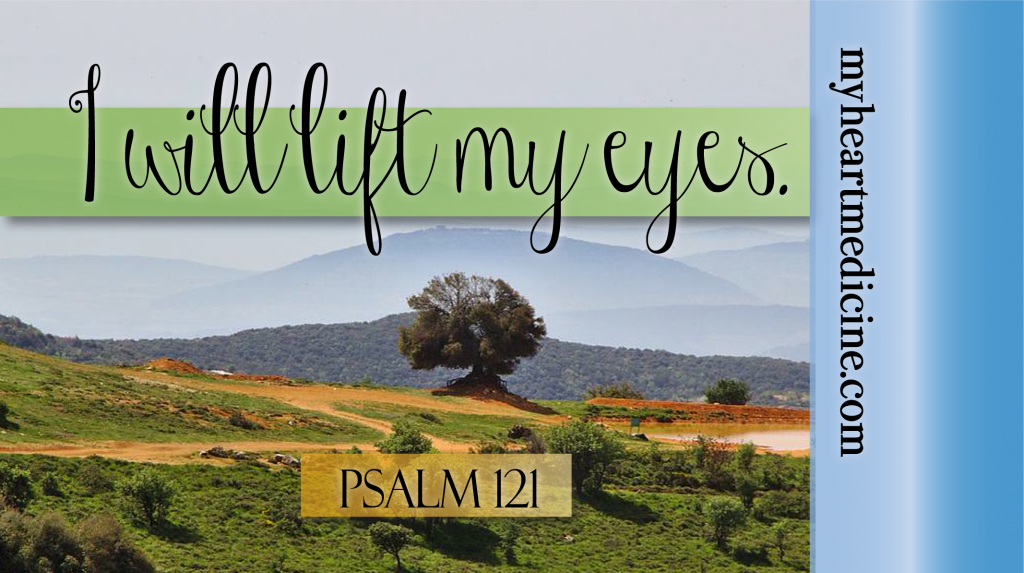 "I will lift up mine eyes unto the hills, from whence cometh my help. My help cometh from the Lord, which made heaven and earth." – Psalm 121:1-2
"Many there be which say of my soul, There is no help for him in God. Selah. But thou, O Lord, art a shield for me; my glory, and the lifter up of mine head." – Psalm 3:3
"I waited patiently for the Lord; and he inclined unto me, and heard my cry. He brought me up also out of an horrible pit, out of the miry clay, and set my feet upon a rock, and established my goings. And he hath put a new song in my mouth, even praise unto our God: many shall see it, and fear, and shall trust in the Lord." – Psalm 40:1-3
In more than twelve years of marriage, I've never had to keep a honey-do list, and it's a blessing that I don't take for granted. My hubby is a self-starter who keeps himself busy and loves to work with his hands. He recently turned his attention to our front deck, purchasing 12-foot long planks to replace the beat-up boards that pre-dated our moving in.
As he started carrying the planks up onto the deck, he made it look easy. Excited to see this latest project unfolding, I figured I'd jump in. But as I tried to lift one of the planks, reality came crashing down. My arms were weak like spaghetti, my back lodged an immediate protest, and I nearly took out one of the windows on my own car with the swaying end of the awkwardly-long plank (the end I got up, anyway). All too aware of my own ridiculousness, I quickly enlisted a wide-eyed Joey to grab the back end, and together we moved one plank for every three that Paul moved. It was pathetic, though I'm sure the neighbors were entertained. And I was reminded just how grateful I am that Pauly does all the heavy lifting.
In Psalm 121, we are reminded that God does all the heavy lifting in our lives. This particular chapter is one of fifteen psalms (Psalms 120-134) that are noted as a "Song of Degrees" (or "Ascents"). Sometimes referred to as "Pilgrim Psalms", these songs were sung by Jews on the road to Jerusalem, a trip that was typically made three times a year to celebrate God-ordained feasts – Passover, Pentecost, and the Feast of Tabernacles (Exodus 23:17, Deuteronomy 16:16). Centered around the Temple, these feasts were times of remembrance, praise, and consecration, and these psalms brought the hearts of the people nearer to God, long before they could see Jerusalem's walls on the horizon.
The journey could easily take as much as three days (Ezra 10:7-9, Luke 2:41-44), and the road was often perilous. Robbers and thieves lay in wait for unsuspecting travelers, and the trek was a rocky, uphill climb in the hot sun. To go was obedience (Exodus 34:23), but to go on this journey without God was suicide. Singing praises like these invited the presence and protection of God along the way, while preparing hearts for the celebration at the end of the road.
For families traveling together, the Songs of Degrees were a sermon and a history lesson all rolled into one (Deuteronomy 6:4-12, Psalm 124, Proverbs 22:6, Ecclesiastes 12:1). These psalms are testimonies to the grace and power and provision of God, a reminder that God is good ALL the time, an endless round of teachable moments for parents looking to pass on their faith.
So picture this – after days on the desolate road, days of walking and talking and singing, their destination finally comes into view. Looking up ahead, they can see the city set on a hill, Jerusalem, their "faith become sight" (II Corinthians 5:7, Hebrews 11:1). And as they lifted their eyes, they would be reminded of the God Who made those hills, the God Who had saved their little nation over and over again, the God Who loved them and never left them – even when they left Him. They would rejoice in the God Who lifted their heads and did all the heavy lifting throughout their existence (Psalm 122:1-3, 6-8, Isaiah 40:25-26, Hebrews 13:5-6).
Oh dear friend, these are heavy times. And for all the empty promises of relief and rescue and reimagination, there is only One, Who is capable of lifting our burdens, reshaping our lives, and making us whole again (Psalm 40:1-3, 55:22, II Chronicles 7:14, Matthew 11:28-29, Hebrews 12:2-3).
As the road ahead is long and uncertain, I urge you to find a song to sing. Lift praises to the God Who has been doing all the heavy lifting in your life all along. He is the One Who will carry us through. He is the One Who is Sovereign over it all, and in the journey of life, He is the only worthwhile Destination.
YOUR PRESCRIPTION
Need a lift? God is waiting to lift your burdens, to encourage you, and to help you in these crazy times. You only have to lift your eyes to Him.