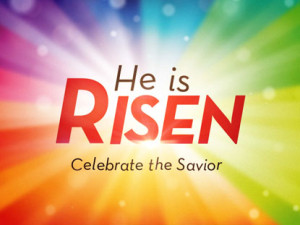 "For he taught his disciples, and said unto them, The Son of man is delivered into the hands of men, and they shall kill him; and after that he is killed, he shall rise the third day. But they understood not that saying, and were afraid to ask him." – Mark 9:31-32
"He is not here, but is risen: remember how he spake unto you when he was yet in Galilee, Saying, The Son of man must be delivered into the hands of sinful men, and be crucified, and the third day rise again. And they remembered his words." – Luke 24:6-8
"For we have not an high priest which cannot be touched with the feeling of our infirmities; but was in all points tempted like as we are, yet without sin. Let us therefore come boldly unto the throne of grace, that we may obtain mercy, and find grace to help in time of need." – Hebrews 4:15-16
Scripture Reading: Matthew 26:36-46
---
My six-year old (yes, he's six now) can't keep a secret to save his life. If birthday gifts, Christmas presents and other surprises are any indication, I will never be able to count on this kid to cover for me. Oh he loves his mama, but sometimes his mouth runneth over, and more than once, I've cringed at the details that he has shared with others on my behalf.
But the truth of life is this: secrets are hard. In the context of a six-year old, secrets are silly, incoherent whispers, but in the context of adults secrets are often burdens, heartaches, wounds that never fully heal, and the private agony of wounds yet to come.
In Matthew 26, Jesus knew those kind of secrets. He had tried to share them with His disciples, but their minds could not comprehend, their hearts could not bear the truth, and their bodies were longing for sleep (Verses 36-46). In the weeks leading up to His crucifixion, Jesus had talked about His death, burial, and resurrection (Mark 8:31-34, 9:30-32, John 16:17), but the disciples had somehow blocked it out, clinging to hopes of overthrowing the Romans and arguing over their order of importance in the kingdom to come (Mark 9:33-35).
Only Jesus understood that the hosannas would turn to hatred (John 12:12-16). Only Jesus knew why Judas slipped out of the last supper (John 13:26-30). Only Jesus knew that His kingdom could not be ushered in without a cross (Hebrews 9:22). And only Jesus knew the pain that He really bore on that cross. I'm not talking about the pain of nails and thorns and multiple beatings. For as excruciating as that was, it wasn't the worst of it. I'm talking about the pain of separation from God, the pain of knowingly bearing every vile and revolting sin ever committed, reliving the pain of every mistake ever made, visiting every dark corner of every dark heart that ever did or ever would beat on this earth – including yours and mine. That was the private agony of Jesus (II Corinthians 5:21, Philippians 2:8, Hebrews 12:2).
But praise God that for three long days, while the disciples hid, and the women wept, and Satan celebrated, and soldiers guarded a grave that they never really had the power to seal, only  Jesus knew that it wasn't over. Only Jesus knew that He had not died in vain. Only Jesus knew that death was about to meet its own end, and the power of sin was about to be cancelled (I Corinthians 15:54-55).
Sometimes there's great pain in the knowing. Sometimes we carry secrets and burdens to cover ourselves. Sometimes we do it to spare others, and the weight of such burdens can feel impossible to bear – and in truth, it is. But there is a Savior to bear those burdens with you (Psalm 42:5, 46:1, 57:1-3, Philippians 4:6-7). There is a Savior who knows the crushing weight of a truth that others can't begin to wrap their heads around.
And because of that Savior, there is freedom in the knowing and freedom in knowing Him – freedom from sin, freedom from the burden of bearing everything alone, freedom from the feeling that no one will ever understand – because He does understand.
As we approach the days that commemorate Christ's death on the cross and His resurrection from the grave, let me encourage you to find comfort in the knowing, to even rejoice in the knowing. If you bear a pain too great to share with others, tell it to Jesus. He has been there, He has already seen it, and whatever it is, for your sake, He died and rose again to overcome it (Hebrews 10:19-23, 13:5-6, I Peter 1:3-4, 5:6-7) .
Today, regardless of any heartache I have known, I rejoice in knowing this. He is alive. He is my Savior. He is my hope. And He understands. Jesus loves me. THIS I KNOW.
Happy Resurrection Day.
---
YOUR PRESCRIPTION
Rejoice in knowing that Christ has conquered sin, death, and everything that has ever hurt you. Take all of your burdens – your secret fears, shame, and heartaches – to Him. He knows them and He longs for you to know victory.