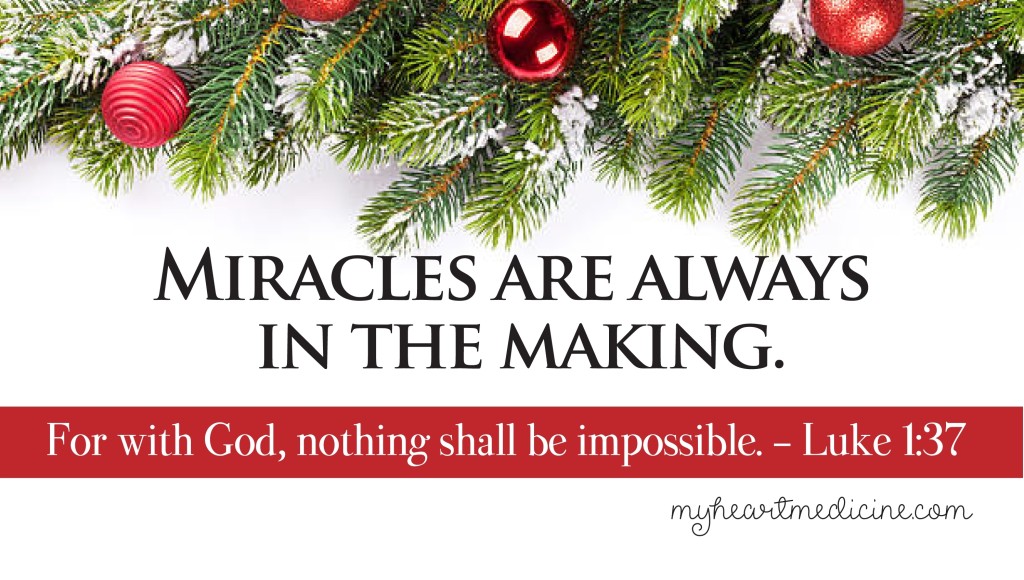 "For the vision is yet for an appointed time, but at the end it shall speak, and not lie: though it tarry, wait for it; because it will surely come, it will not tarry." – Habakkuk 2:3
"Behold, I will send you Elijah the prophet before the coming of the great and dreadful day of the Lord: And he shall turn the heart of the fathers to the children, and the heart of the children to their fathers, lest I come and smite the earth with a curse." – Malachi 4:5-6
"And many of the children of Israel shall he turn to the Lord their God.  And he shall go before him in the spirit and power of Elias, to turn the hearts of the fathers to the children, and the disobedient to the wisdom of the just; to make ready a people prepared for the Lord." – Luke 1:16-17
Scripture Reading: Luke 1:1-25
---
I'm behind again. Actually, I don't remember ever being caught up, so to say that I'm behind "again" is probably a generous and wishful assessment. Each year starts the same. This time, I'll get it right. Just buy a present or two a month, and have everything wrapped by November. It never happens, and so the Christmas hopes and dreams of my 6-year old end up in the hands of UPS Ground somewhere in mid-December. We'll see how that works out.
In Luke 1, it's clear that Zacharias had all but abandoned his own hopes and dreams. He was old and his wife, Elisabeth, was barren. He is so mired in hopelessness that even the presence and proclamation of an angel doesn't sway him (Verses 13-15). When Gabriel tells him that he will have a son, he asks for a sign (as if Gabriel's visit doesn't count as one) and instead, signs himself up for 9 months of silence (Verses 18-20).
But in the verses that precede Zacharias' request for a sign is another bright, blinking sign that Zacharias missed. When the angel Gabriel announces the birth of John the Baptist (the son who will be born to Zacharias and Elisabeth), he quotes a 400-year old minor prophet named Malachi (Luke 1:16-17, Malachi 4:5-6,9).
It's important to note that Malachi is the last book of the Old Testament, and the words quoted by Gabriel are the last verses of the Old Testament. Why does that matter? Because it also marks the beginning of a 400-year silence. 400 years with no more prophetic messages. 400 years with promises hanging in the air unfulfilled. That's a long time to keep hope alive, and yet, God was working and miracles were in the making throughout those 400 years (Isaiah 40:3-5, Matthew 3:1-3, Mark 2:1-4, Luke 3:1-6).
And here's the upside to Zacharias. While he may have struggled in his faith – he was firm in his faithfulness. Luke 1:6 tells us that Zacharias and Elisabeth were righteous and reliable – their devotion to God's commands was never diluted by their questions. That kind of faithfulness (continuing in prayer, continuing in the Word, continuing in church, service, and obedience obedience) is what walks us through the waiting. It keeps us in the place of blessing, so that God's long-expected plan for us is not derailed, and we are positioned for the fulfillment of His plan in His timing. Faithfulness keeps faith alive (I Corinthians 15:58, 16:13, Ephesians 2:10, Hebrews 10:22-24, 11:6, James 2:17-18).
And let me tell you about God's faithfulness. His sovereignty is imprinted all over the lives of Zacharias and Elisabeth. Zacharias was a priest from the "course of Abia" (Luke 1:5). Each course served at the temple for a span of just one week, twice a year. The "lot" that chose Zacharias to burn incense means his name was drawn out of the thousand or so priests in his course for this once-in-a-lifetime task. And it's certainly no coincidence that Elisabeth's cousin, Mary, would receive her own visit from Gabriel six months later (Luke 1:26-37, 24:44, Acts 3:18, Galatians 4:4-5).
Zacharias and Elisabeth had prayed for a child for decades. Their people had waited to hear from God for centuries. Neither of those waiting periods was in vain. They were not forgotten, and they certainly were not cursed (the cruel label slapped on barren women in their culture). Rather, they were chosen by God for something different, something 400 years (really thousands of years – Genesis 3:15) in the making – something that would bring glory to God and salvation to the world.
Maybe His glory and the salvation of those around us is in the making right now (Psalm 27:14, Isaiah 55:10-11, Habakkuk 2:3). Our "unanswered" prayers, our unbearable years of waiting, our seemingly unnoticed faithfulness – maybe it's all just the prologue to His plan.
Let me reword that – it IS the prologue to His plan. With God, miracles are always in the making. "For with God nothing shall be impossible."
Merry Christmas.
---
YOUR PRESCRIPTION
Stay faithful. Keep praying. Trust that, with God, miracles are always in the making. The miracles you need are no exception.