"The Spirit of the Lord God is upon me; because the Lord hath anointed me to preach good tidings unto the meek; he hath sent me to bind up the brokenhearted, to proclaim liberty to the captives, and the opening of the prison to them that are bound…to give unto them beauty for ashes, the oil of joy for mourning, the garment of praise for the spirit of heaviness; that they might be called trees of righteousness, the planting of the Lord, that he might be glorified." – Isaiah 61:1, 3b
"And Jesus, when he came out, saw much people, and was moved with compassion toward them, because they were as sheep not having a shepherd: and he began to teach them many things." – Matthew 6:34
"And when the scribes and Pharisees saw him eat with publicans and sinners, they said unto his disciples, How is it that he eateth and drinketh with publicans and sinners? When Jesus heard it, he saith unto them, They that are whole have no need of the physician, but they that are sick: I came not to call the righteous, but sinners to repentance." – Mark 2:15-17
Scripture Reading: Luke  2:7-16, 15:1-10
---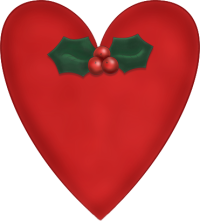 I see it in my junk mail, on Christmas cards, and in commercials.  In our culture, Christmas is a contest, and the prize is perfection.  For women especially, we often get conned into striving for a whole bunch of "perfects" at Christmas time – the perfect tree, the perfect gift, the perfect decorations, the perfect outfit, the perfect family dinner, the perfect picture.
But if you look at the picture that God painted around the birth of His Son in Luke 2, the only thing that was perfect about it was His Son, and that was no coincidence.  The scene was smelly, and the manger was messy.  Mary and Joseph were road-weary outsiders, provided with what barely qualified as a roof over their heads, and to most of Bethlehem, the entrance of our Savior into the world was completely unceremonious.  Shepherds (among the lowliest of the locals) were the only invited guests, and as any amateur Bible scholar will tell you, the wealthy wise men did not arrive until much, much later.
God the Father used the humble to reach the humble on Christmas (James 2:1-5, 4:6, Titus 2:11).  And that perfect baby would grow up to be just like Dad.  In Luke 15, the Pharisees (the ultimate perfection seekers) are once again criticizing the Christ.  Jesus always tended to mingle with the outcasts of society.  But how could the supposed Son of God have dinner with publicans (sleazy tax collectors) and sinners (more of the lowliest of the locals).  How could He touch lepers and give the time of day to adulteresses?  The answer was simple.  He was just like His Dad (John 10:11-18).
Now don't get me wrong. When Christ calls sinners, He always calls them to repentance. His love constrains us to change our ways and live for Him (II Corinthians 5:13-15). He never validated sin.  He validated needs, and He offered Himself as the Great Physician Who could heal any soul that came to Him (Mark 2:17, Romans 5:8, 6:23). But Jesus was never afraid of the trenches. He kept Himself unspotted by the world, but He was always willing to dig into the mud to get to the soul that knew of its need for a Savior (Psalm 40:2, Jude 1:23).
I dare say that sometimes Christians can be so obsessed with perfection (even though we will never achieve it in this life, and any measure we achieve is only by God's grace –  Philippians 3:12-16), that we lose sight of the less than perfect people who need us to come alongside them in humility.
So what are we doing this Christmas?  Are we intoxicated with tradition, oblivious to the needs around us?  Are we so busy trying to be perfect, that we trample right over the humble souls that God places in front of us?  As Christians, we can argue about what time of year Jesus was actually born, rant about pagan holidays and paper coffee cups (Titus 3:9), and disengage from the real battle, or we can use a time when hearts are tender and the fields are white to harvest as an opportunity to humbly bring the humble to our Savior (John 4:34-36).
This Christmas, be like your Heavenly Father, and look for shepherds in your world.  Seek out the messy, lost souls that need someone to lead them to the manger (John 15:8, I Corinthians 1:26-29).  And if you're still fighting the need to be perfect, I'll give you this – the perfect gift for your Dad is to bring to Him a soul that He can save. Don't be afraid to get in the trenches and find it. I promise your perfect Savior will be right in there with you (John 3:16-17, II Peter 3:9).
---
YOUR PRESCRIPTION
Don't be afraid to chase a little imperfection this Christmas.  Ask God to lead you to a lost soul that you can lead to Him.  Nothing else could make your Christmas more perfect.