"Wait on the Lord: be of good courage, and he shall strengthen thine heart: wait, I say, on the Lord." – Psalm 27:14
"Cast thy burden upon the Lord, and he shall sustain thee: he shall never suffer the righteous to be moved." – Psalm 55:22
"But they that wait upon the Lord shall renew their strength; they shall mount up with wings as eagles; they shall run, and not be weary; and they shall walk, and not faint." – Isaiah 40:31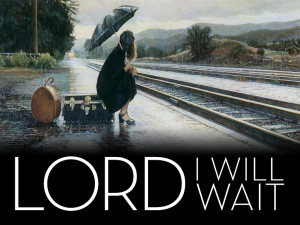 I'm hanging out in God's waiting room with some dear friends of mine. I'm here because I know firsthand how hard it is to wait. I'm also here because I owe them the favor, as they've waited with me on more than one occasion. Prayers have gone up. Tears have been shed. Hearts are heavy, and from a human standpoint, the answers seem to be taking forever.
God is faithful, but His timetable often (almost always) differs from ours. If you're waiting on answers today, here are a few lessons from God's waiting room to help you pass the time and trust His timing:
Everything has an order (Psalm 30:5, 138:7-8, Ecclesiastes 3:1, 11). You walk into a waiting room, sign the clipboard at the reception desk, and start waiting. And while you may be frustrated to see so many other names ahead of yours, take comfort in the fact that no name will be ignored and every need will be addressed in the proper order. You may not like the order, but unlike your earthly appointments, the order here is perfect.
Keep an open mind (Psalm 37:3-7, James 1:3-5). Has it ever occurred to you that you might not be praying for the right thing? Our prayers are usually driven by our personal agendas and our very limited (and often deluded) understanding of what's best. Spend the time waiting in prayer (rather than worrying) and God will gradually bring your desires into alignment with His will. The more time you spend in His presence, the more your requests will resemble His intentions – and that's a very good thing.
Make yourself comfortable (Romans 12:10-12). Don't be ashamed or annoyed or insulted that God asks you to wait. Realize that His delays are not denials. Rather, they are invitations to get to know Him better. Get comfortable in God's waiting room.  There is music playing overhead (Zephaniah 3:17), a water cooler (Psalm 23:2), great reading material (Psalm 119:11), and a comfortable seat in the refuge of His wings (Psalm 17:8).
Your name will be called when you least expect it (Psalm 3:4, 34:4-5, 86:13, 121). Instead of just waiting for the specific answer you've requested, ask God to make you sensitive to His every leading in your situation. The picture is always bigger from His perspective, and He may want to teach you things that you never expected to learn.  More than that, while you're in the midst of your need, He may use you to minister to the needs of others. That's a blessing that gives purpose to your pain.
You will always get what you need (Psalm 16:5, Isaiah 61:7, Matthew 6:8, 31-34). God is a good Father who loves His children. Never doubt that. He will not set you up for failure, and He never allows a need in your life that He doesn't fully intend to meet. To prove it, He often meets one need with many blessings, and leaves us not only satisfied, but saturated, with His goodness.
You'll never have to wait alone (Psalm 34:18, Isaiah 41:13).  God is for you. God is with you. God loves you beyond your comprehension. He is in the waiting room with you, holding your hand, whispering words of comfort, and gently pleading with you to wait on His perfect timing for His end.
If you're in God's waiting room today, my heart goes out to you, but please know that you're in good company. Make no mistake about it, His waiting room and His Throne Room are one in the same (Hebrews 4:16), and whatever your need, if you have lifted it up in prayer, then it is in the hands of the Sovereign King. Trust His power, trust His plan, trust His timing. And most of all – trust His heart.
---
YOUR PRESCRIPTION
Instead of asking God to end your wait, ask Him what He wants to accomplish in you and through you while you wait. Know that once HIS desires for you have been accomplished, the wait will be over.