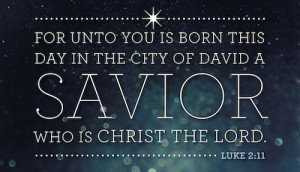 "And she brought forth her firstborn son, and wrapped him in swaddling clothes, and laid him in a manger; because there was no room for them in the inn." – Luke 2:7
"For unto you is born this day in the city of David a Saviour, which is Christ the Lord. And this shall be a sign unto you; Ye shall find the babe wrapped in swaddling clothes, lying in a manger." – Luke 2:11-12
"But Mary kept all these things, and pondered them in her heart." – Luke 2:19
Scripture Reading: Luke 2:1-20
---
When I was around twelve, my father was the director of a summer camp. During our first season there, I was assigned to work at the camp's little petting zoo, the Nature Den. That year, a dozen baby ducks were the main attraction, and watching me try to care for them was the floor show. I learned two very important things that summer: 1. I am no Dr. Doolittle, and 2. Wherever a dozen baby ducks go, filth follows.
I read a Christmas devotional recently that talked about the "sweet-smelling hay" of the manger, and though I'm no farm girl, I know this much – there's nothing sweet about the smell of anything that gets near a barnyard animal.
When you see the manger depicted in Christmas cards, books, and movies, it is always perfect and pristine. Mary looks lovely – not a hair out of place. Joseph is the strong, silent type. And the infant Savior is beautifully bundled – untouched by the realities of childbirth in a stable. But when we pretty up the scene, we miss the point – the deliberate, intentional point – the birth of this King was anything but kingly (I Corinthians 1:28.
On some level, even Mary and Joseph had to be bewildered by their surroundings. Looking at Luke 2, I wonder, did they question themselves as they reluctantly settled into that filthy stable? Did they ask themselves if they'd taken a wrong turn or missed an angelic message somewhere along the way? After all, Mary was carrying God's Son, the Messiah. Surely, God didn't intend to fulfill His promises in a place like this? It wasn't just humble; it was humiliating.
When the angel first appeared to Mary, he had said that the baby would be great, the Son of the Highest, the Son of God (Isaiah 9:6-7, Luke 1:28-35, 46-49). And although Joseph had come around after receiving his own message from the angel, her pregnancy was certainly not treated like a blessed event by her neighbors in Nazareth. But the arrival of the baby would change that, right? Mary would be vindicated, and the world would understand that she was carrying a king. But the Bethlehem birth probably didn't feel very victorious to this virgin. Turned away at every door, and finally reduced to the stable, it certainly didn't look like she was bringing a king into the world (Luke 2:7).
But as out of place as this miraculous birth seemed, things started to fall into place, when the shepherds walked in. They didn't look or smell any better than the stable, but they buzzed with stories of angels filling the night sky. And for them, the sign was simple – they were specifically looking for a baby, wrapped in rags and lying in a manger. It was a clear indication that God had purposely brought Mary and Joseph to this unlikely place, and they were right where they were supposed to be (Micah 5:2). The manger was no mistake. It was a picture of God's step down from heaven to humanity, the Divine mixing with the dirty (John 1:14, Galatians 4:4-5, Philippians 2:7-8, I Timothy 3:16, Hebrews 2:9), and the smelly, undignified, wretched lengths that God would go to – to save a wretch like me (Isaiah 53, John 3:16, I Timothy 1:15).
Maybe you're a little unsettled by where you are right now, and you're wondering what God is doing in your life. My advice to you – sit tight and wait on the Lord. Whether it's like angels splitting the night sky or a bunch of smelly shepherds bursting into the stable, a glimpse of Divine doing will break through in your circumstances, and you will suddenly know that God is on the scene (Isaiah 43:19, 60:1-3, Ephesians 3:20).
This Christmas, remember that God's gifts come in all shapes and sizes – in little babies, shining angels, smelly shepherds, and messy mangers. They come in the shape of a star and the shape of a cross. They may not come when and where and how you expect, but when they do, you will be amazed by their brilliance and their perfect packaging.
Expect Emmanuel to be with you. Expect to be surprised by His goodness – even when your surroundings are not so sweet – and expect miracles in the midst of the mess.
---
YOUR PRESCRIPTION

Whether you have a magical Christmas or a messy life, don't lose sight of God. If Jesus is your Savior, then God is working in all circumstances – good and bad – to bring His perfect will to pass. Celebrate the Savior, and see Him in shining stars, smelly stables, and everything in between.