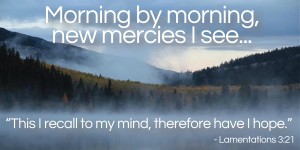 "Behold, the eye of the Lord is upon them that fear him, upon them that hope in his mercy." – Psalm 33:18
"It is of the Lord's mercies that we are not consumed, because his compassions fail not. They are new every morning: great is thy faithfulness. The Lord is my portion, saith my soul; therefore will I hope in him. The Lord is good unto them that wait for him, to the soul that seeketh him." – Lamentations 3:22-25
"For, behold, I am for you, and I will turn unto you…Then the heathen that are left round about you shall know that I the Lord build the ruined places, and plant that that was desolate: I the Lord have spoken it, and I will do it." – Ezekiel 36:9a, 36
Scripture Reading: Ezekiel 37:1-14
---
I've always been a morning person, probably because I've always had to be. I'm in a short-lived but wonderful season right now, where I don't necessarily have to be up and out of the house first thing every morning. And yet, I am still usually up before 5 a.m., charging into the day as if the clock is chasing me.
The problem with charging into the day is that it's easy to charge right past the things that matter most. The Bible tells us in Lamentations (3:19-26) that the Lord's mercies are new every morning. Boy, is that ever a promise to hang your hat on. I have yet to live through a day where I didn't need my daily dose of God's mercies. Oh, don't get me wrong, I have skipped my spiritual breakfast more than once, but never without regretting it somewhere along the way.
In Ezekiel 37, the prophet has a vivid vision for his people. As a priest and a Jewish exile in Babylon (Ezekiel 1:1-3), Ezekiel knew the pangs of spiritual starvation. He and the other exiles were far from their beloved Jerusalem, far from their temple, their homes, and their heritage. And they had seen what exile had done to their northern counterparts. When Assyria had defeated the Northern Tribes of Israel some 150 years earlier, exiling many of those people, they had all but lost their identity (II Kings 17:5-6, Ezekiel 23:33). Their religion (or what was left of it), their bloodlines, their borders – everything had been polluted beyond recognition.
Now, that same hopelessness was settling over the exiles from the Kingdom of Judah. But in Chapter 37, God paints a picture of promise, and in the midst of spiritual starvation, God serves up a helping of morning mercies. He shows Ezekiel a valley of dry bones, and the opening outlook is bleak (Verses 1-2). It's clear that these bones haven't seen life in a long time, and they are as dried up as an exile's hope of home. But these dry bones are no match for the restorative powers of God. As Ezekiel watches, the bones begin to rattle, and then they begin to build, reassembling themselves before his eyes. Next, flesh and muscle and skin weave themselves on top of the bones (Verses 7-8).
But here's the key. The bones are now bodies, but they require one last miracle, one more mercy before they can claim to be alive – they need the breath of God. God commands the four winds to breathe His life into these bones, and His breath not only resuscitates life, it resuscitates hope (Verses 9-10). The exiles will have a future. They will have a home, and a heritage, and hope – regardless of their defeats – because they have a God Who will save them (Psalm 18:3, 31:16, 66:16-20, Isaiah 40:1-2, Zephaniah 3:17).
Many of us are willing to let God build our lives, but how many of us actually let Him breathe into our life every day? We wake up each morning and take for granted the gifts of God – our homes, our families, our faith, our country – and we fail to get down on our knees and claim the mercies that we so desperately need to preserve those things. We fail to ask God to breathe HIS life into them, and we charge into the day destined to live a dry and tenuous life, starved of morning mercies.
When it comes to God's mercies, we all need to be morning people, and an encounter with God should be as much a part of our morning routine as tooth brushing (Psalm 5:3, 55:17, 92:2, 143:8, Isaiah 33:2, 50:4, Mark 1:35). Communion with God is hydration for the soul, and whether you get a sip or a saturation of His presence, it will bless your day and breathe life into your every move.
Get your morning mercies every day. Charge into your day hand-in-hand with God, knowing that He is for you (Deuteronomy 3:22, I Samuel 17:47, Romans 8:31, 37). Ask Him to breathe Himself into every aspect of your life. You may feel like you are in a dry season, but I'm here to tell you – rain is in the air, mercies are on the horizon, and by God's grace, hope is alive.
---
YOUR PRESCRIPTION
Don't skip breakfast. Even if it's just for a matter of minutes, meet with God every morning. He can breathe life into everything you hope for, and even what you thought was dead.