"I have been young, and now am old; yet have I not seen the righteous forsaken, nor his seed begging bread." – Psalm 37:25
"I love the Lord, because he hath heard my voice and my supplications. Because he hath inclined his ear unto me, therefore will I call upon him as long as I live." – Psalm 116:1-2
"When Jesus then lifted up his eyes, and saw a great company come unto him, he saith unto Philip, Whence shall we buy bread, that these may eat? And this he said to prove him: for he himself knew what he would do." – John 6:5-6
Scripture Reading: John 6:1-13
---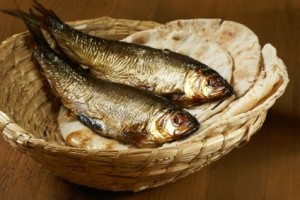 I don't believe I've ever had a full-blown panic attack, but I definitely have had my own special mini version of a panic attack on more than one occasion. It doesn't require professional medical attention – just a few deep breaths and a whole lot of prayer.
You see, when I start to panic, it always seems to stem from two things – my control issues and my inadequacy. The two are a deadly combination. When I look at the things that I want to accomplish, the things that I need to accomplish, and then I stack them up against the natural resources that I have to work with, I start to hyperventilate a little.
In John 6, Jesus poses a question to Philip, and I wouldn't be at all surprised if Philip started to hyperventilate.  Jesus had been performing miracles all day long (Matthew 14:14, Mark 6:34, Luke 9:11). Thousands of people are following Jesus as He gets into a boat, and even the Sea of Galilee doesn't deter them (John 6:1-2). As the day continues, they follow Him up a mountainside, and Jesus continues to address both the physical and spiritual needs of the crowd. Now, it's late in the day, and they're far from the nearest town. The disciples want to send the people away, but Jesus wants to feed them.
Jesus asks where they can buy bread. It's a question that He doesn't really need answered. He is God in the flesh, and He is the Bread of Life. But Jesus is testing Philip's understanding of natural resources versus supernatural resources. And even though Philip has had a front row seat for a day of miracles, he is still focused on what is humanly, physically possible. In Verse 7, Philip responds that "two hundred pennyworth" (the equivalent of about half a year's wages) wouldn't feed the people. The task is impossible. The available, natural resources are inadequate.
You know the rest of the story. A little boy's lunch is brought to Jesus. Five thousand are fed (not even counting women and children), everyone eats to their heart's content, and twelve baskets of leftovers are collected.
I don't think it's a coincidence that this is the only miracle of Jesus (other than His resurrection from the grave) that is accounted in each of the four gospels. We often breeze past it, because we've heard it so many times in Sunday School. But while it's a great story for kids, it's a lesson that we as adults need to be reminded of nearly every day.
John 6:7 says that Jesus posed the question to Philip "to prove him: for He himself knew what He would do." Jesus planned to feed the five thousand all along. There was never a doubt that He could and He would. So why do you and I live with doubts that His provision will pick up where our resources leave off?
This situation covered so many areas – the physical needs of the people, the ongoing work of Jesus' ministry with the disciples, the resources that were within reach. And in the final analysis, the power and provision of God extended beyond the needs, the inadequacies, and even the expectations of everyone involved (II Corinthians 12:9, Ephesians 3:20, Philippians 4:13, 19).
When you and I panic about our lack of resources, ability, power, control, etc., we completely miss the point. God's contribution is never lacking, and His compassion for our needs is never in question. His resources are limitless. His love knows no bounds. And He knows our needs long before we do (Psalm 16:5, 28:7, 37:25, 55:22, Matthew 7:11, 10:29-31).
Is God posing a question to you today? Is He testing your faith in His supernatural resources? Are your natural resources – be they time, money, or abilities – causing you to have a mini panic attack? Hold on and pray on (Psalm 27:14, 37:34, Matthew 6:33, 7:7). God knows the need (Luke 12:29-31). God has the answer (Proverbs 2:7, 16:1), and His provision is always perfect.
---
YOUR PRESCRIPTION
Stop worrying and start praying. Whatever need you have, God has the answer. He is your Father, and He longs to help you. Admit that you need His help, and your needs will be met.