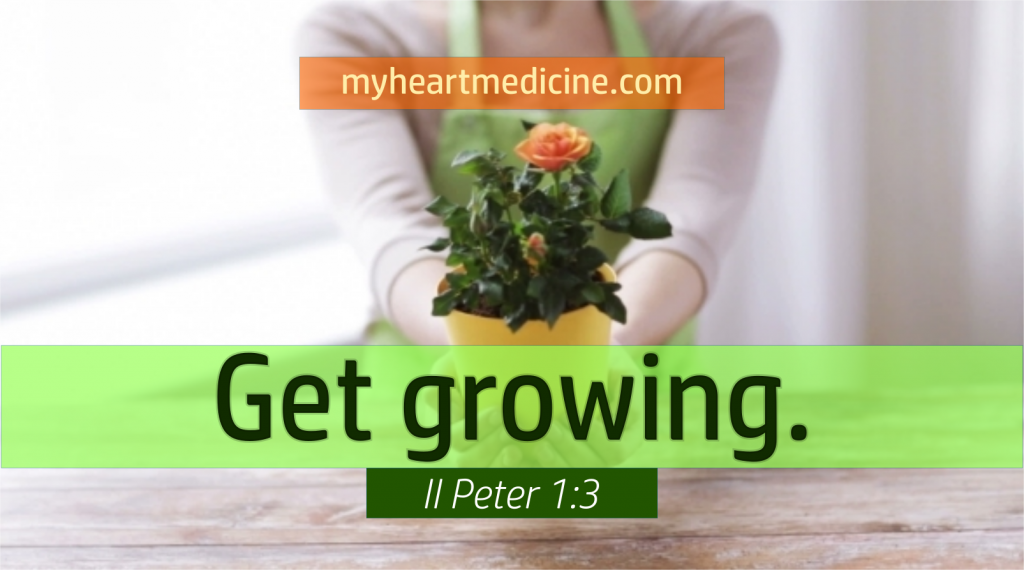 "He must increase, but I must decrease." – John 3:30
"For ye were sometimes darkness, but now are ye light in the Lord: walk as children of light." – Ephesians 5:8
"Whereby are given unto us exceeding great and precious promises: that by these ye might be partakers of the divine nature, having escaped the corruption that is in the world through lust." – II Peter 1:4
Scripture Reading: II Peter 1:1-11
I'm sitting in my husband's truck typing on my laptop. We're in Day Three of a national BMX (bicycle motocross) race, in which both Paul and Joey are competing, and let me tell you, this high-maintenance girl has come a long way. I'm schlepping racing gear, pitching tents, and I'm at about 25% of my usual, daily coffee intake. I think I've logged more outdoor time in the past year than I did in my entire childhood, and I haven't touched lipstick or a curling iron since we left New York State four days ago. Now that, my friends, is personal growth.
In II Peter 1, the apostle encourages the early church to pursue holiness and new levels of growth in their Christian lives.
Peter explains in Verse 3 that God has already equipped those who know Him to live a godly life. He talks about "great and precious promises", a comforting thought until you read on a little further. Peter sets the bar pretty high here, and I have to admit, it convicts me to the core. I know I don't have nearly enough of the "divine nature" in me (Verse 4), and frankly, I feel the corruption of this world breathing down my neck every day.
But Verses 5-7 provide a handy-dandy checklist that we can use to examine and align ourselves, because in order to stand on the promises, you first need to stand on the standards. Remember, we're not working with a genie in a bottle here. We're working with a Holy God, Who puts standards in place for our good, to keep us from driving off the cliff of our own messed-up desires (Deuteronomy 10:11-13, Micah 6:8). God is not out to rain on your YOLO parade or to ruin your good time. You don't need to use your "liberty" like a get-out-of-jail-free card for fun-loving Christians (Galatians 5:13). Rather, you need to see God's standards as the sure foundation for an amazing and abundant life, beyond anything you could ever carve out for yourself.
Verses 8-11 make it clear that we can't experience all God has for us if we neglect the items on the list. Peter even goes so far as to say that we can reduce ourselves to a state of spiritual blindness and amnesia. So as both a list lover and someone who forever struggles with standards, I want to weigh in on these spiritual must-haves.
It starts off easy enough. I think I can manage faith, virtue, and knowledge (Verse 5). And then I'll jump to the end of the list, because I think I can muster stuff like patience, brotherly kindness, and charity most of the time (Verses 6-7). 
But it's the middle of the list that really gets me. And I think that, for most of us, it's not the big, glaring, felony-level sins that trip us up. It's the simple, everyday choices – the corrupted cravings, fleshly followings, and poisoned priorities (Ezekiel 11:19-20, Daniel 9:4-5, Matthew 22:37, I Corinthians 9:27, Philippians 3:18-20). 
And that's why the word "temperance" makes me cringe (Galatians 5:22-23). I often struggle to live a life of restraint and a life that follows God's order of importance. And for me, that pretty effectively kills the other item left on the list, which is godliness. 
Here's what I'm forced to consider. Am I choosing not to let any other love or vice or hobby or preoccupation or form of human approval have more sway over me than God and His Word? (Boy, does that question give rise to a good, long list.) Does everything else – and I mean everything – stand in line behind God for my attention? I could go on, but I already know that I've failed the temperance test miserably (Job 23:12, Psalm 42:1).
I want to grow. I want to be used by God for God's glory (Isaiah 61:3, Zephaniah 3:17). I want the promises, and like the song my dad used to sing, "I want that mountain." But first, I have to want God to be first. New growth demands a new order, with my Savior at the head of the line.
YOUR PRESCRIPTION
Test your temperance. Are you allowing God to order your priorities? Is the Holy Spirit controlling your desires, or are they controlling you? Ask God to help you to stand on His standards, so you can stand on His promises.