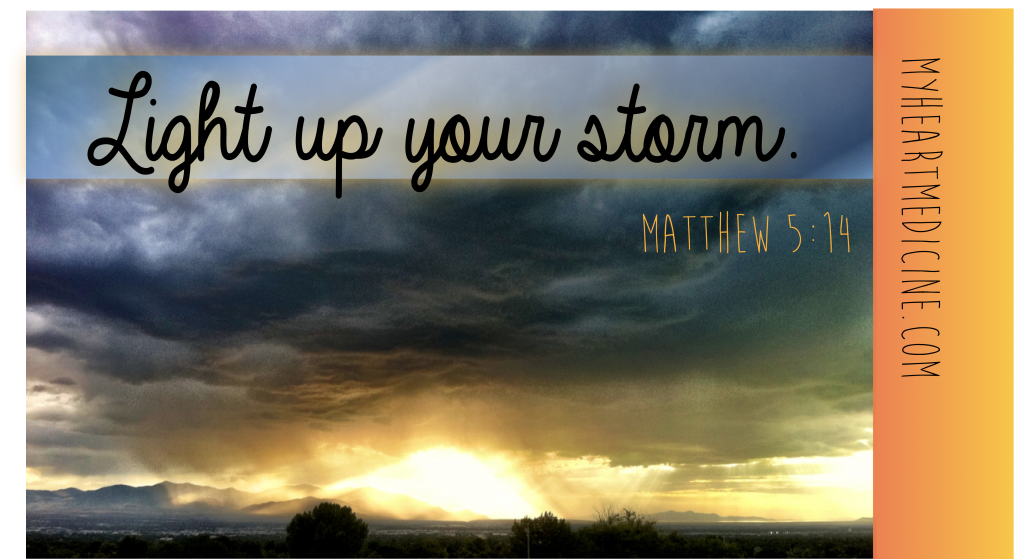 "On the left hand, where he doth work, but I cannot behold him: he hideth himself on the right hand, that I cannot see him: But he knoweth the way that I take: when he hath tried me, I shall come forth as gold." – Job 23:9-10
"For ye were sometimes darkness, but now are ye light in the Lord: walk as children of light: (For the fruit of the Spirit is in all goodness and righteousness and truth;) Proving what is acceptable unto the Lord." – Ephesians 5:8-10
"Walk in wisdom toward them that are without, redeeming the time." – Colossians 4:5 
Scripture Reading: Ephesians 5:1-17
It seemed as though the sky couldn't make up its mind, alternating between glimpses of sunlight and charcoal-colored clouds. I was at a Bible conference, where I was scheduled to sing an outdoor concert that evening – my last night there. The forecast of severe thunderstorms was so foreboding that other activities had already cancelled, casting a shadow of doubt on the evening concert. Prayers were sent up all day to hold off that storm. I had rain boots at the ready, along with my pink baseball cap, in the event of a downpour in the middle of the concert and an embarrassing hair-beyond-repair situation.
In between raindrops, Joey and I hurried down to the lake for one last swim that afternoon. We ended up playing Uno in a friend's cottage, while an epic storm – complete with thunder, lightning, and hail – ravaged the lake. The rain poured so thickly, that we sat in a lakefront room, unable to see the lake at all. And then the clouds moved. The sun fought its way to the front, and the evening glistened with sunlight on clean, damp grass. I prayed to delay the storm, but God chose to move it through in His own awesome fashion. And HIS show went on.
Reading Ephesians 5 today, I'm mindful of other storms – storms of strife and conflict, fear and disappointment. And I want to impress this upon you – there is no coincidence to the placement of your storms. While storms sneak up on us, they're no surprise to God. Remember, He controls the wind, the waves, and every other force in our lives. 
And you must know this, there are two opposing objectives in every storm. There is God's plan to strengthen you – to deepen your dependence on Him so He can use you and show Himself to you, in the storm and beyond it. And there is your enemy's plan to overwhelm you with fear, and to use that fear to get you to do anything that will undo your faith and the faith of those around you.
Ephesians 5:8 reminds us that we were once in darkness. The key word in that verse is "were" – because a blood-bought, Bible-strong, prayer-changed heart should approach a storm differently (Romans 12:2). That same verse tells us to walk as "children of light". That means, we don't feed the storm – by God's grace, we outshine it. We walk wisely. We don't get sucked into angry exchanges. We honor God by declining to defend our own honor, and we fight the storm on our knees (Proverbs 15:1, Romans 12:17-19, Ephesians 4, 5:1-2, I Thessalonians 4:11-12).
Because there is one last facet to this storm – the others in it. Throughout Ephesians 5, Paul talks about the lost – the people who are steeped in sin (Verses 3-7). He tells us to redeem the time, to understand God's will – His divine purpose and objective (Verses 16-17). And it comes down to this. The storms of life will either drive sinners further from God or drive them to God. It all depends on how much light you and I bring to the storm. If we choose to succumb to darkness – to let fear and anger and offense take over, to sink to the deepest, darkest levels of our sinner-saved-by-grace selves – more souls will be lost at sea. If we bring the light – fighting fear with faith, standing on the promises, and walking in unbridled obedience – our light will break through the darkness, and souls will find their way to the One True Light, Jesus (Isaiah 58:6-8, 60:1, John 1:1-9, 8:12, Philippians 2:14-15).
Today, I see storms swirling on more than one front. But there is light peeking from behind the clouds, and with souls in the balance and eternity closer than it was yesterday, I will do my one job that God has given me (Mark 16:15, John 13:34, Matthew 28:19-20, I Timothy 2:1-4). I will walk the right way. I will pray my way through the darkness. And I will outshine.
YOUR PRESCRIPTION
See the others in the storm. Don't lose faith, and don't do anything you'll regret. Be the light in the storm, and light someone's way to Jesus.