"And, behold, this day I am going the way of all the earth: and ye know in all your hearts and in all your souls, that not one thing hath failed of all the good things which the Lord your God spake concerning you; all are come to pass unto you, and not one thing hath failed thereof." – Joshua 23:14
"And I have given you a land for which ye did not labour, and cities which ye built not, and ye dwell in them; of the vineyards and oliveyards which ye planted not do ye eat…And if it seem evil unto you to serve the Lord, choose you this day whom ye will serve…but as for me and my house, we will serve the Lord." – Joshua 24:13, 15
"Therefore, my beloved brethren, be ye stedfast, unmoveable, always abounding in the work of the Lord, forasmuch as ye know that your labour is not in vain in the Lord." – I Corinthians 15:58
---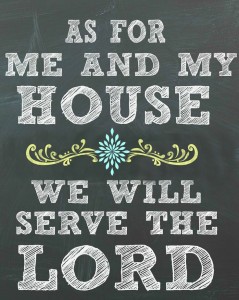 I think I've gotten better. I pray I have, anyway. I'm a saint, but a saint is still a sinner – just a sinner saved by grace (Ephesians 2:8-9). I have the Holy Spirit living in me, but to my shame, He doesn't always have the say that He should. I'm working on that (Romans 12:1-2). It's not easy, because I operate in a fallen world in my failing flesh (way too much flesh, I might add). Every day is a battle, and so every day starts the same way – I get up, get in the Word, and pick a side.
Joshua knew about picking sides. In Joshua 24, Israel's leader is at the end of his life. His military career has been over for a while, and the twelve tribes have actually had a period of rest in the Promised Land (Joshua 23:1). But Joshua knows that soldiers get soft when there's nothing to fight for, and relative peace and prosperity have made Israel ripe for rebellion.
In his farewell address, Joshua delivers an ultimatum from the Lord. The covenant is before them, and it hasn't changed since Moses came down from Mount Sinai (Exodus 20). It's simple: no other gods, obey God's laws, serve Him with all your heart. To make obedience even easier, this covenant has abundant blessings attached, many of which the Children of Israel have already received. They have now moved into the "land flowing with milk and honey". They have traded their tents for turn-key homes that they didn't pay for and didn't build. They're living off a land that they didn't have to farm. The Canaanites (the previous residents) did all the sowing, and they are doing all the reaping.
The choice should be easy. God's resume is impeccable. He has kept every promise He's made to them. He's practically spoiled them with blessings, and He's soundly defeated all of their enemies. They may be warriors, but God has done all of their fighting for them. And yet, sin pulls at them. Idols abound in the houses that they've moved into, and remnants of pagan culture are already mingling with God's prescribed laws.
Through Joshua, God warns them to pick a side – His side to be exact. Compromise is not an option. Assimilation is not an option. Joshua has made his choice, for himself and his family. No if's, and's, or but's, we will serve the Lord (Joshua 24:15).
The question still hangs in the air today. And to all the half-hearted, wishy-washy, excuse-making, "I have my liberty" fence-sitting Christians out there, I plead with you as an admittedly less-than-perfect friend who has danced around the fire and been burned (Galatians 5:13, 16-17, 24, I Corinthians 16:13). Pick a side.
Believe me, I get it. Sometimes, you just want to fit in. Sometimes, you just want to be one of the cool kids (John 12:42-43). Fighting is tiresome, lonely, and it's easier to just go with the flow (John 15:19, I John 2:15). Sin seems so effortless, so beguiling, and the world makes it look like so much fun.
Why am I making such a big deal of this? Because it's still a big deal to God. In Matthew 22:37-40, Jesus confirmed that the greatest commandment was to love the Lord your God with all your heart, soul, and mind. It's the way God loves us. That kind of love can't sit on a fence. It can't follow one day and flounder the next. It can't dance around the fire of sin and be faithful at the same time (Romans 8:6, II Corinthians 5:13-17, I Peter 2:11). Most of all, when we love God that way, we can't be ungrateful, and we can't forget or ignore or cheapen the blessings that we have received (Psalm 18:35, 37:25-27, 63:3, Hebrews 2:3-4). We are compelled to be on the Lord's side and no other.
So where do you stand today? Would Joshua question your loyalty? Worse still, would Jesus question your love? If you have one foot on either side of the line, get on your knees, get your head in the Word, and let the Spirit move your heart to the Lord's side.
---
YOUR PRESCRIPTION
Are you all in? Are you talking to God and giving Him the chance to talk to you every day? Are you picking His side, and letting Him pick your passions, your plans, and your pursuits? Don't walk the line. Choose to serve Him with all your heart today.