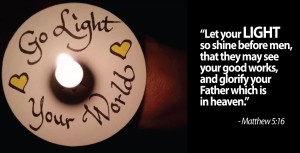 "Let your light so shine before men, that they may see your good works, and glorify your Father which is in heaven." – Matthew 5:16
"For ye were sometimes darkness, but now are ye light in the Lord: walk as children of light." – Ephesians 5:8
"I am crucified with Christ: nevertheless I live; yet not I, but Christ liveth in me: and the life which I now live in the flesh I live by the faith of the Son of God, who loved me, and gave himself for me." – Galatians 2:20
Scripture Reading: Matthew 5:1-16
---
I had a rough start today – a lousy attitude here, a little impatience there, and a few  poorly-chosen words to top it all off – not exactly an inspired beginning. I've done worse, but by God's grace, I could have done better.
How did God repay my foolishness? With a blessing. Shortly after sending my boys off to school, I heard from a dear friend, who shared a story about a seed that we planted together more than a year ago (she planted wisely, and I unwittingly helped) and the miraculous work that God had done with that seed. I was immediately convicted of the less-than-godly start to my day, and I was immediately reminded that God never fails to give me more than I deserve.
In Matthew 5, Jesus preaches what we refer to as the Sermon on the Mount. His public ministry is still in its early days. To date, He has been baptized by His cousin John, has survived the temptation in the wilderness by Satan, and has recruited his key disciples. Now, after healing countless people and gaining a following of "multitudes", He is talking about salt and light and bringing glory to God by the good works that we do (Verses 13-16). And the blueprint for those works is offered in the earlier verses of the chapter (Verses 3-11) known as the Beatitudes.
To law-abiding Jews, who still looked to the Old Testament writings of Moses as their personal blueprint, Jesus' words were downright radical. The Old Testament laws drew harsh and unforgiving lines between right and wrong. They decisively protected the innocent and punished the guilty. And in the hands of men, the Mosaic laws had served as the foundation for an "every man for himself" society, where personal rights ruled and the heart of God had little place (sound familiar?). People were throwaways – cast out, spit upon, and stoned for violations of the law. There was little opportunity for redemption, mercy was a rare commodity, and compassion was hard to come by.
And while God is holy and cannot tolerate sin, the law did not represent His heart (Romans 5:1-10, Galatians 3:23-25, 4:4-6). The very heartbeat of God is revealed in the Beatitudes. Responding to cruelty with kindness, seeking and pursuing peace, giving mercy when it's least deserved – these are the behaviors of God Himself (Micah 6:8, John 3:16-17, Ephesians 2:8-9). Though there had to be a payment for sin, He chose to send His Son to pay it for us – the ultimate act of meekness, mercy, and reconciliation, but by no means the last act of that kind by God. How many times have you failed Him? And yet He has blessed you. How many times have you denied Him? And yet your salvation is sealed by the blood of His own Son. How many times have you ignored Him? And yet, He hears you when you humbly call on Him.
Jesus' behavior was radical – sin was sin, repentance was required, but mercy was always within reach. It was a departure from the unforgiveness of the day, and a light that revealed a side of God that so many had missed (John 3:19, 12:35, 36).
And just as Jesus stood out against the backdrop of the law-wielding Scribes and Pharisees of His day, we need to stand out as a mercy-giving light in the rights-driven culture of our day (Matthew 5:43-45, Luke 6:35, Ephesians 5:8, I Peter 3:8-12). We need to resist the temptation to beat people over the head with right and rights, and choose to love when it's least deserved. That kind of love opens a heart to God's conviction – not man's condemnation – and brings about the radical change of a sinner saved by grace.
Love radically, give radically, and FORgive radically. Respond to people in a way that defies their every-man-for-himself expectations. Be a radical departure from the way of the world and a bright light that leads the way out of darkness. Be the attitude of Christ.
---
YOUR PRESCRIPTION
Is there a situation where your light isn't shining so well? Ask God to give you a radical, Christ-like response to a dark situation. Be a light where light is least expected.