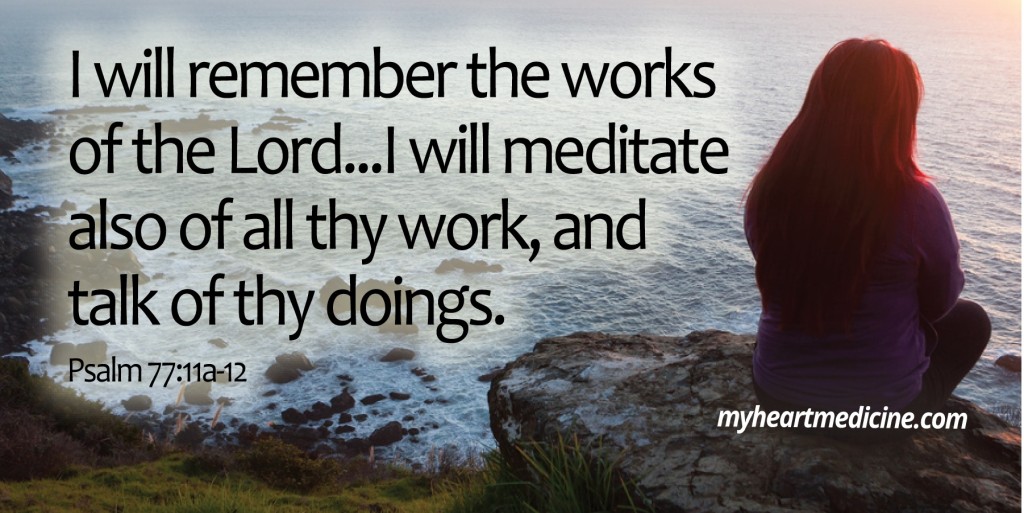 "And Moses said unto the people, Remember this day, in which ye came out from Egypt, out of the house of bondage; for by strength of hand the Lord brought you out from this place…" – Exodus 13:3a
"My soul shall be satisfied as with marrow and fatness; and my mouth shall praise thee with joyful lips: When I remember thee upon my bed, and meditate on thee in the night watches. Because thou hast been my help, therefore in the shadow of thy wings will I rejoice." – Psalm 63:5-7
"I will remember the works of the Lord: surely I will remember thy wonders of old. I will meditate also of all thy work, and talk of thy doings." – Psalm 77:11-12
---
I was sitting in two feet of water in a baby pool in my backyard. A forty-five pound, blonde-haired torpedo was racing at me full-throttle, and I was bracing myself for impact. I seriously questioned myself for agreeing to Joey's request to "catch" him. There's not a lot of margin for error in an inflatable baby pool – not when you're my size anyway. At best, a mini tidal wave of cold water would slam up my nose and then over my head. At worst, I had willingly submitted to an unintentional drop-kick from a 6-year old.
And then it happened. My mind started to rewind to previous summers. First, to summers spent in a cubicle, where fluorescent lighting was a poor imitation for the glistening July sunlight. Then a few years further back, to a time when I longed for marriage and motherhood and thought neither would ever find their way into my broken life. And even further back, when instead of being waist-deep in water from the garden hose, I was waist-deep in a life of sin and thought I would never find my way out. There's no doubt about it – God has been good to me.
In Psalm 77, the psalmist intentionally rewinds his mind. Something is eating at him. We can't be sure what it is, but it's the kind of gut-wrenching trouble that tortures a soul night and day (Verses 2-4). Whatever it is, we can certainly compare it to some of the trials that keep us awake at night – a wayward child, a marriage hanging by a thread, a dreaded diagnosis, an anxious mind, or looming financial disaster.
Questions start to haunt the psalmist (Verses 7-9) – the kind of questions that Satan loves to taunt us with in our darkest hours. Where is God? Is He done with me? Has He forgotten me or turned against me? The writer answers those questions with a deliberate rewind of the mind. In Verse 10, he resolves to shift his focus from the problem at hand to the deliverance and blessings of the past. He then commits to do 3 things (Verses 11-12): to remember what God has done, to meditate on it, and to talk about it.
That is good stuff, my friend. When we are so deep in trouble that our struggling minds start to question God's intentions, God's character, and God's very love for us, we need to commit to do those 3 things. 1) Rewind the mind. Find the memories of God's goodness, of His deliverance. 2) Think on them. Saturate your soul with the memory of what He has done. And then, 3) Talk about them. Pepper your conversation with praise. Tell anyone who will listen about the good stuff that you've brought to mind so that you are surrounded – internally and externally – with the truth of Who God is (Deuteronomy 32:3-4, Psalm 89:1, 150:2, Hebrews 11:6, Revelation 5:12).
For the psalmist, the memory of God's deliverance went back to the shores of the Red Sea (Verses 15-20), when God parted the waters for His people to pass through on dry ground, before slamming those same waters down on top of Pharaoh's army (Exodus 14). And in Deuteronomy, God commanded the Children of Israel multiple times to remember that very incident, and to trust and obey Him based on that memory (Deuteronomy 5:15, 7:18, 24:18, Psalm 136:13-15).
So what has God done for you? Even if your years have been flooded with pain, you can still find some evidence of God's intervention on your behalf, His protection, and His mercy (Lamentations 3:19-26). And most likely, you have no shortage of stories about the faithfulness and blessing of God.
Whatever you are facing today, let me encourage you to rewind your mind. Fill your head, your heart, and your every interaction with the memories of all that He has done for you. Replace the complaints, the questions, and the worries with your own firsthand knowledge of the God Who still parts the seas, calms the storms, and walks through all of them with us (Deuteronomy 26:8, Joshua 1:5, 4:23, Isaiah 43:2, Zephaniah 3:17, Romans 5:3-5, I Peter 5:10). Remember what God has done in the past, and rest in the truth that He will do it again.
---
YOUR PRESCRIPTION
Take the time to note some of the victories that God has given you and find someone to share them with. Publicly praise God for what He's done, and privately trust that He's working again on your behalf.