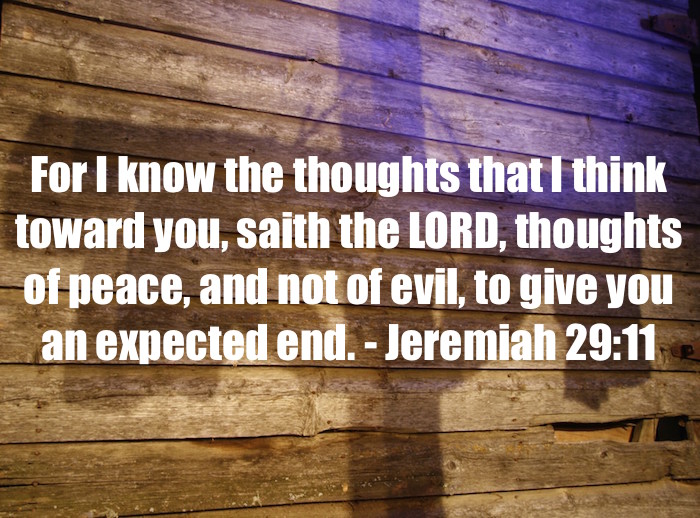 Right Now
"Before I formed thee in the belly I knew thee; and before thou camest forth out of the womb I sanctified thee, and I ordained thee a prophet unto the nations…Be not afraid of their faces: for I am with thee to deliver thee, saith the Lord." – Jeremiah 1:5, 8
"Then I said, I will not make mention of him, nor speak any more in his name. But his word was in mine heart as a burning fire shut up in my bones, and I was weary with forbearing, and I could not stay." – Jeremiah 20:9
"Remembering mine affliction and my misery, the wormwood and the gall. My soul hath them still in remembrance, and is humbled in me. This I recall to my mind, therefore have I hope. It is of the Lord's mercies that we are not consumed, because his compassions fail not. They are new every morning: great is thy faithfulness." – Lamentations 3:19-23
---
Right now, a friend of mine is going through a trial that is fierce, frightening, and unbelievably unfair. This isn't her first rodeo. Months ago, I would have defined her as someone who has been through more than I could ever imagine, and her trials have only snowballed since then. I listened to her tears on the phone last night, and though I'm rarely at a loss for words, words were useless. I remember hearing myself murmur, "I don't know, I don't know, I don't know…" while in my head and my heart, I was frantically praying for divine intervention.
We live in a Christian culture that all too often equates "blessing" with the world's standards of success. But there is a calling that flies in the face of our expectations – it's a calling that finds little reward in this world but fills the storehouses of heaven. It's the call to suffering.
In Jeremiah 1, while still a "child", Jeremiah was called to be a prophet, something God had ordained before he was even born (Verses 5-6). God would use him tremendously (Verses 9-10), but the lesson was often contained in Jeremiah's God-ordained suffering.
Jeremiah never had what we would consider a successful ministry. He would never marry or have a family. A son of the priests at Anathoth, his own would turn against him, and he would be the target of multiple assassination plots. He would spend time in stocks, after a beating delivered by a priest (Jeremiah 20:2), and more time in a pit – a cistern full of mud that doubled as a dungeon (Jeremiah 38:1-13). In a time when people wanted feel-good messages and flocked to false prophets who told them what they wanted to hear, Jeremiah told them the hard truth about their rebellion, their idolatry, and the inevitable consequences. And they would never heed him. It was an utterly thankless job.
But though his contemporaries never listened, Jeremiah's ministry would have incalculable ripple effects in the Kingdom of God. His life of suffering would yield some of the greatest insights we have into the longsuffering love of God, His sovereignty, and the promise of restoration in exchange for repentance (Jeremiah 3:22, 17:14, 29:10-14, 31:3).
In Lamentations 3, as he mourned the devastation of Jerusalem by the Babylonians, he wrote the timeless truth that God's mercies are new every morning and great is His faithfulness. In Jeremiah 29, he wrote an open letter to the exiles in Babylon that overflows with promises about finding God and His purpose – promises that we still claim today. He gave us the image of the Potter and the clay (Jeremiah 18:1-11) – the ultimate metaphor for God's never-ending work in our lives. And though the "Weeping Prophet" desperately wanted a quiet, normal life, his need to speak the truth (and his call to suffering) burned relentlessly inside of him (Jeremiah 15:15, 20:9, 14-18).
Much like Jeremiah, right now, your suffering may seem to be without purpose. It may feel like more of a curse than a calling, but I submit that you might be one of those peculiar people who is tasked with the greatest calling of all. To be like Christ, to taste in His sufferings, to be used and even abused for the cause of Christ may not yield accolades or accumulate wealth in this life, but it is the stuff that all of heaven stands and cheers for (Acts 7:54-56, Romans 5:3-5, II Corinthians 4:8-9, 16-18, Philippians 3:10, I Peter 5:8-10, Revelation 21:3-4).
Hold on, my friend. God has not left you. Whatever is lost for Christ's sake will be restored tenfold. Whatever is suffered on earth will be sanctified in heaven. God's Kingdom holds you in high regard, regardless of how this world sees you. And right now, your suffering is not in vain.
---
YOUR PRESCRIPTION
Are you suffering right now? Ask God to use your suffering for His glory. Praise Him for allowing you to taste what Christ went through for you, and trust that He has a plan for you.