"But the angel said unto him, Fear not, Zacharias: for thy prayer is heard; and thy wife Elisabeth shall bear thee a son, and thou shalt call his name John. And thou shalt have joy and gladness; and many shall rejoice at his birth. For he shall be great in the sight of the Lord." – Luke 1:13-15a
"And, behold, thy cousin Elisabeth, she hath also conceived a son in her old age: and this is the sixth month with her, who was called barren. For with God nothing shall be impossible." – Luke 1:36-37
"For the vision is yet for an appointed time, but at the end it shall speak, and not lie: though it tarry, wait for it; because it will surely come, it will not tarry." – Habakkuk 2:3
Scripture Reading: Luke 1:1-45
---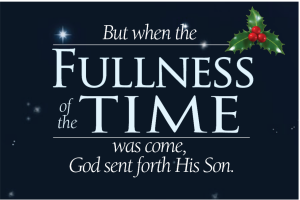 I've had more than one point in my life where I felt as though Life, itself, had passed me by. For years, I was the single girl, trying to make a life out of a job that I loved, but that never loved me back.
During that time, I had no sense of God's timing. I worried my way through each day, blaming myself for wasted years and missed opportunities, and missing any speck of providence in my circumstances. I don't think I ever considered the possibility that God had good reason to make me wait.
In Luke 1, Elisabeth thought that life had passed her by, and she was no doubt blaming herself. Verse 7 clearly states that she and Zacharias had no child because "Elisabeth was barren", and they were now old and childless, proof that Elisabeth's inadequacies had outlived the grace of God.
But in Verse 13, the angel Gabriel tells Zacharias that the impossible will happen. Elisabeth will conceive, and God Himself has determined both the name ("John") and the incredible purpose of the son that will be born to them (Verses 15-17, Isaiah 40:1-5, Malachi 3:1). John will prepare the way for the coming Messiah. This pregnancy is not just an answer to the personal prayers of Zacharias and Elisabeth; it is a fulfillment of prophecy, and a perfectly-timed step in God's redemption plan.
Zacharias' response to Gabriel in Verse 18 is nothing short of hilarious. He essentially asks for a sign (as if having an angel sent by God standing in front of you doesn't count as a sign). I think it says a lot about where he and Elisabeth were in life. They had given up all expectations of God showing up. They were just going through the motions of life, thinking that God was too far away to ever change anything, too disinterested to take an interest in them. How wrong they were. How wrong we are.
Even after becoming pregnant, Elisabeth still has a hard time wrapping her head around her place in God's plan. She sees the baby as an overdue mercy, an afterthought of the God who let her languish for so long. In Verses 24-25, she talks as though God has finally turned His attention to her, finally taken the blame away for all the shame-filled, childless years. It's not until her cousin Mary walks in, six months into Elisabeth's pregnancy, and only days into Mary's blessed pregnancy, that the truth hits her like a ton of bricks (Verses 39-41).
Elisabeth is pregnant at this moment – not twenty, or thirty, or forty years earlier – for a reason, a specific, amazing, perfectly-timed, God-ordained reason (Esther 4:14, Galatians 4:4-5). Baby John jumps inside of her, the Holy Spirit speaks to her, and she realizes that she is a part of something bigger. She is in the presence of the recently-conceived Messiah, carried by her young, virgin cousin, and she is carrying the forerunner of the Son of God.
Elisabeth wasn't forgotten – like her young cousin, she was chosen. God had a plan for her life and a purpose for her pain, and nothing that had happened to her was an accident. God had never forsaken Elisabeth and Zacharias; He had been there all along, working towards the "fullness of time" (Psalm 138:8, Ecclesiastes 3:11, Hebrews 1:1-3, 13:5-6).
Your life is no different. In God's economy, not a moment of your life has been wasted. He's been working in the waiting, and the timetable has been deliberate, not haphazard (Psalm 31:19, Proverbs 3:5-6, Jeremiah 17:7-8, 29:11, Romans 8:28). Even when you've failed, He has used those failures to grow you, to pull you closer to Him, and to show you His longsuffering love. You can't mess up the timetable, because honestly, you were never in charge of it to begin with.
God is sovereign. God concerns Himself with the things that concern you. And no matter how much time it takes, He is right on time.
---
YOUR PRESCRIPTION
This Christmas season, take special note of all that God brought to pass. See His sovereignty in this season, and see it in every season of your life as well.