"But he was wounded for our transgressions, he was bruised for our iniquities: the chastisement of our peace was upon him; and with his stripes we are healed." – Isaiah 53:5
"Then saith he to Thomas, Reach hither thy finger, and behold my hands; and reach hither thy hand, and thrust it into my side: and be not faithless, but believing. And Thomas answered and said unto him, My Lord and my God." – John 20:27-28
"Therefore I take pleasure in infirmities, in reproaches, in necessities, in persecutions, in distresses for Christ's sake: for when I am weak, then am I strong." – II Corinthians 12:10
Scripture Reading: John 20:19-31
---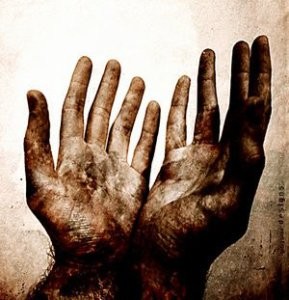 It's easy to knock Thomas. He was the guy who could never take anything at face value, the guy who always raised his hand to ask one more question, when everyone else was ready to just move on. His persistence served us well in John 14, as Jesus erased all doubt about the way to heaven by declaring Himself as the Way, the Truth, and the Life, and the only Way to the Father (John 14:6). And in John 20, Thomas's insistence that he had to touch the scars of Jesus with his own hands gives us some insight into the eternal impact of scars.
As a kid growing up in church, there were some things that just didn't make sense to me. I remember questioning in my mind (though I never had the guts to ask the question aloud) why  Jesus had scars on His hands and side (John 20:20). After all, He was God. He had healed others, and more than once, the gospel writers used the phrase "made whole" (Matthew 9:22, Mark 6:56, 10:52, John 5:15), implying that there was no residue of illness or infirmity left behind when He healed someone. So why was Christ Himself scarred for all of eternity?
A few years and a few scars of my own have helped me to understand that God chose to keep those scars for our sakes. If you feel as though you have somehow been scarred for life, let me tell you why your Savior chose to keep His scars and what He wants to do with yours.
Proof of Life.

For Thomas, even multiple eyewitness accounts weren't good enough. Although the other disciples had seen and spoken to Christ a week earlier, Thomas needed personal sensory proof that Jesus was alive. Touching the scars proved that Jesus's human body had been resurrected. He was not a ghost or a dream. He was the same God-in-the-flesh that had hung on the cross, and He was alive again. One day, we will see those scars, and we too will know that our Redeemer lives (Job 19:25, Psalm 22:16, Zechariah 13:6, Revelation 5:12).
Proof of Love.

If you are scarred, you are in good company. The only person God ever expected to suffer alone was Jesus Christ (Isaiah 54:7-8, Matthew 27:46). For every trial and tribulation that you and I face, God is there – passing through the fire with us (Isaiah 43:2), collecting our tears (Psalm 56:8), and providing new mercies every morning (Lamentations 3:21-23). We may not understand why He allows certain hurts and heartaches, but He still carries the scars that He sustained on our behalf, and He never fails to carry us. No matter how bad life in this fallen world may seem, I guarantee you that it would be far worse without the protection and provision of those nail-scarred hands. And unlike those scars, our trials are only temporary (Isaiah 49:16, John 16:33, II Corinthians 4:17).
Proof of Purchase

. Jesus purchased our redemption with those scars, but His scars also add value to ours. Just as His scars have eternal impact on our lives, our ugliest and deepest scars can have eternal impact in the lives of others. Pain has purpose in His nail-scarred hands, and you can be the light that leads a soul with similar sufferings to new life in Christ (I Corinthians 6:20, II Corinthians 1:4, 4:7, 5:17, I Timothy 1:15, I Peter 2:9).
As Christians, we sometimes put a lot of effort into hiding our scars. We're so afraid to let others see them, that we fail to see how God wants to use those scars – not for our own glory, but for His. I'm not proud of my scars, but I praise God for His. And I pray that I can be humble enough to show someone else my scars to prove that He lives in me, He loves me, and I belong to Him.
---
YOUR PRESCRIPTION

Praise God for His scars and ask Him to give you an opportunity to use your trials and tribulations – past and present – for His glory.