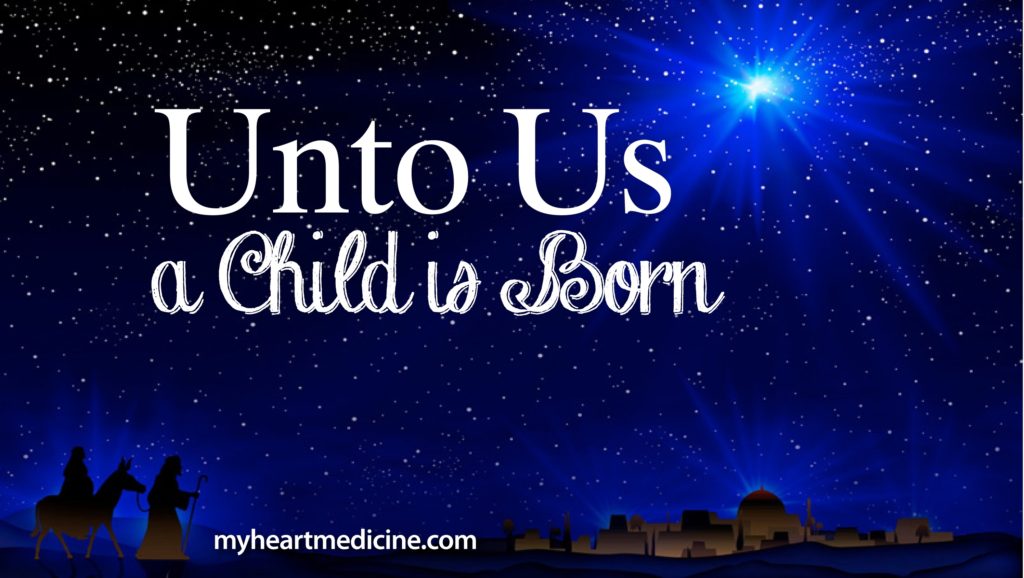 "The people that walked in darkness have seen a great light: they that dwell in the land of the shadow of death, upon them hath the light shined." – Isaiah 9:2
"For unto us a child is born, unto us a son is given: and the government shall be upon his shoulder: and his name shall be called Wonderful, Counsellor, The mighty God, The everlasting Father, The Prince of Peace." – Isaiah 9:6
"…For every one is an hypocrite and an evildoer, and every mouth speaketh folly. For all this his anger is not turned away, but his hand is stretched out still." – Isaiah 9:17b
I have a dear friend who is in a rough, rough place right now, and her need has driven us both to our knees like never before. The answer has not come as quickly and cleanly as we would like. Weeks have turned into months and my friend's need remains. But although our prayers have yet to yield their intended results, we are seeing some of God's intended results.
It's been the worst of times, but in many ways, the sweetest of times, as our prayers have been stretched – stretched in time, in content, and in intensity. And while the need that started it all continues to stretch my friend to the limit, it has also stretched our prayer muscles considerably. And by God's grace, we have seen countless other answers to prayer (big and small) that have served to stretch our faith.
In Isaiah 9, God is the one doing all the stretching – but His is a stretch of mercy, the kind of mercy that endures forever and graciously endures fools like me.
When Isaiah delivered this prophecy to King Ahaz of the Kingdom of Judah, God's people were in a rough, rough place. Attacked from all sides, Judah was stuck with a bad king and his equally-bad ideas. During Ahaz's reign, Judah had already endured a revolt by the Edomites (who lived among them) and an invasion from the Philistines (the boys next door), and now the northern tribes of Israel were teaming up with Syria to launch another assault on Jerusalem (II Chronicles 28:16-18, Isaiah 7:1-2).
Ahaz's brilliant idea? An alliance with the worst of them all – Assyria (II Kings 16:7-9). It was the Old Testament version of teaming up with the schoolyard bully who takes your lunch money in return for his protection. In no time, Ahaz was stripping gold and other treasures out of the temple to make his protection payments to Assyria.
Two ironies come to light. First of all, Assyria (Ahaz's new best friends) would be the next to invade Judah (Isaiah 8:6-8). Secondly, despite the constant, willful rebellion of Judah, God's hand of reconciliation is "stretched out still" – a promise that is spoken no less than three times in Chapter 9 (Isaiah 9:12, 17 and 21).
Judah has failed repeatedly – idol worship, child sacrifices, occult practices (II Kings 16:1-4, Isaiah 8:19) – unspeakable sin. But the invitation stands to leave behind unspeakable sin for amazing grace. A child will be born – some 700 years later – and the salvation plan that will eventually undo and outlast Judah's failures will spring into action (Isaiah 9:6-8).
I love the picture of the very Hand of God, stretching down from heaven to lift us out of the swill of our sin. I am so grateful that no matter how low we go, how far we stray, or how bad our ideas, that Hand is still stretched out to us. I think of that Baby Who would save His people from their sin – tiny arms stretched up from the manger, the perfect little fingers of Emmanuel personifying heaven's reaching for us (Isaiah 7:14, Matthew 1:21, John 1:14, Philippians 2:6-8, Hebrews 1:1-2, I Timothy 1:15).
"The people that walked in darkness have seen a great light." Those words were written for the people of Judah, and yet, I have walked in darkness. Better yet, I have seen THE Great Light. I have deserved the anger of God, but I have received the Hand that is stretched out still.
What amazing grace. What a mighty God we serve. What a reason to celebrate the Child born unto us.
Merry Christmas.
YOUR PRESCRIPTION
Have you taken hold of that outstretched hand? Whatever your need, God is reaching out to you. Let Him be your Mighty God, your Wonderful Counselor, and let the Prince of Peace give you the peace that passes understanding this Christmas.