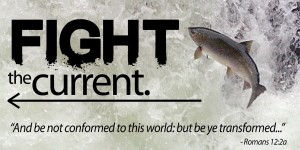 "And if it seem evil unto you to serve the Lord, choose you this day whom ye will serve; whether the gods which your fathers served that were on the other side of the flood, or the gods of the Amorites, in whose land ye dwell: but as for me and my house, we will serve the Lord." – Joshua 24:15
"And be not conformed to this world: but be ye transformed by the renewing of your mind, that ye may prove what is that good, and acceptable, and perfect, will of God." – Romans 12:2
"Love not the world, neither the things that are in the world. If any man love the world, the love of the Father is not in him. For all that is in the world, the lust of the flesh, and the lust of the eyes, and the pride of life, is not of the Father, but is of the world." – I John 2:15-16
Scripture Reading: James 1:18-27
---
I have some thoughts that keep playing over and over in my head, so much so that I'm writing this particular devotional in the wee hours of the morning. That makes me think it's important. Maybe I take my own insomnia too seriously, but I choose to believe that God is trying to tell me (and maybe you, by extension) something worth hearing.
I've been impressed lately with the concept of living a radical, intentional life – a life that defies cultural expectations and actively pursues God's expectations. It sounds like I'm stating the obvious, right? Of course, Christians are supposed to be different. And yet, looking at my own life, for all the changes I've tried to make by God's grace, I still find areas where I simply default to the cultural norm.
Culture is like a raging river. It's the current that flows through every aspect of our lives, and it's so easy to be swept downstream without even knowing it. To better illustrate my point, I want to introduce you to some of the Bible's greatest upstream swimmers:
Job

–  From the very first verse of the book that bears his name, Job is described as a standout in his culture – "a perfect and upright man" – and God Himself confirms the description in His conversation with Satan (Job 1:1, 8). There's no doubt he was the spiritual leader in his household, as evidenced by his regular sacrifices and prayers on behalf of his ten kids (Job 1:4-5). When his wife – and later his three friends – persecuted him in his darkest hours, Job resisted the temptation to blame God for his troubles and clung to the promise of his Redeemer (Job 2:8-10, Job 19:2-3, 25). Lastly, Job's trials ended when he "prayed for his friends" – an undeniably Christ-like response to his personal sufferings and their rush to judgment (Job 42:10, Matthew 5:43-45).

Daniel

– As a teenager thrown into the decadence and depravity of the Babylonian culture, Daniel determined to intentionally live for God (Daniel 1:8). His upstream swimming included everything from dietary choices to daily prayers, all at the risk of death. And in the king's court, where there was a constant contest for recognition and wealth among the "wise men", Daniel gave God the credit for his wisdom and sought no rewards from the king (Daniel 2:28, 5:17). God faithfully rewarded Daniel's faithfulness by giving Him the favor of no less than four pagan kings, dream-interpreting abilities, and a miraculous night in the lion's den (Daniel 6:3-5, 10, 20-22).

Jesus

– It's no surprise that the Son of God defied cultural expectations, but it does us good to note some of the ways in which He did it. In a culture that valued property and wealth, Jesus had "no place to lay His head" (Matthew 8:20). In a society that valued piety and status, Jesus chose publicans and sinners over the Scribes and Pharisees (Mark 2:15-17). He regularly spoke of losing, dying, and giving – some of the least popular words in the vocabulary of His day (and our day, too). And He refused to help the Jews conquer Rome, choosing the greater battle of conquering sin and death through the cross and the empty tomb (Mark 8:35, Luke 6:38, Philippians 2:6-8, I Corinthians 15:54-55).
All day, every day, you are faced with choices – choices in your home, your activities, the way you spend your money, and the way you spend your time. It's easy to live life on autopilot, defaulting to culture, going with the flow, and floating downstream like everyone else (Romans 8:5-8, 13:14, II Timothy 2:3-4). That's not how you run the race (I Corinthians 9:24, Hebrews 12:1-2). The race requires determination, intention, and constant consultation with God and His Word. It requires being different and moving in a direction that is often the opposite of the obvious. In short, it requires an upstream swim.
Live your life intentionally. Look for those places where you've settled for the cultural norm instead of seeking God's better way. Let's pray about how we can live a life that truly honors God in every way, and then, let's go for a swim.
---
YOUR PRESCRIPTION
Keep flushing out those areas of your life where you need more of God's way and less of the world's way. Ask God to show you where He wants you to fight the current in our culture.