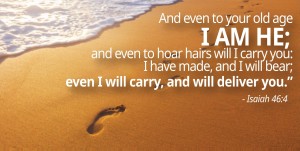 "He that goeth forth and weepeth, bearing precious seed, shall doubtless come again with rejoicing, bringing his sheaves with him." – Psalm 126:6
"And even to your old age I am he; and even to hoar hairs will I carry you: I have made, and I will bear; even I will carry, and will deliver you." – Isaiah 46:4
"And they come unto him, bringing one sick of the palsy, which was borne of four. And when they could not come nigh unto him for the press, they uncovered the roof where he was: and when they had broken it up, they let down the bed wherein the sick of the palsy lay. When Jesus saw their faith, he said unto the sick of the palsy, Son, thy sins be forgiven thee." – Mark 2:3-5
Scripture Reading: Mark 2:1-12
---
I used to carry a lot of guilt, because I was more blessed than most. While many people had bad parents, a bad environment, and bad influences, I pretty much had the deluxe life package – good parents, a home in the burbs, a pastor for a dad, Christian school, and it goes on and on. So when I messed up, it seemed way worse than other people's messes. I had no excuses, no scapegoat – just my own stupid decisions and a rebellious heart.
When I finally came to my senses, redemption seemed out of reach. How could God forgive so much wrong from someone He had treated so right? Blinded and bound by my own shame, I just couldn't find my way back. That's where the carriers came in. In His mercy, God put people in my path – people who helped me to see myself as forgiven, people who carried me back to the cross.
In Mark 2, we meet a quartet of carriers. They aren't just moved with compassion for their friend. Their compassion causes them to move.
Jesus is in a house in Capernaum, and the town is in a frenzy. In the previous chapter (Mark 1) Jesus cast out demons, healed Peter's mother-in-law, and cured a leper, telling him to keep the miracle to himself. The leper did the exact opposite (Mark 1:44-45), and now, Jesus can't go anywhere without drawing a crowd. So He is literally preaching to a packed house (Mark 2:1-2), standing room only, with an audience overflowing into the street.
This is where the carriers come in – four guys, rallying around their desperately sick friend. They carry him on his bed to the house, but they can't penetrate the wall of people. Many would have given up at this point, but these guys refuse to be deterred.
Instead of turning around and going home, they press on and carry their friend up to the roof of the house. They then proceed to dismantle the roof and lower their friend, sickbed and all, to the feet of Jesus. Needless to say, Jesus is pleased – even somewhat impressed. Verse 5 tells us that their faith caught His attention, and He healed their friend, both spiritually and physically.
There's a lot to be said for being a carrier. God the Father is a carrier and a restorer (Psalm 10:14, 23:3, 34:18, 68:5, 91:12, Lamentations 3:22, 32, Micah 7:18-19). Throughout the Old Testament, He pleads with His chosen people to let Him carry them – no matter how far they stray. He is constantly begging them to stop relying on idols, their own wisdom and their own work, so that He can forgive, restore, and bless them.
Christ was a carrier (Isaiah 53:11, 61:1-3, Romans 8:34, 15:1-3, Hebrews 7:25, 9:28, 13:13). He bore our sins on the cross, and He continues to plead with His Father on our behalf. He came to this earth to carry us to His Father, knowing we could never make the journey on our own.
And we are called to be carriers (Isaiah 58:6-12, I Corinthians 13:7-8a, Galatians 6:1-3, I Peter 4:10). And therein lies the challenge. I'm not even going to ask if you know someone who needs carrying, because I know you do. All around you are people who need to be carried – carried to the cross (Jude 21-23), carried to the throne of grace (Hebrews 4:16), and even just carried through the day (Psalm 3:2, 6:6, Matthew 11:28).
The question is – do we persist and pursue? Do we turn around and go home when we hit a wall, or does our compassion move us so much that we carry as far and as long as it takes to get them to Jesus? I thank God someone carried me – I know I didn't make it easy. And I want to keep carrying others as far as I can, for as long as God lets me.
My plea to you – carry the lost, carry the hurt, and the helpless, and the broken, and never stop caring. And until you finally get to the feet of Jesus, carry on.
---
YOUR PRESCRIPTION
Let your compassion move you. Carry someone to God in prayer, but also make a tangible effort to carry them wherever and however they need to be carried – for God's glory. Christ carried you. Now it's time to carry someone to Him.