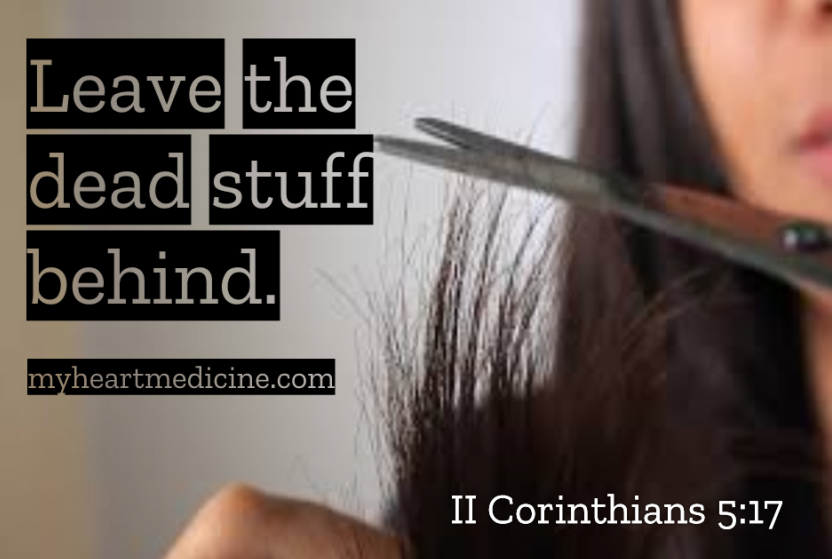 "Remember ye not the former things, neither consider the things of old. Behold, I will do a new thing; now it shall spring forth; shall ye not know it? I will even make a way in the wilderness, and rivers in the desert." – Isaiah 43:18-19
"The thief cometh not, but for to steal, and to kill, and to destroy: I am come that they might have life, and that they might have it more abundantly." – John 10:10
"Brethren, I count not myself to have apprehended: but this one thing I do, forgetting those things which are behind, and reaching forth unto those things which are before, I press toward the mark for the prize of the high calling of God in Christ Jesus." – Philippians 3:13-14
Scripture Reading: Philippians 3
Despite my ongoing efforts to be real, I still spend a good deal of time floating down the lazy river called "Denial". For instance, I got my hair cut just the other day – a non-event for most, but a really big deal for me. I gave my usual control-freak instructions, acknowledging that the "dead stuff" needed to go, but pleading to keep as much length as possible (a traumatic haircut in high school made me desperately defensive of what little hair I have – no matter how damaged or unworkable it may be).
I have to give the stylist credit. With tattooed arms folded casually in front of her, she took my completely unrealistic request in stride, gently asked a few leading questions, and baby-stepped me into the best haircut I've had in years. I walked out feeling lighter and leaving all of the dead stuff on the salon floor.
In Philippians 3, Paul urges his Philippian friends to leave some dead stuff behind them, and there's no doubt that the challenge still applies to us today.
Like the stylist who saved my hair from a lifetime of ruin, allow me to ask a few leading questions that might baby-step you into identifying some of your own dead stuff: 
1.  What makes you mad?
I know we all want to think we only have righteous anger, but more often than not, our anger is a surefire indication of unresolved sin, bitterness, and all forms of rebellion (I Samuel 15:23, Jeremiah 17:9, James 1:19-21). More than once, my tell-tale heart has bristled at the mention of a name, a situation, or even just a concept, and my own snarky response has shown me something that needs to die in me (Psalm 119:164-165, Ezekiel 36:25-27, Matthew 5:44-45, 6:14-15).
2.  What makes you cry?
Sometimes we hold on to hurt, suffering, and a place of loss – even though we know the Great Physician. It's no wonder that Jesus asked the man by the Pool of Bethesda if he wanted to be healed (John 5:6), because sometimes, we just aren't sure. Sometimes our pain – and even our victimhood –  becomes our identity. But that's never God's will for us. As children of the Living God, we are more than conquerors, and weeping may last for the night, but joy comes in the morning (Psalm 30:5, 42:11, 103:1-6, Matthew 11:28-29, Romans 8:36-39, I Peter 5:6-7).
3.  What makes you feel stuck?
We have a tendency to put labels and limits on ourselves, and Satan has a field day stoking our insecurities, our guilt, and the things that hold us back. But God is all about forward motion (Isaiah 40:31, I Corinthians 9:24, Hebrews 12:1-2). He is the God Who makes all things new, blots out our transgressions and remembers them no more, and is forever creating new creatures. Live above the labels – because regardless of our shortcomings, our God is ALWAYS able (Isaiah 43:18-19, 54:1-5, 61:3, Romans 7:14-15, I Corinthians 15:57-58, I Peter 5:10).
In all honesty, God has been reasoning with me over the past few years (or at least, I've started listening in the past few years), and slowly, I've started to get unstuck in various areas of my life. And as someone who is learning to let the Lord prune away more and more, I'm here to tell you that you can leave this moment feeling lighter. You don't have to live in bondage to your past. You don't have to live out the labels that others have placed on you. God is a Redeemer and a Restorer, and His plan is for you to run your race unencumbered – for His glory.
He has the final word on who you are. He gave His Son to ransom you. And if you know Jesus as your Savior, God holds your tomorrow and all of your eternity in His hand (John 3:16). Give Him the dead stuff, and He will give you a new and abundant life.
YOUR PRESCRIPTION
Ask God to reveal to you the things that you need to leave behind. Warning: you're likely hanging on to more dead stuff than you thought. But don't worry, God will baby-step you through it.