"He hath shewed thee, O man, what is good; and what doth the Lord require of thee, but to do justly, and to love mercy, and to walk humbly with thy God?" – Micah 6:8
"Pure religion and undefiled before God and the Father is this, To visit the fatherless and widows in their affliction, and to keep himself unspotted from the world." – James 1:27
"Even so faith, if it hath not works, is dead, being alone. Yea, a man may say, Thou hast faith, and I have works: shew me thy faith without thy works, and I will shew thee my faith by my works." – James 2:17-18
---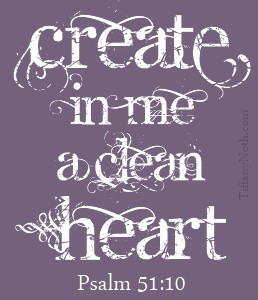 I love lists. Frankly, they give me a sense of security, and for me, lists make life seem manageable. If I can put my list on a pretty piece of notepaper or in a cute little notebook, somehow that's even better. And once I start to actually check off a few of those items and see the end product of my work? Well, then I really start to snuggle into the security of my own little world, represented by my own little list.
As I read Matthew 23, I get the impression that the Pharisees loved lists, too. They loved the security of believing that if they just accomplished A, B, and C, they were miles ahead of everyone else. But Jesus would plainly tell them (and us) that "doing right" should lead to "doing good", and hearts that truly love God will inevitably love others (James 2:14-16).
In Verses 1-7, Jesus outlines the practices of the Pharisees that focused on their checklists, their little worlds, and their control of the everyday people that they despised. Pharisees didn't care about caring for others. They didn't care about the physical needs or the spiritual needs of ordinary people. In their minds, ordinary people only existed to make them look extraordinary. And they preyed upon the well-meaning, everyday people who were searching for God, using the temple to make money off of those poor souls and shamelessly twisting the laws to profit off the penniless (Ezekiel 22:24-25).
In Verse 5, Jesus specifically spoke about phylacteries. These were little leather boxes that the Pharisees wore tied to their foreheads (still used by some today). Inside the box were tiny scrolls with scripture written on them. It made for a great show of holiness, but Jesus stressed and demonstrated humility as an indispensable ingredient of authentic holiness.
In Verse 13, Jesus even said that the Pharisees were keeping people away from heaven with their homemade brand of super-spirituality. They weren't leading people to God. They weren't loving people to God, and for all of their glorified goodness, they weren't glorifying God.
Jesus continues His scathing rebuke in Verse 23, and this time, He tells them that tithing to the penny (another item on their checklist) is no substitute for giving from the heart and giving mercy to others (Psalm 82:3-4, Proverbs 3:27, Micah 6:8, II Corinthians 3:6, 8:1-5).
There's a great deal of cultural context built into this passage, but in Verses 27-29, Jesus boils it all down to this timeless truth: No matter how good you look on the outside, it's the inside that matters (Psalm 51:10, I Samuel 16:7, Proverbs 4:23, 21:2, Jeremiah 29:13). You can check all the lists you want, but if the only purpose has been to glorify and gratify yourself, you've missed the whole point of what God wants.
The Pharisees were all about self-help. They cared only about themselves. They wanted to make themselves look good. They helped themselves to whatever riches, privileges, and prestige they could. And the end product of all that self was only more self (Matthew 5:20, 12:35).
Our faith is not lived out in checklists of scriptural requirements; it is lived out in love (Matthew 5:8, I Corinthians 13, I Timothy 1:1,5, II Peter 1:3-9). Don't misunderstand me. Right living is important. Church attendance is important. Bible reading is important. Prayer is important. But these things are not just items on a spiritual checklist. These activities are meant to serve as heart-changers. They align our hearts to God, and the end product is a desire to glorify Him, to do for others, and to love others into alignment with Him as well.
As you're checking off your spiritual list today, think about what the end product will be. By all means, live by the Word of God, but live it out (and give it out) as well. Let it shine through you, let it touch others, and let it glorify no one but Him (Matthew 5:16). That's the end product that God desires.
---
YOUR PRESCRIPTION
Don't just check off the items on your spiritual to-do list. Ask God to align your heart to His, and glorify Him by loving others to Him.