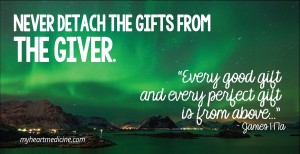 "Give therefore thy servant an understanding heart to judge thy people, that I may discern between good and bad: for who is able to judge this thy so great a people? And the speech pleased the Lord, that Solomon had asked this thing." – I Kings 3:9-10
"Every good gift and every perfect gift is from above, and cometh down from the Father of lights, with whom is no variableness, neither shadow of turning." – James 1:17
"For God, who commanded the light to shine out of darkness, hath shined in our hearts, to give the light of the knowledge of the glory of God in the face of Jesus Christ. But we have this treasure in earthen vessels, that the excellency of the power may be of God, and not of us." – I Corinthians 4:6-7
---
God is really good to me. In fact, I got a little godly spoiling recently through a dear friend of mine. We are both girly girls who share a love for makeup. My friend recently planned to purchase some cosmetic items at the mall, and she knew that her purchase came with a free gift. Upon her invitation, we went to the mall together, and even though I made no purchases of my own, my friend graciously bestowed her free gift on me.
I was like a kid at Christmas. Within minutes of getting home, I was sorting through my new supply of girly gifts and dolling myself up just for the fun of it. But as much as I love the stuff, that love doesn't compare to my affection for the giver, who went out of her way to show me a special kindness and shared a part of herself with me.
In I Kings 3, God shares a part of Himself with Solomon. Appearing to the fledgling king in a dream, God asks, "What shall I give thee?" Could there be a better offer? The God of the Universe opens His storehouses and says, "What do you want, Solomon? Just name it, and it's yours."
Solomon is loved by the Lord, and He loves the Lord in return (II Samuel 12:24, I Kings 3:3, I John 4:19), but he's already made a few mistakes. Most notoriously, he has aligned himself with Egypt by marrying Pharaoh's daughter (I Kings 3:1). Knowing Solomon's heart, and also knowing his weaknesses, it seems God is trying to get his attention before he veers too far off course. And at first, Solomon's affection for the Giver outweighs his desire for the gifts, and God rewards His request for wisdom with promises for riches and honor.
But as with all of His gifts, God requires one thing from Solomon – singular devotion (I Kings 3:14). It's not a new commandment. In fact, it's a reiteration of the first commandment (Exodus 20:3, Deuteronomy 6:5, Matthew 22:37-38). Solomon knows that obedience and God's blessing go hand in hand, and yet, his God-given wisdom will tarnish with time, and his end will tell that even the greatest gifts lose their luster, when they are detached from the Giver.
By I Kings 11, Solomon is a king drowning in his own excess. You know the numbers – 700 wives, 300 concubines, and a heart turned from God (Verse 3). And in righteous judgment, the Giver is forced to tear the kingdom away from Solomon (Verses 11-13).
How can a gift of godly wisdom implode like that? It all goes back to the Giver. Our lives are full of gifts from God, but the true value of those gifts depends on our devotion to Him. Without that devotion, the full potential of His gifts is never achieved. And when the gift becomes more important to us than the Giver, when His glory no longer shines through it, that gift becomes just another knick knack, just another parlor trick, just another drop in the bucket of our own excess.
God has given me many good things, but in the last few years, I have become keenly aware that they don't work without Him. I believe He has given me a marriage, a home, a family, and a purpose so that I can work those things out with Him (II Corinthians 9:8, Ephesians 3:20, Philippians 2:12-13) – not so I can simply take them and run. He wants to use my life (and yours) to point people to Him. He has filled my life with potential that I could never achieve on my own, so that I can continue to grow in Him, to learn dependence on Him, and to draw others to His grace (II Corinthians 4:7 12:31-13:1, Ephesians 2:10).
Whatever you do, never detach the gifts from the Giver. Let those blessings cement His place in your heart – not take His place. He is the light in their luster. He is the source of their shine. And the Gift behind every gift is the Giver Himself (Genesis 15:1, II Corinthians 9:15, Hebrews 11:6).
---
YOUR PRESCRIPTION
Have you taken the Giver for granted? Have you let His gifts take His place in your heart? If so, give those gifts and your affections back to Him, and ask Him to bring about the purpose and potential that He originally intended.