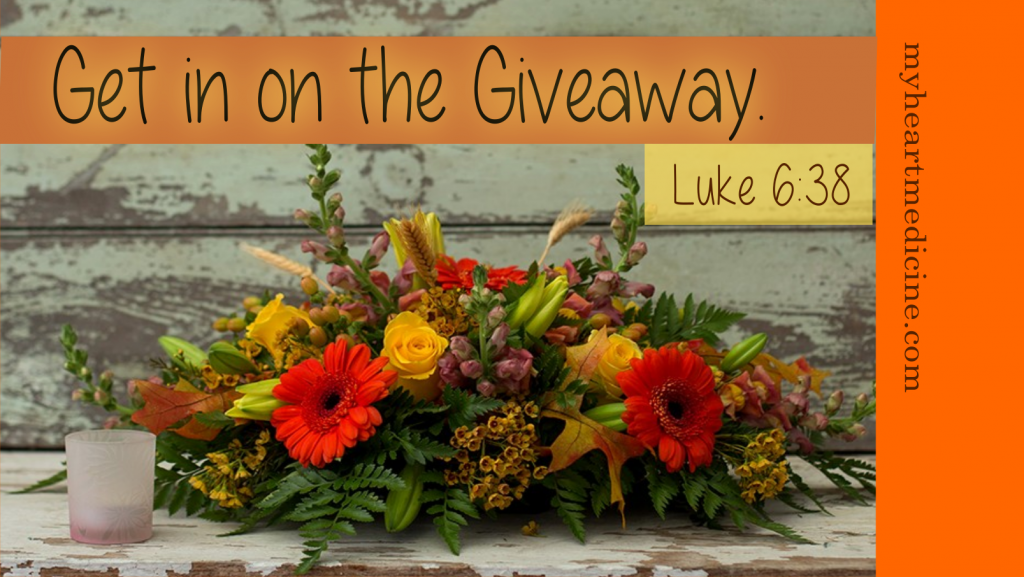 "Give, and it shall be given unto you; good measure, pressed down, and shaken together, and running over, shall men give into your bosom. For with the same measure that ye mete withal it shall be measured to you again." – Luke 6:38
"Jesus answered them and said, Verily, verily, I say unto you, Ye seek me, not because ye saw the miracles, but because ye did eat of the loaves, and were filled. Labour not for the meat which perisheth, but for that meat which endureth unto everlasting life, which the Son of man shall give unto you: for him hath God the Father sealed." – John 6:26-27
"Charge them that are rich in this world, that they be not highminded, nor trust in uncertain riches, but in the living God, who giveth us richly all things to enjoy; That they do good, that they be rich in good works, ready to distribute, willing to communicate." – I Timothy 6:17-18
Ketchup is often a point of contention in our household. To Joey, it is a food group, and he prefers any and all meals swimming in a sea of Heinz (yes, it has to be Heinz). On the grown-up end, we might as well just squirt the bottle straight down the drain, as Joey repeatedly puts more on his plate than he could ever possibly use in one sitting. Joey loves to consume ketchup, but he has no concept of the fact that ketchup doesn't grow on trees (though I guess it does grow on vines). He lacks appreciation for the cost of his favorite condiment and is completely oblivious to the fact that others might enjoy an occasional drop of the stuff. And to Joey, the "family size" ketchup bottle is essentially ketchup for one.
In II Kings 7, four lepers are weighing their options , with no idea of what God is doing behind the scenes. Under siege by the Syrian army, the city of Samaria is on lock-down, and trapped by the very walls that they built for their own protection, the people are slowly starving to death. And just at the gate, the lepers are faring no better. But the prophet Elisha has delivered word to the king that God will intervene and food is on the way (Verse 1), and these four forgotten men are about to become the bearers of blessing. 
Completely unaware of Elisha's prophecy and the fulfillment thereof, the lepers decide to throw themselves on the mercy of the Syrians (Verses 3-4). The hope is that – even if captured – they'll at least get one decent meal out of the whole mess. 
But as they approach the Syrian camp, it's clear that Someone has gone before them (Verses 5-7). There is no army, no soldiers, no threat of any kind, and the camp is a ghost town, a gold mine, and an all-you-can-eat buffet all rolled into one.
God has kept His Word. He has defeated the Syrians on Israel's behalf, and He has provided food for the devastated city of Samaria, but these four lepers are the only ones who know it. And now they face a new set of options – do they keep this miracle to themselves, or do they take word to the people who have ignored and overlooked and ostracized them? 
The lepers eat their fill and fill their pockets, but then they come to a conclusion – "We do not well" – and whether for the sake of conscience or for the sake of self-preservation, they deliver the good news to the king (Verses 8-9). It's hard to know what was in their minds, but I think they understood this much – they would not continue to be blessed if they kept the blessing to themselves (Verses 10-11).
When it comes to blessings, we all tend to be hunter-gatherers (James 4:3), but God is way more interested in the giveaway. And while it's easy to pick on my Joey and his ketchup problem, I often find myself operating from the same seat of selfishness. God has saved me from sin and, on more than one occasion, from myself. He pours on the blessings, and I gladly consume them, frequently without giving thought to the purpose and plan behind the outpouring. All too often, we take what God has provided as "blessings for one", when God's intention is to bless us so that we can be a blessing to others (Proverbs 3:27, 19:17, 22:9, Matthew 25:44-45, II Corinthians 9:6-8, Ephesians 2:10, Philippians 2:4, Hebrews 13:16). 
Worse still, we reap the granddaddy of all blessings – our salvation through the shed blood of Jesus Christ – and fail to sow it and share it with the world around us (Matthew 9:37-38, 28:19, Mark 16:15, Romans 1:16, Galatians 6:2, 7-10, I Peter 3:15).
Today, my friend, I challenge you to get in on the giveaway. Give the gospel to those who need it. Turn your blessings for one into the buffet for all that God intended. Sow more than you reap, knowing that, in the end, you can't out-give God and you will ALWAYS reap more than you sow. Take whatever you have, and give it away. God's supply will never run dry (Psalm 37:25, 41:1-3, Matthew 6:19-21, Philippians 4:19). He promised.
YOUR PRESCRIPTION
Have you been hoarding God's blessings? Ask God to show you who you can share the gift of salvation with and find ways to pass along other blessings as well. God has blessed you to be a blessing to others in His name.