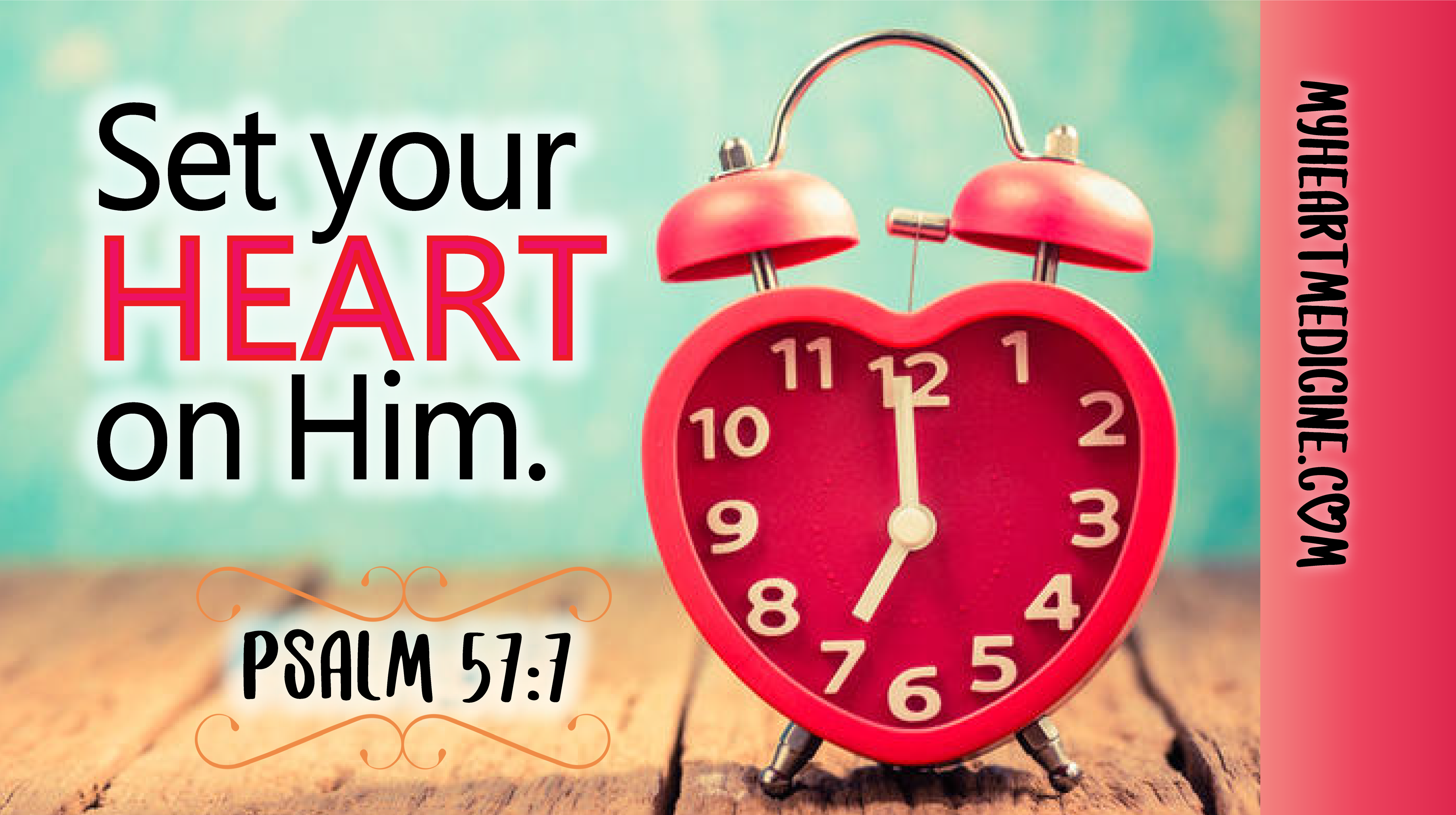 "David also commanded all the princes of Israel to help Solomon his son, saying, Is not the Lord your God with you? and hath he not given you rest on every side? for he hath given the inhabitants of the land into mine hand; and the land is subdued before the Lord, and before his people. Now set your heart and your soul to seek the Lord your God…" – I Chronicles 22:17-18a
"My heart is fixed, O God, my heart is fixed: I will sing and give praise." – Psalm 57:7
"If ye then be risen with Christ, seek those things which are above, where Christ sitteth on the right hand of God. Set your affection on things above, not on things on the earth." – Colossians 3:1-2 
Scripture Reading: I Chronicles 23
I am forever in need of a nap. The lightest sleeper in our house, I wake with every disturbance, real and imagined. Paul gets up for work at 4:30 a.m., and I'm usually not far behind. Joey wakes up in the middle of the night, and I end up waitressing drinks of water to his bedside. Even vacations are brief and fleeting respites sandwiched between generous slabs of laundry. It is all both the bane and the blessing of my existence. For every mom, rest and work have a way of inevitably morphing into each other.
In I Chronicles 23, David delivers his final instructions to Israel's leaders, priests, and Levites. In the previous chapter, he commissioned his son Solomon to build the temple. Knowing that God had chosen Solomon for this work, David set his heart to set up his son to succeed in his God-ordained task. Resources, materials, and manpower were all in place for the project, and Solomon had only to command what his father had put at his disposal.
But Solomon isn't the only one with a new job description. The Levites also receive a new commission. While all priests were Levites, all Levites were not priests. Those Levites who were not priests had previously dedicated their lives to the moving and maintenance of the semi-permanent and portable Tabernacle. Their ancestors had carried it from the wilderness years of Moses to the war-torn years of Saul and David. But Solomon's season would be different. The permanent setting of the temple required a different kind of work, and David redistributed the Levites in teams that would serve in such capacities as gatekeepers (security), officers and judges (administrators and public servants), and musicians (leaders of praise and worship).
It's interesting that David repeatedly refers to God giving Israel a time of "rest" (I Chronicles 22:9, 18, 23:25), and yet it seems as though there's more work to be done than ever before. It highlights an aspect of the Christian life that is easily missed. In our retirement-oriented society, we think of rest and relaxation as the endgame to everything. But in God's economy, the blessing lies in being able to do His work more productively and proactively (Ecclesiastes 3:1,11-14, 9:10, John 4:34, 9:4, 17:4, I Corinthians 9:24-27, I Timothy 6:17-19). When life is an endless, war-torn wilderness, the weariness that so often accompanies well-doing comes with living in a constant state of desperate reaction. God saved us for so much more than that.
Our God is forever working, and He's created us to work, but not in a frantic frenzy of survival. God's intention is for us to thrive in a proactive, providentially-planned working relationship with Him – the kind of well-doing that produces blessing, not bane (Deuteronomy 30:8-10, Proverbs 10:22, Daniel 2:20-21, II Corinthians 9:8, Galatians 6:9, Colossians 1:10). And honestly, the seasons where we are least occupied can be the seasons of greatest opportunity as we have more margin to give to God's work.
But it all starts with the setting, and the Levites new commission reflected that. In I Chronicles 22, David told everyone who would be a part of the temple-building project to "set" their hearts to seek the Lord, a proactive approach to doing the work God's way. And at the end of Chapter 23, David adds a daily task to the new job description of every Levite, "to stand every morning to thank and praise the Lord, and likewise at even." For the Levites, every day would begin and end with praise (II Chronicles 23:30). It was both their sacred calling and their job requirement (Psalm 90:17, Hebrews 2:7). And so it is with you and me. Our first and foremost job is to glorify God, to set our hearts on Him and His Word, and to weave it throughout the tasks, decisions, and interactions of every day, every season, every time (Matthew 5:16, Romans 12:1-2, I Corinthians 6:19-20, Ephesians 2:10, Titus 2:14).
Are you in a new season of life? Maybe a season that offers more margin to serve God? If so, set your heart appropriately. In fact, wherever you are in life, check your setting. Praise goes with everything, and whatever your God-given job description is right now, there is blessing to be found by building life His way.
YOUR PRESCRIPTION
Check your setting. Make sure that your heart is set on God and the things that matter to Him. Praise Him for what He's doing in your life right now, and ask Him to reveal to you anything that stands in the way of His work.