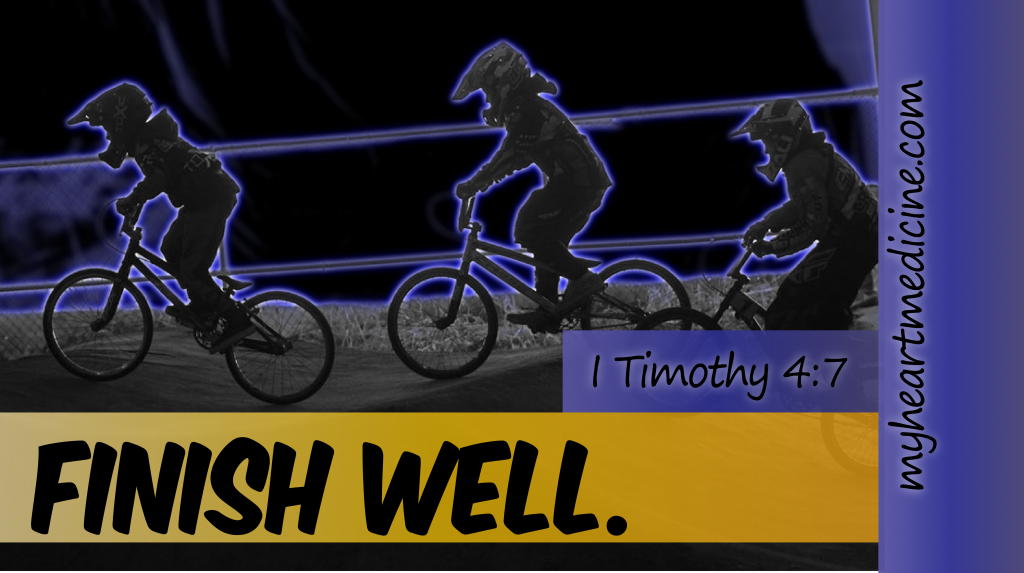 "I love the Lord, because he hath heard my voice and my supplications.  Because he hath inclined his ear unto me, therefore will I call upon him as long as I live." – Psalm 116:1-2
"Hear counsel, and receive instruction, that thou mayest be wise in thy latter end." – Proverbs 19:20
"Then said Hezekiah unto Isaiah, Good is the word of the Lord which thou hast spoken. And he said, Is it not good, if peace and truth be in my days?" – II Kings 20:19
"I have fought a good fight, I have finished my course, I have kept the faith." – I Timothy 4:7
Scripture Reading: II Kings 20
My life is oddly out of order, and yet, wonderfully blessed. Just this past week, at the age of 50, I finally learned how to ride a bike. God has been amazingly and amusingly good to me in this season of life.
As for Paul and Joey, they are finally starting the season of their father-son favorite, BMX (bicycle motocross) racing. But although I could never ride with them before, I've learned a lot from the bleachers, including a lesson that I want to share with you today.
One of the easy pitfalls of a BMX race is the last straight. It's that final 30 feet, where the finish line is in view and the major obstacles are behind you. And for a rider who's held a commanding lead, the temptation is to sit down on their bike and confidently coast across the finish. But sometimes, another rider will pedal furiously in that last straight, coming from behind and stealing the race from that coasting leader. In racing and in life, getting too comfortable too soon can have very uncomfortable consequences.
And so it is with King Hezekiah in II Kings 20. Hezekiah had run a great race, cleaning up the kingdom of Judah, repairing the Temple and ripping down the idols. When Assyria came to conquer, Hezekiah cried out to God and received miraculous deliverance from a seemingly undefeatable foe. Now with those victories behind him, Hezekiah is sick in bed, fighting for his life (II Kings 20:1-3). The prophet Isaiah delivers a grim message, but Hezekiah refuses to accept it. He cries out to God again, and before Isaiah makes it out of the palace, the heart of God is moved to give Hezekiah one more victory of healing and another 15 years of life (Verses 4-6). 
That's what makes the second half of the chapter so heartbreaking. Hezekiah knows how to wield the power of prayer. He knows the heart of God can be turned by the cries of His people. And yet, Hezekiah chooses to coast across the finish line, retiring from a life of bold, audacious prayer, and settling into a life of "I'm OK with that".
The unraveling starts in II Kings 20:12, with a hospital visit from a Babylonian prince. Having heard of Hezekiah's recent illness, the prince comes bearing gifts. Harmless, right? Wrong.
Hezekiah relishes the attention of the pagan prince, showing off all of his wealth, everything in the palace and the Temple (II Kings 20:13). And while Hezekiah is playing show and tell, the Babylonians are taking notes. What Hezekiah doesn't know is that Babylon will be the next Assyria – the next band of warmongers, raiders, siegers, and slave-makers, and Hezekiah has just put Jerusalem on their radar.
But mistakes can be fixed right? God forgives. God delivers – when we ask (Psalm 18:6, 40:1, 116:1-2). And that's the problem. Hezekiah never asks. When Isaiah tells him that Babylon will be back to plunder Judah and capture its people, when he learns that his own descendants will become eunuchs in Babylon, Hezekiah casually responds that he can live with that. His final years will be peaceful, and that's good enough for him (II Kings 20:17-19). 
That's good??? No prayer? No crying out to God? No tears for your people, even for your own children? And just like that, Hezekiah's race was stolen out from under him in the last straight. A loss that would play out tragically in his family (II Kings 21:1-6), and even more so in the Babylonian captivity to come (II Kings 24:1-4).
This kills me and convicts me at the same time. Hezekiah knew how to pray. He knew how to cry out to God and move the heart of God. But in the last straight, Hezekiah just sat down and coasted across the finish line, leaving his people to fend for themselves, leaving his family to die out, leaving the power of prayer and the blessing of deliverance on the table.
Lord, please don't let me do that.
I know we all get tired. I know it feels like we don't have one more race in us, but please don't coast or get comfortable. Keep crying out to God as long as you live. Never stop believing that God can and will do a new thing – in your home, in your health, in the lives of those you love, in YOU (Psalm 55:22, Isaiah 40:31, 43:19, I Corinthians 9:24, 16:13, I Timothy 6:12, II Timothy 4:7-8, Hebrews 12:1, II Peter 2:20-21). 
Push, pedal, and pray your way to the finish line. Don't let up. Don't slow down. And make the last straight and the final stretch a powerful testimony to the power of God.
YOUR PRESCRIPTION
Dust off your prayer list, and never let it get dusty again. Run your race to the finish line, refuse to get comfortable, and never stop asking God to pour out His power in your life.