"For thus saith the Lord God of Israel, The barrel of meal shall not waste, neither shall the cruse of oil fail, until the day that the Lord sendeth rain upon the earth. And she went and did according to the saying of Elijah: and she, and he, and her house, did eat many days." – I Kings 17:14-15
"Fear thou not; for I am with thee: be not dismayed; for I am thy God: I will strengthen thee; yea, I will help thee; yea, I will uphold thee with the right hand of my righteousness." – Isaiah 41:10
"And he that taketh not his cross, and followeth after me, is not worthy of me. He that findeth his life shall lose it: and he that loseth his life for my sake shall find it." – Matthew 10:38-39
Scripture Reading: I Kings 17:7-24
---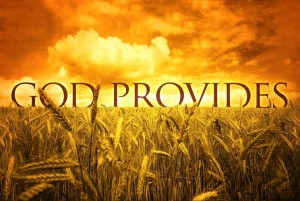 A friend of mine once said to me, "I don't live to eat. I eat to live." I was baffled by those words and convicted at the same time. I come from a family where food was always the star of the show. It was the cure for whatever ailed you, the prize to be won, and an expression of love.
You can imagine my surprise when I ended up with a child who only "eats to live". My five-year old has no internal clock when it comes to meals (while you could set your watch by my appetite). Eating isn't anywhere near the top of his priority list, and in his mind, meals interfere with his play time. And although he is super active and pretty athletic, I'm forever worried that he doesn't eat enough.
But in I Kings 17, the widow at Zarephath had real reason to worry about her son. She lived in the northern kingdom of Israel, where Ahab and Jezebel ruled. Although his forefathers had been pretty evil, Ahab had outdone them all (I Kings 16:30-33). As punishment, God had sent the prophet Elijah to declare a drought – no rain until further notice from God. And here's how that boiled down to a humble widow and her little boy: a couple of sticks for a fire, a handful of flour and a few drops of oil. We have our last supper, and then we wait to die.
Enter Elijah. In Verses 10 and 11, he makes two simple requests – a little water and a bit of bread. But make no mistake, these are precious commodities in uncertain times. She was on her way to get Elijah his drink of water, but the request for bread forced her hand. She only had one meal left, and barely a meal at that. She had a son, and she knew that their time was short. This man was asking a lot – and then he asks a little more.
In Verse 13, Elijah tells her to proceed with her plan, BUT she must feed him first. The promise follows in Verse 14 – the flour and oil will never run out for the duration of the drought. But the promise requires specific obedience – obedience that puts the man of God before her, and even before her son.
As a mom, I find this to be a tall order. With the resources she had, she could eke out a few more days with her boy. If she wanted God's help, she had to give up all that she had, the last of her own resources, and trust a promise. Elijah didn't come rolling up with a visible supply of blessings for this woman – there were no sacks of flour or vats of oil in view. There was just a promise that required a blind leap of faith on her part.
And it's often that way with us. God's promises don't always have specific solutions, timelines, and a grocery list of blessings attached. Sometimes, they require a leap of faith, a little sacrifice, and trading our "sure thing" for God's "better thing" (Hebrews 11:40).
Is God asking you to give up a sure thing today, in order to realize His plan for you? I am guessing that you have considerably more than a handful of flour to your name, and I am sure you know that everything you have to your name came from the God Who knows both your name and your need (Matthew 7:11, Philippians 4:19, James 1:17). Trust Him (Psalm 20:7, Proverbs 3:5-6, Jeremiah 17:7-8). Obey Him – even when it doesn't make sense, even when it seems that obedience will make things worse. God's plan may be beyond your understanding now, but His best blessings go hand-in-hand with your obedience (Deuteronomy 5:33, Matthew 4:4, 6:33, Luke 9:23, 11:28, John 14:23).
Get it through your head. God's kingdom works differently – losing is winning, dying is living, least is greatest, and last is first. This widow's last supper turned out to be the first supper of the rest of her life, and she learned that the blessings never run out – when you trust and obey.
---
YOUR PRESCRIPTION
Trust His promises. If you're clinging to a sure thing and God is telling you to let go, listen to Him. He is sovereign, He owns the cattle on a thousand hills, and He loves you. You'll never give up anything for Him that He can't replace tenfold.