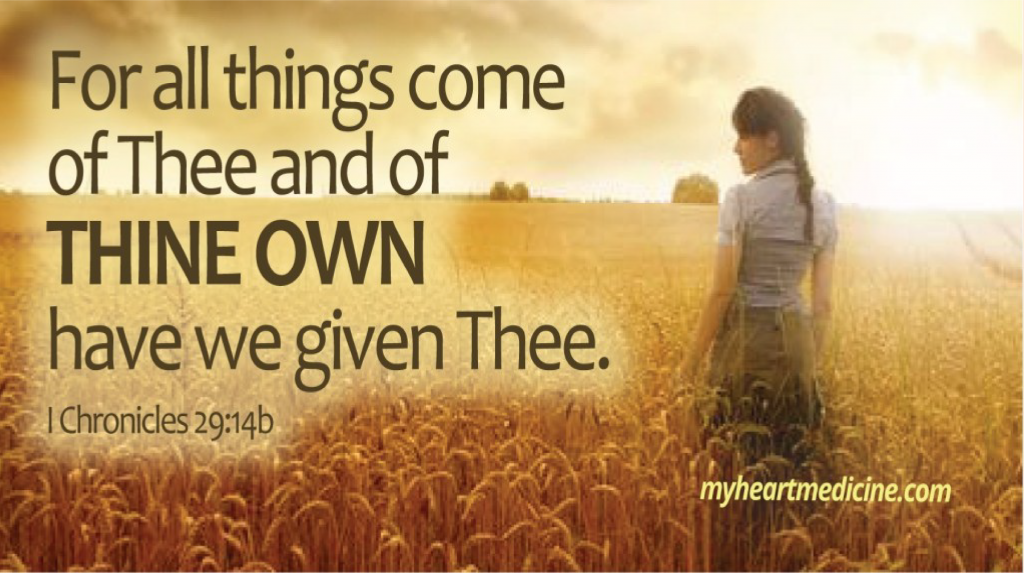 "And when the children of Israel saw it, they said one to another, It is manna: for they wist not what it was. And Moses said unto them, This is the bread which the Lord hath given you to eat." – Exodus 16:15
"I have been young, and now am old; yet have I not seen the righteous forsaken, nor his seed begging bread. He is ever merciful, and lendeth; and his seed is blessed." – Psalm 37:25-26
"Are not five sparrows sold for two farthings, and not one of them is forgotten before God? But even the very hairs of your head are all numbered. Fear not therefore: ye are of more value than many sparrows." – Luke 12:6-7
It's a rare moment of true peace and quiet at 4265 Heather Drive. I just shut my phone off (sorry to my texting friends), shut Alexa off (she never listens, anyway), and put a pause on the endless to-do list that constantly scrolls in my head. God is forever working on me, and I feel Him gently pulling me into a more proactive season, after months of being in reactive mode to the curve balls of life. But I have one last reaction I have to get off my chest, so bear with me as I praise God for what He's doing in me and my home these days.
You see, we're on what I call the "Manna Plan" right now. Circumstances have shifted, and we find ourselves in a place where life is a bit out of order and unpredictable. It's been an adjustment on many levels, but more and more, I see God doing us a world of good in this season, in every imaginable way, and His morning-by-morning faithfulness never ceases to amaze me.
In Exodus 16, God initiates the original Manna Plan, and it is not exactly well-received. It comes on the heels of a praise service that quickly turned into a protest. You see, just two chapters earlier, God had performed what is arguably one of the grandest Old Testament miracles, the parting of the Red Sea (Exodus 14). He turned an uncrossable obstacle into giant walls of water, and then marched millions of Israelites through the world's first aquarium on a bone-dry highway, before giving Pharaoh's army an unceremonious burial at sea.
Incredible, right? Who could doubt God's sovereignty and provision after that? Well, the Israelites could (and in truth, I'm often not much better). Although they praised God for His deliverance all through Chapter 15, by Chapter 16, everybody's hungry, and the Red Sea is blocking the road back to the buffet in Egypt (Exodus 16:2-3, Psalm 106:7-15).
Even more incredibly, God responds to the protest with provision. When the Israelites raise a corporate complaint, God rains down manna to meet their needs, but it's worth noting that the provision comes with a proving (Psalm 26:2, 66:10, Hebrews 11:6). In Exodus 16:4, God reveals to Moses that He will use the manna to test His people in a few significant ways (Deuteronomy 8:3,16), and if you're like me, God may be testing you in these ways right now, too:
Can you follow directions?

In Verses 16-18, God lays out the Manna Plan in no uncertain terms – take as much as you can eat, but only as much as you can eat in one day. God's provision was generous, but God's provision was on God's timetable. Just as mercies were new every morning, faith had to be exercised every morning as well (Lamentations 3:22-25), and the ability to follow directions is critical to the Manna Plan (I Samuel 15:22, II Chronicles 16:9a, Psalm 34:7, 119:1-2). 
Can you trust God?

In Verses 19-20, those who hoarded manna woke up to worms. When we rely on our own backup plan and resist the need to trust God for our daily bread, our efforts inevitably end up crawling with worms and stewing in the stench of failure. God would demand even more faith by taking away manna on the Sabbath, training the Israelites to trust that the manna would come back after they had given God His day (Verses 27-30).
Can you remember to say thank you?

In Verse 33, God gave instructions for Aaron to fill a pot with manna as a remembrance for generations to come. Any other stored manna rotted with worms, but this pot would eventually find a permanent home in the Ark of the Covenant and would last even after the fruit of the Promised Land had long replaced manna on the menu (Joshua 5:12, Hebrews 9:4). Is it possible that God wants to provide something even better than the manna you're living on right now? God always has more stuff to give (Psalm 24:1, 50:10, I Chronicles 29:14, Revelation 2:17), so don't get attached to it, but attach your faith firmly to the memories of His provision.
Today I'm thankful for new morning mercies, real-time provision, and dependable daily bread. My circumstances may change, but my God never does, and this ever-hungry girl is learning all she can – living on the Manna Plan.
YOUR PRESCRIPTION
Are you on the Manna Plan? Thank God for all He's given you today, and sleep well, knowing everything you need will be there in the morning.