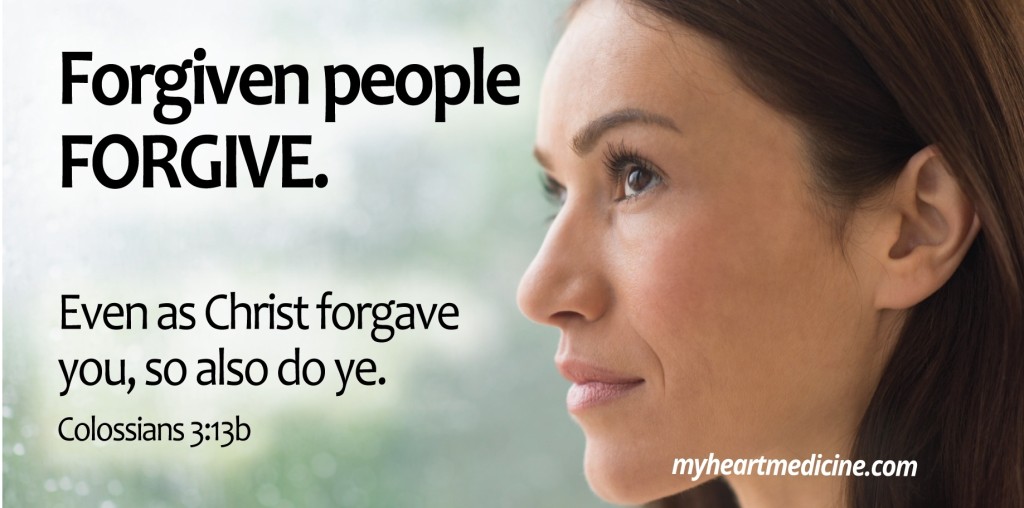 "(For the weapons of our warfare are not carnal, but mighty through God to the pulling down of strong holds;) Casting down imaginations, and every high thing that exalteth itself against the knowledge of God, and bringing into captivity every thought to the obedience of Christ." – II Corinthians 10:4-5
"I beseech Euodias, and beseech Syntyche, that they be of the same mind in the Lord. And I intreat thee also, true yokefellow, help those women which laboured with me in the gospel, with Clement also, and with other my fellowlabourers, whose names are in the book of life." – Philippians 4:2-3
"Put on therefore, as the elect of God, holy and beloved, bowels of mercies, kindness, humbleness of mind, meekness, longsuffering; Forbearing one another, and forgiving one another, if any man have a quarrel against any: even as Christ forgave you, so also do ye." – Colossians 3:12-13
Scripture Reading: Philippians 4
---
There's something seriously wrong with me. When I explain it to you, you'll think I'm crazy. (And if you didn't already think that, then you just haven't been paying attention.)
Here it is – in my head, I fight with people who have absolutely no idea that I'm fighting with them. I told you it was crazy. When I put it in writing, it looks so crazy that I'm struggling not to peck at the 'delete' key on my laptop.
There's a downside to being non-confrontational, because the truth is that confrontation is a part of life (Matthew 18:15, Galatians 6:1, James 5:16). And I'm learning that avoiding confrontation doesn't eliminate it. Actually, the avoidance just internalizes it.
In Philippians 4, Paul confronts a problem (or should I say 'two problems') head on. He calls out, by name, two of the women in the Philippian church – Euodias and Syntyche (Verse 2). His direct plea to them is brief, but crystal clear. It reminds me of the sobering line my dad often used when we bickered as kids in the backseat of the station wagon, "Knock it off."
Paul urges these women to knock it off. Whatever issue they have with each other in their minds, that's not the issue to Paul. Because here's the true issue – family fights have no place in the family of God (Romans 12:3, 17-19, Galatians 6:9-10, Ephesians 4:1-3, 22-32, I Peter 2:17).
In this passage, the sobering lines come in Verse 3, when Paul acknowledges that these women were instrumental in the early days of that church. He talks about their work in the church, and the fact that their names were written in the Book of Life. Euodias and Syntyche weren't fly by night Christians. They were committed. Their faith was real and active. And yet, their failure to set aside their differences was enough of a threat to the church that Paul needed to address it in an open letter.
And this is a great church. Paul talks at length about the generosity of this church and their faithful support of his ministry (Philippians 4:10, 14-17). This was a church where the women had been the first converts and a driving force in the work (Acts 16:13-15).
Paul never gives us the details of the dispute between Euodias and Syntyche, but maybe it's better that way. It gives us the freedom to fill in the blank with our own comparable divides – whether it's something as petty as the color of the carpet or something as significant as sugar-coated sin.
And it's no coincidence that Paul's rebuke is sandwiched between admonitions to run the race and resist a worldly mindset (Philippians 3:13-15, 18-19) and reminders to cultivate the mind of Christ through rejoicing, prayer, and thinking on the right things (Philippians 4:5-8). Somewhere along the way, Euodias and Syntyche had lost their focus on Christ, and they had instead focused on each other. Maybe they competed for position or influence in the church. Maybe one of them had seriously and truly wronged the other. Maybe it was a simple misunderstanding, but regardless of who was right and who was wrong, the glorification of their grudge was stealing glory from God and hurting the cause of Christ – and that alone made them both wrong (James 3:14-4:1).
I told you about the secret fights in my head, and the truth is, they are often fueled by an excess of pride, indignation, and self-seeking and a lack of mercy, forgiveness, and compassion. The mind that fights with people who have absolutely no idea that I'm fighting with them is not the mind of Christ – it is undeniably and most ashamedly the mind of ME.
So what's on your mind today? Are your nursing a grudge, growing a root of bitterness, or fighting a fight that should have ended long ago? Today, I'm praying to lose MY mind, because the mind of ME and the mind of Christ just aren't the same. And when I'm in my right mind, I want my mind and my heart to be all His and all for His glory.
---
YOUR PRESCRIPTION
Lose your mind. Confess any secret fights to God, turn away from them, and humble yourself. Ask God to give you the mind of Christ. Fighting has no place among the faithful, so make it right, or in the words of my dad, "Knock it off."