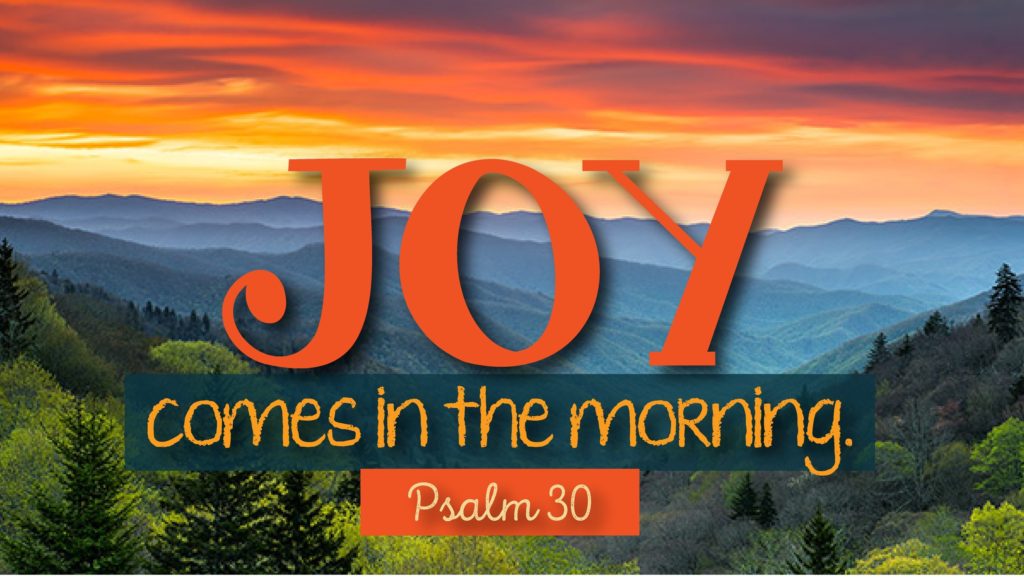 "Sing unto the Lord, O ye saints of his, and give thanks at the remembrance of his holiness. For his anger endureth but a moment; in his favour is life: weeping may endure for a night, but joy cometh in the morning." – Psalm 30:4-5
"Blessed be God, even the Father of our Lord Jesus Christ, the Father of mercies, and the God of all comfort; Who comforteth us in all our tribulation, that we may be able to comfort them which are in any trouble, by the comfort wherewith we ourselves are comforted of God." – II Corinthians 1:3-4
"In every thing give thanks: for this is the will of God in Christ Jesus concerning you." – I Thessalonians 5:18
A part of me is dreading Thanksgiving this year. Oh don't get me wrong, I am thankful for more than I can possibly explain. God has been good to me, and I love family get-togethers, extra days off, and fancy feasts – and that's where the dread comes in. In recent months, I've made some drastic changes to my eating habits. By God's grace, the results have been great, and unlike my many other weight-loss attempts, I've truly been praying my way through this process. And that, and that alone, has made all the difference.
But Thanksgiving dinner is going to be like forty days in the wilderness. It will be the ultimate carb-laden, gravy-soaked temptation (I've always been a sucker for stuffing and all varieties of pie). A part of me wants to lock myself in a closet with a giant salad and pray for the dawn of Black Friday. If I can just make it to the morning after, I think I'll be okay.
In Psalm 30, David is praising God for the morning after. The title of this Psalm tells us that it was written for the dedication of "the house of David". Some scholars believe that David wrote it upon completion of his own palace in Jerusalem (some 7 years into his reign), but others believe it was written in faith-filled anticipation of the building of the temple many years later by his son, Solomon.
Either way, whether in the early years of his 40-year reign or in the final years, David had seen his share of morning afters. He knew what it was to cry out to God in despair – for rescue from his own sins and from the sins of others (Psalm 34:4, 18:35, 51:10-17, Lamentations 3:22-25, Daniel 2:21). And as a man of war and Saul's favorite moving target, he knew the humbling terror of a brush with death, as well as the need to live every moment in total dependence on God's promises (I Samuel 18:7-12, Psalm 16:7-9, Psalm 23, Psalm 77).
But more than that, David knew that God's deliverance was a constant in his life (II Samuel 22:4, 47, Psalm 40:1-3, Isaiah 45:22) – not once, not twice, but over and over again. He talks about multiple divine rescues – from enemies (Psalm 30:1), from sickness (Verse 2), from near-death experiences (Verse 3), and from his own pride (Verses 6-8).
And David's conclusion is this. Because of God, the weeping always ended in joy. The tragedy always ended in triumph. And the morning after brought a new memory of God's goodness. The morning after brought thanksgiving, not the turkey-and-gravy kind, but the kind that has to testify to the greatness of God – the kind of thanksgiving that has to tell others, the kind that stores up hope for tomorrow, because it saw the strong hand of God in the darkest night (Psalm 42:8, 136:12, Isaiah 50:4).
Maybe your long night is enduring. Maybe it's lasted longer than you can bear, and you think morning will never come. I'm here to tell you to hold on. The God Who rescued David over and over has rescued you more times than you know, and He has not changed. And though your night will eventually give way to the morning, God's mercy, His love, and His sovereign hand in your life endure forever. They will outlast every trial, every tear, and every terror.
And this long night is not in vain. In God's hand, it is a building block of faith – for you and for those that God has entrusted to you. The morning will be your opportunity to testify to the goodness of God and to point the weary and the brokenhearted to Him. God is good. God is working. And your next deliverance may inspire faith in the hearts of those that need it.
The mercies of the morning after are God's timeless promise to His children. Wait out the night, my friend. Pray, cry out, and hold out for the morning.
YOUR PRESCRIPTION
Don't give up on the morning. If you can hold on in prayer, God will bring blessing out of this long night. Believe the promise, and thank Him for it.