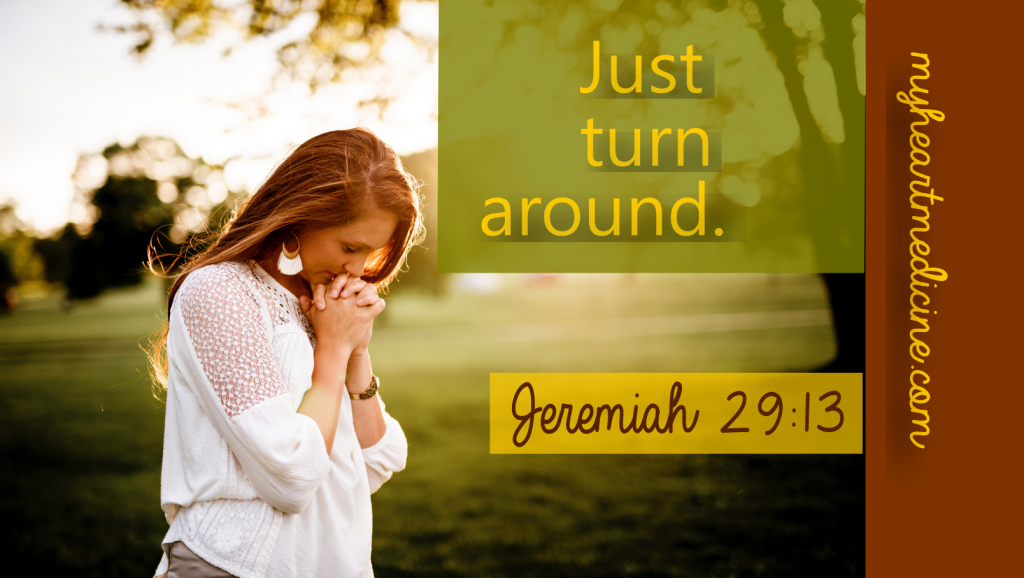 "And he said, I will make all my goodness pass before thee, and I will proclaim the name of the Lord before thee; and will be gracious to whom I will be gracious, and will shew mercy on whom I will shew mercy." – Exodus 33:19
"And David was greatly distressed; for the people spake of stoning him, because the soul of all the people was grieved, every man for his sons and for his daughters: but David encouraged himself in the Lord his God." – I Samuel 30:6
"From the end of the earth will I cry unto thee, when my heart is overwhelmed: lead me to the rock that is higher than I." – Psalm 61:2
Scripture Reading: I Samuel 30:1-20
It's the middle of the day, and I'm not wearing any eye makeup – an almost unheard-of scenario for this high-maintenance girly-girl. I know this sounds crazy, but bear with me. My only documented allergy is to cats (something I inherited from my mom). On Sunday night, we had fellowship time at our church, and somewhere along the way, I think I encountered someone who loves their cat(s) more than they love me.
I didn't figure it out immediately. Riding home in the darkness, I sat in the passenger seat, frantically trying to get something out of my eye. I thought my mascara had mutinied, but it wasn't a fleck of makeup torturing me, and my desperation to rub it away only rubbed it in. By the time we got home and stepped into the light of our front hallway, both Paul and Joey were wide-eyed at the sight of me, and they wisely kept their comments to themselves. But clearly, my attempt to deal with the problem had literally blown up in my face.
In I Samuel 30, David's decisions have clearly blown up in his face. David loves the Lord. He has enjoyed victories at the hand of God. David is undeniably loved and chosen by God. But David is on the run from Saul, and although God has anointed his future, his present is unsettlingly uncertain. David is stuck in a valley, and his desperation to get out has only dug the valley deeper.
Longing for allies and affirmation, David has worked his way into the good graces of Achish, a Philistine king (I Samuel 29). Ironically, Achish is the King of Gath, the very city that birthed the giant Goliath, David's signature, God-given victory (I Samuel 17). David is going backwards, seeking refuge with the pagans that God had helped him defeat only a few years earlier. And yet, David is unphased by the irony of his alliance. He is in survival mode, and he has allowed fear to dampen his faith.
And then it all goes really wrong. While David is off proving his loyalty to the Philistines, Amalekites raid the town of Ziklag, where David and his men have left their families. Ziklag is burned to the ground, and the women and children are captured (I Samuel 30:1-2). 
Returning to the devastation, realizing the fates of their families, David's men are ready to stone him. David, too, has lost everything, and this godless road has yielded him nothing but destruction (Verses 3-6). 
But God loves a good one-eighty. And that's exactly what David does. In the midst of his grief, David "encourages himself in the Lord". The original Hebrew text says that he "strengthened himself in Jehovah". David summons the priest and asks God what his next move should be (Verses 7-8). David seeks God, and God responds to the one-eighty with a promise of victory.
You see, David had changed, and he had depended on all the wrong things. But God had not changed. And the moment that David changed back into a God-fearing, God-seeking man-on-his-knees, God was ready to deliver (II Samuel 22:31, Psalm 34, 40:1-3, Jeremiah 3:22, Daniel 9:8-9). 
Verse 19 sums it up beautifully, "David recovered all." He recovered the families. He recovered the victory. He recovered his faith.
Honestly, I take special comfort in knowing that the mountain was of David's own making. It's easy to stand on the promises and prayer, when you feel the right to claim victim status in your story. But more often than not, I know that I am not just the victim – I am the problem. And will God come running to the rescue when I have foolishly, even knowingly, dug the hole myself? 
The answer is this – God always responds to the one-eighty. Repentance is God's "love language", and nothing draws Him near like a humbled heart (Psalm 23:3, 103:8-10, II Chronicles 7:14, Isaiah 1:18, Jeremiah 29:11-13, Lamentations 3:22-25, Hosea 14:4, James 5:16).
I don't know what you're facing today, but I know that God is the only Solution. Oh dear friend, stop struggling on your own. Stop running, and fixing, and chasing unlikely allies. God can fix this. He can fix YOU. Humble your hardened heart, and do the one-eighty. God has not changed, but He wants to change you.
YOUR PRESCRIPTION
Just stop. Whatever you've been fighting God on, give it up. He is gracious. He is merciful, and He longs to prove it to you. Do a one-eighty, and give Him that chance.