"One thing have I desired of the Lord, that will I seek after; that I may dwell in the house of the Lord all the days of my life, to behold the beauty of the Lord, and to enquire in his temple." – Psalm 27:4
"O God, thou art my God; early will I seek thee: my soul thirsteth for thee, my flesh longeth for thee in a dry and thirsty land, where no water is; To see thy power and thy glory, so as I have seen thee in the sanctuary." – Psalm 63:1-2
"Walk in wisdom toward them that are without, redeeming the time. Let your speech be always with grace, seasoned with salt, that ye may know how ye ought to answer every man." – Colossians 4:5-6
---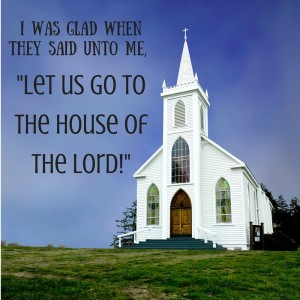 There was a day not long ago, when I couldn't wait to get to church, and I'll tell you why. Honestly, I needed a little TLC (tender loving care). The week had been long, my heart was heavy, and my feeble prayers didn't feel like enough. As soon as I stepped into the sanctuary, I started scanning the room for a certain friend of mine. She hugs me every time she sees me – the kind of heartfelt bear hug where you can almost feel her trying to transfer some of her own strength to you. She never fails to ask me how I'm doing, and she's not looking for a canned answer of five words or less – she's looking for raw specifics and unvarnished truth. And if I ask her to pray for something, she writes it down on a piece of paper that she keeps in her Bible. She's one of the people that has made church a refuge for me. She makes it feel like home.
I have another friend who I also love dearly, but frankly, this one worries me. She needs a little TLC, but she doesn't seem to know where to find it. She's had a lot of heartache in her life in recent years, and circumstances have piled up between her and God. She doesn't see church as a refuge. She doesn't even feel at home there anymore. Personal loss combined with politics and pettiness has sent her running away from church, and Sunday is becoming more and more like another Saturday.
In Psalm 27, David acknowledges that "the house of the Lord" feels like home to him. In Verse 4, he says that his greatest desire, his lifelong wish, is to be in God's temple and to seek God. It's the only place he feels safe (Verse 5), the only place he feels loved (Verse 10), and the only place that gives him hope (Verse 13).
If anyone needed a little TLC, it was David. He was no stranger to personal loss, politics, or pettiness. It is estimated that he spent 13 years running from Saul (I Samuel 24:8-13) and nearly 10 years fending off his son Absalom's treason (II Samuel 15:13-14), and he understood many of the heartaches of life in a fallen world. He knew what it was like to lose a marriage (I Samuel 25:44). He knew what it was like to lose a child (II Samuel 12:18). He knew what it was like to fail (II Samuel 12:7-10), and to have your nearest and dearest turn on you (Psalm 69:4-8).
But all these things didn't drive David away from God; they drove him to God and to His house (Psalm 84:9-11, 100, 122:1). There he praised the God who was his confidence in the chaos, his shelter in the storm, and the Rock of his salvation.
Folks, it should be the same for us. As the world gets crazier, we should pull God closer (Isaiah 55:6, Matthew 11:28-30, Ephesians 5:15-17). If this world is not your home, then the closest thing to a home that you can hope to have in this world is the house of the Lord. Make yourself at home there and seek answers in God's presence and in His Word.
The Lord's house is meant to be a hospital for sin-sick souls (Isaiah 61:1-3, Mark 2:17). Make church your personal refuge, and go out of your way to make it a refuge for someone else (Colossians 3:11-13, 4:5-6, Hebrews 10: 24-25, Jude 21-23). God never turns away anyone who comes to Him with a broken heart, and may God forgive us if we trample over the broken hearts entrusted to us. May everyone who walks into the house of the Lord be able to feel His love through the people who claim to be His own. And may The Love of Christ be the TLC that we give to a lost and dying world.
---
YOUR PRESCRIPTION
The next time you go to church, go out of your way to make someone else glad they came. Step out of your pew and your comfort zone to give TLC (The Love of Christ) to someone who needs it. God will bless you for it.